Check Out The Layouts For The 2019 Supercross Tracks
Chaparral Motorsports
|
October 23, 2018
|
Last Updated: November 9, 2020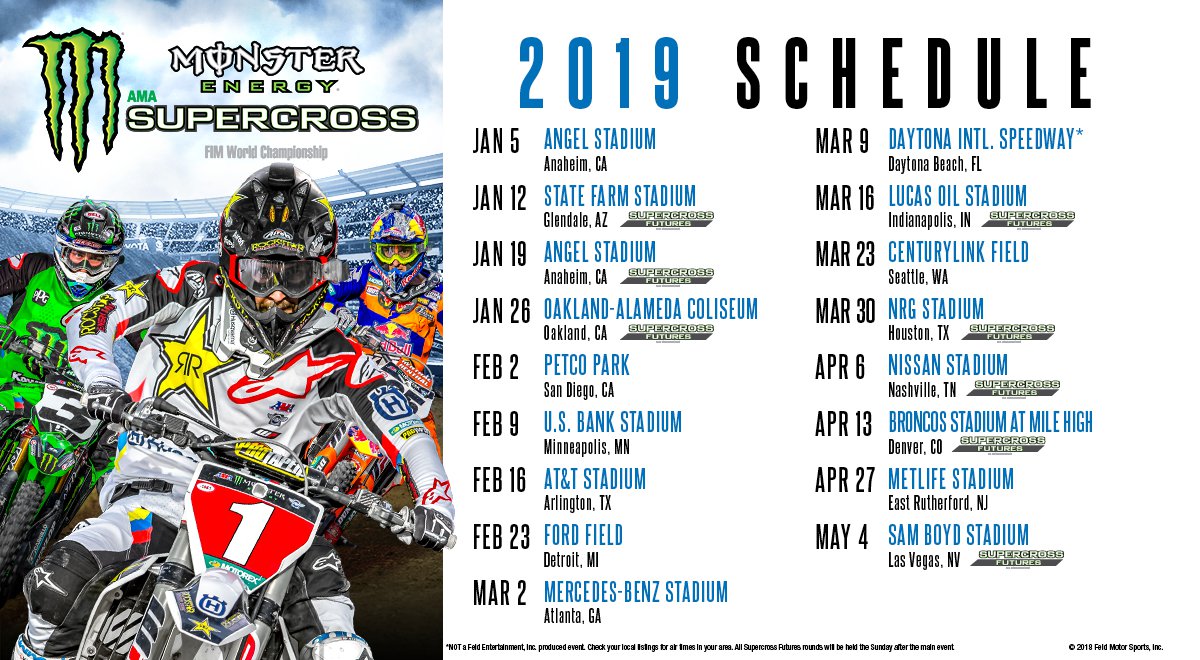 The 2019 Supercross season is a little more than two months away but seems like an eternity to die-hard race fans-especially since we've reached that lull in the year when there's no more Pro Motocross, Monster Energy Cup, or the Red Bull Straight Rhythm to get excited about. Fans just kind of go into hibernation mode as most of their favorite riders get into a hard core training regimen or work on rehabbing nagging injuries before the season kicks off at the start of the new year.
Back in September the 2019 schedule was released and was highlighted by the fact that for the first time in the sport's 45 year history the circuit will be boot scooting through Nashville with a stop at Nissan Stadium. And after more than 20 years the series will be dropping into Denver's Mile High Stadium. You can see read up on the expansion of the amateur series the Supercross Futures and the return of the Triple Crown format here.
If you're easily excitable you'll really enjoy pouring over the track maps that have been just released for each event. You may notice that not all the tracks are here. One is missing, round ten in Daytona. That's because that's not a Feld event, and the track is traditionally designed by Ricky Carmichael to take up the infield of the famed Daytona International Speedway. So we will most likely be seeing that layout at a later date. In the meantime enjoy daydreaming about the lines you'd take to ensure a win at each track, or if you're a non -racer and just a fan of sitting on the sidelines watching, pick out the seat you think would be best to catch all the action.