All Two Stroke Red Bull Straight Rhythm Event Brings Legends Out Of Retirement
Chaparral Motorsports
|
October 18, 2018
When was the last time you got to watch multi-time SX/MX champions Ryan Villopoto and Ryan Dungey mix it up with each other on 250cc two-strokes in competition? I'm going to guess never. Well, you should either purchase a ticket for this Saturday's Red Bull Straight Rhythm event in Pomona, California, or figure out how you can watch online. Both "retired" riders will be ringing it out in a straight line a half mile at a time across whoops and rollers and over step ups and doubles as they go head-to-head against the likes of Gared "Stank Dog" Steinke, Ronnie Mac, Shane McElrath, Josh Grant and hopefully each other.

Two-Strokes Only
Last year the Straight Rhythm Event introduced the Two-Stroke Shootout class and this year the organizers decided to make the 2018 event a two-stroke only race with a 250cc and over class and 150cc and under class. Adding a bit of futuristic spice to the old school racing program, Alta Motors is supposed to be fielding their factory rider, Darryn Durham, aboard a Redshift MXR. However, after the news this morning that Alta has closed its doors we'll just have to wait and see if the electric dirt bike lines up against the two-smokes.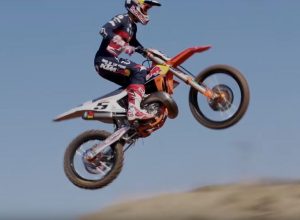 Racing two-strokes on the Straight Rhythm course isn't new territory for Villopoto, he competed last year and barley missed the final podium spot after going down 2-1 to third place finisher Ryan Sipes. Actually, Villopoto just lined up on his Yamaha YZ450F at last week's Monster Energy Cup and took 13th overall. So he may not be as rusty as Dungey who hasn't competed since retiring last year. Dungey on a KTM 250 SX though? That's going to be a badass sight to see and some fierce competition, check him out getting in some warm up laps.



Speaking of fierce competition, aside from the all-star excitement of Dungey and Villopoto, everybody's favorite PBR drinkin', denim slingin', long drawl speakin' distant relative, Uncle Ronnie, has a banjo string to pick with the long hair wearing, handlebar mustache sportin' Stank Dog. Last year Uncle Ronnie and Stank Dog cleared the path for the two to head off against each other in the final round. Ronnie had a lead on the first run but took a spill. He was able to line up for a comeback run but it wasn't in the cards as the Stank Dog was off the chain and ran straight for the golden bone.

With this year being a two-stroke only event you won't see the typical four-stroke factory guys like Roczen, or reigning two-time Straight Rhythm champion Marvin Musquin lining up. However, you will see Mike Alessi, crowd favorite Chad Reed, as well as two-time 250SX Eastern Regional Champion/2006 MX2 World Champion and also recently retired, Christophe Pourcel. Multiple riders like Steinke and Pourcel will be pulling double duty racing in both the 250 and 150 classes.

Here's the entry list for the 2018 Straight Rhythm

250 Class

Ryan Dungey, Ryan Villopoto, Gared Steinke, Shane McElrath, Jordon Smith, Ronnie Mac, Ryan Sipes, Christophe Pourcel, Josh Grant, Tyler Bowers, Vince Friese, Mike Alessi, Ryan Morais, Cedric Soubeyras, Darryn Durham, Johnny Jelderda, Mike Brown, Cameron McAdoo and Kyle Partridge.

150 Class

Gared Steinke, Colton Aeck, AJ Catanzaro, Christophe Pourcel, Carson Brown, Ryan Surratt, Luke Renzland, Chance Fullerton and Chase Marquier.