Chaparral Motorsports-Precision Concepts-Kawasaki 2018 Ridgecrest BIG 6 Race Report
Chaparral Motorsports
|
October 8, 2018
2018 Ridgecrest BIG 6 Report -
The Ridgecrest BIG 6 came right on the heels of the Mesquite WORCS race, with Mesquite on Saturday and Ridgecrest Sunday. With Justin Seeds and Clay Hengeveld racing at both locations, the Chaparral Motorsports, Precision Concepts, Kawasaki Team Green crew put in overtime to get the bikes and effort dialed for the double-header. It paid off as the riders put in solid performances and netted great results. Blayne Thompson equaled his best finish of the year, with a second-place, after results became official. Justin Seeds was pretty banged up after a couple crashes the day before, but pushed through to earn fifth. In the pro 2 class, Clay Hengeveld capitalized on a last-lap mistake to take the victory.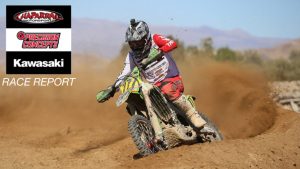 Blayne Thompson - 2nd place pro
Thompson got off to a flyer of a start at the beginning of the pro race and ran second early. Blayne even suffered a fall on a pavement section during the opening lap, but was able to remount quickly, not losing a position, albeit picking up some lovely road rash. From there, the Kawasaki rider battled with Zach Bell and Dalton Shirey for the final two podium positions. In the end, Blayne crossed the line physically third, but was bumped to second place after the results became official. The second place matches his season-best, which he earned at the previous BIG 6 round in Primm.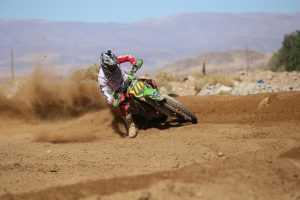 "The goal [coming in] was to get a win finally this year. We did the best we could and came out with a second. [The fall on the first lap] was kind of unexpected. I still don't really know what happened. I came into the corner and the front end just washed out. But I got up quick, still in second. I kept looking forward and pushed trying to make the time back. Actually, I felt really strong at the finish of the race. I flew off the track once or twice, but after I got back around Dalton I just pinned it. It was good. I felt strong. So, no complaints from this weekend."

Justin Seeds - 5th place pro
Justin had to push through some soreness from a couple hard falls the previous day. The Kawasaki rider did everything he could, putting himself right up front from the start. Justin ran third early-on in the race before a couple mistakes crept in. After losing a couple positions, Seeds regrouped and put in consistent laps to earn a very respectable top-five.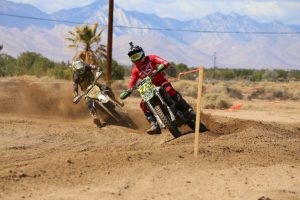 "[The body] was pretty sore. I definitely didn't know how it was going to go. But practice went decent. Then, anytime I'd sit too long or wouldn't move it would take a minute to loosen up. I put my head down [in the race] and did what I could do. Got the start. Unfortunately, I got pulled by Trevor [Stewart] down the straightaway. Then, Blayne outbroke me into the first corner, which put me into third. I ran there for a little bit. Then, I made a couple little bobbles, which gave Zach Bell and Dalton [Shirey] an opening to get around me. From there, I just kind of ran my race. I couldn't really [match] the pace in front of me. So, I just kind of rode by myself to fifth place. You know, I felt better than I thought I was going to, but right now I'm hurting."

Clay Hengeveld - 1st place pro 2
The battle for the pro 2 win was between the two riders in class who doubled up, racing the previous day at Mesquite. Clay battled it out with Mitch Anderson all race long, never more than a few seconds behind the KTM rider. After starting just outside the top-five, Hengeveld found his way to second place by the close of the second lap. From there, Clay made attack after attack for the lead, but to no avail. It seemed Clay may have to settle for second on the day, but a mistake on the final lap by Anderson gave Clay the opening he needed. After the Kawasaki pilot took the top spot, he was able to hold it to the checkers.


"My body actually felt pretty good [after racing Saturday], but I had some stomach issues on the way to Ridgecrest. Luckily, I guess I just needed to sleep it off and hydrate a bit more and I woke up Sunday feeling ready. I was right on [Mitch's] heels the entire race. There were a few times where I thought I'd be able to pass, but we were just playing cat and mouse. That was fun and kept it interesting. Then, on the last lap I was able to get by him and I just put my head down. I wanted to get that win and I'm very proud of myself for getting it today. Now, I'm looking to carry that momentum into the next one!"

Robby Bell, Team Manager
"With the scheduling conflict, and resulting double-header, we knew it was going to be a lot of work on everyone's part: mechanics and riders. I'm very grateful to everyone on the team for putting in the effort to make it a successful weekend. Blayne had a great ride today. Take away that fall and I feel he could have been right in the mix for the victory. Justin had a very solid weekend, especially considering the toll his crashes took on him yesterday. It was great to see him push through and get a top five today. Then there was the battle for the pro 2 win. It seemed every lap Clay would come through the pits two seconds behind Mitch. It was a bummer the Mitch had an issue there at the end, but I'm so happy for Clay that he was able to take the victory."