Yamaha BLU CRU Riders Barcia And Plessinger Ready To Battle The World In Upcoming Motocross Of Nations Event
Chaparral Motorsports
|
October 4, 2018
(Press release) Cypress, Calif.
-
October 4, 2018
-
Surrounding much excitement and anticipation, Yamaha bLU cRU riders Justin Barcia and Aaron Plessinger are set to go to battle alongside their American teammate, Eli Tomac, this weekend, Oct. 6 and 7, for the 2018 FIM Motocross of Nations (MXoN). Taking place on their 'home soil' at the iconic RedBud MX, in Buchanan, Michigan, the American riders will fight to reclaim the coveted Chamberlain Cup and keep it inside the U.S. with a solid team performance at the global event.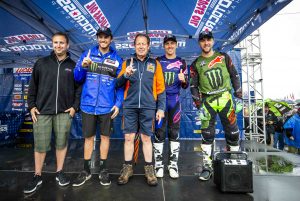 For Barcia, this marks his fourth-career Motocross of Nations race and the New York native is more than ready to showcase his determination in front of tens of thousands of fans in Michigan. Barcia comes into the weekend with great momentum following a successful AMA Pro Motocross season, where he piloted his YZ450F to a 1-1 sweep in the final round of the 450MX Championship. Furthermore, good vibes surround the RedBud MX racetrack for Barcia, as he captured third-overall there over the summer with 4-2 moto finishes.

As Barcia's newest Monster Energy/Yamaha Factory Racing teammate for the upcoming 450cc season, 22-year-old Plessinger is excited to compete in his first-ever Motocross of Nations event. Known for his ability to excel in all types of conditions and terrain, the recently-crowned AMA 250SX West Champion and AMA 250MX National Champion looks forward to going to battle aboard the YZ250F against the world's top 250cc riders in the MX2 division.

Justin Barcia, Open Class #27

"It's exciting to be racing for the USA again! I've done it three times, so this will be my fourth go and I've always done really well and always given it 150 percent, so I plan to go out there and give it my all this weekend. RedBud is an awesome track and I know it's going to be crazy - the fans are going to be wild - but all-in-all I think we'll have the most support out of any of the teams racing.

I definitely have strong teammates so that's a good thing since it's a team race, but at the same time we need to go out there and put in the results. I've done some testing after the season and I feel like I got my bike even better than it was so I'm excited to go racing, ride my bike and have fun - that's the biggest thing. This is a fun race, there's nothing really on the line except to go there and try to bring that trophy home. That's the goal. The team is super solid this year - one of the best ones ever - so we're going to go out there and try to do it."

Aaron Plessinger, MX2 Class #26

"I'm feeling really great about this weekend, I've gotten a lot of motos in these past few weeks and have been working on my starts. I can't wait to get over to Michigan to see all the fans and get some good racing going!"

DON'T MISS THE PIT BIKE OF NATIONS EVENT ON SATURDAY NIGHT, FEATURING YAMAHA BLU CRU'S RYAN VILLOPOTO ON A TTR 110!

For the first time ever, the Motocross of Nations will host a "Pit Bike of Nations" race on Saturday, October 6 at RedBud's night track. Riders representing fourteen different countries will race aboard stock Yamaha TTR110s in the three-moto format and each team will field three riders and one bike. Yamaha bLU cRU rider, Ryan Villopoto, will be on-hand representing the U.S. team as they battle for the inaugural Pit Bike of Nations victory in Michigan.

MEET JUSTIN BARCIA AND AARON PLESSINGER ON SATURDAY AND SUNDAY AT THE MONSTER ENERGY TRANSPORTER

Stop by the Monster Energy Transporter on Saturday from 12:30 - 12:50 p.m. and Sunday 11:30 - 11:50 a.m. for an exclusive autograph session with Monster Energy athletes (the time is local and subject to change due to scheduling). Justin and Aaron will be there to meet fans and sign autographs.

IF YOU CAN'T MAKE IT TO REDBUD, TUNE INTO CBS SPORTS NETWORK

Live coverage from the 2018 Motocross of Nations in Buchanan, Michigan will be broadcast Sunday, October 7 on CBS Sports Network beginning with Race 1 (MXGP & MX2) at 10 a.m. PST. Race 2 (MX2 & OPEN) will follow at 11:30 a.m. and Race 3 (OPEN & MXGP) will air at 1 p.m. PST. Qualifying and race coverage can also be viewed live online through MXGP-TV.com.