CHAPARRAL MOTORSPORTS ANNOUNCES 32nd ANNUAL MONSTER PARKING LOT SALE
Chaparral Motorsports
|
September 24, 2018
|
Last Updated: August 7, 2020
What's scarier than a haunted house in October? Missing Chaparral Motorsports' Annual Monster Parking Lot Sale. On Saturday October 6th, as they've done for 31 years straight, Chaparral Motorsports will have its largest sale of the year. Commonly referred to as the MPLS for short or just PLS if you want to make it really brief, this is the one time of year where you can find insane deals on a huge inventory of motorcycle, ATV, and UTV tires, as well as gear and accessories. To put it in perspective for those that have never been to the Chaparral Motorsports Monster Parking Lot Sale, the event is so big and there are so many vendors that it can't fit inside Chaparral's massive 160,000 square-foot store and therefore has to be held in the parking lot behind the store.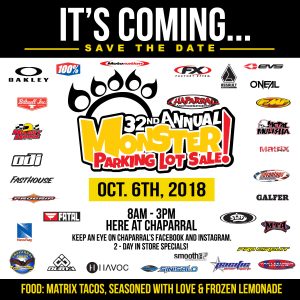 How can one store have a sale this big you ask? First of all, Chaparral will have 806 different models and sizes of tires, for a total of more than 3,000 ATV, UTV, dirt bike and street bike tires at deeply discounted prices. Secondly, there will be great deals on helmets, gloves, MX jerseys, pants, and boots. Casual wear such as tee shirts and sweatshirts will be marked way down as well as all the necessities like utility jugs, gear bags, dirt bike stands, and much more.
This is just some of the stuff that will be available Chaparral's vending area! In addition to Chaparral's massive wonderland of goods, there will be more than 25 top name vendors in attendance like Oakley, FMF, Pro Circuit, O'Neal, Metal Mulisha, EVS sports, and 100% Goggles offering blow out prices. Check out the sales flyer and some of the deals that will be going down here.
No matter what you ride, where you ride, or even if you don't ride at all but want to score some great gifts for your loved ones ahead of the Christmas rush, this is a sale you don't want to miss. The gates open at 8am but the crowd will start lining up well before that! So hitch up the wagon, clear out the stroller, and start doing some push up because you're going to need all that space and strength to haul everything you purchased back to your vehicle. Be sure to mark your calendar for October 6th, because if you miss the Chaparral Motorsports Monster Parking Lot Sale or #MPLS or #PLS or whatever you prefer to call it, you won't see deals like this for another 365 days-and that's really scary! You can check out the commercial for the event below:
Chaparral Motorsports started as a family motorcycle parts business in 1980 and now encompasses a 160,000 square foot footprint in San Bernardino, California. Recognized as one of the largest motorcycle dealerships in the country, Chaparral Motorsports offers a great selection of motorcycle parts, accessories, motorcycle gear, and motorcycle tires. Over its 38 years in business, Chaparral Motorsports has developed into a multi-line motorcycle and ATV superstore, offering Honda, Yamaha, Kawasaki, KTM, Suzuki, Can-Am, Polaris, and Kymco ATV's, motorcycles, side-by-sides and utility vehicles. For more information on Chaparral Motorsports, visit www.chapmoto.com.