2018 Chaparral Motorsports/Precision Concepts/Kawasaki Team WORCS Report From Glen Helen
Chaparral Motorsports
|
September 18, 2018
Write up by Robby Bell
Chaparral Motorsports, Precision Concepts, Kawasaki Team Green headed out to Devore, CA for the seventh round of the WORCS championship. Glen Helen in September can be brutally hot, but this year the temperatures were a little milder in the mid-90's. As a result, the consensus seemed to be very race-able course conditions with minimal dust and a mixture of rocky creek sections, high-speed chop, and of course, the motocross courses. Blayne Thompson had a solid showing, earning a seventh place finish. Justin Seeds recovered from a couple mid-race falls to garner a hard-fought ninth. In the Pro 2 class, Clay Hengeveld was fortunate just to make the start of the race following a mechanical issue on the parade lap. After taking off twenty seconds behind his class, Clay fought to a respectable seventh.

Blayne Thompson
Blayne didn't get off to the best start in the ninety-minute pro main event. However, he was quick to pick off a few positions and work inside the top-ten. Over the first few laps, Thompson showed impressive speed, closing in on the top-five. Unfortunately, Blayne would run into a few issues with lapped traffic in the single-track pro sections, which slowed his pace. After losing touch with the riders ahead, Thompson continued to have consistent laps to finish out the race in seventh.

"Well, I didn't get to the best of starts to the race as I would have liked. But we came out swinging and did the best we could. I got stuck with a few lappers in the pro sections and there wasn't really anything I could do about it. I tried to work my way back to the front, but just ran out of time. It wasn't as good as we'd planned, but we'll come back at the next one and see what we can do."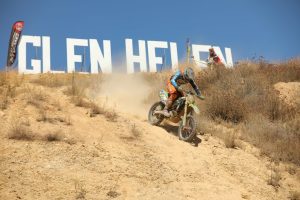 Justin Seeds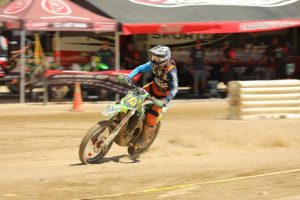 Contrary to his teammate, Justin had a great start as he rounded the infamous Talladega first turn in third. Seeds ran inside the top-five for the first few laps before an unfortunate incident with Gary Sutherlin sent him to the ground and pushed him way back. Following another fall just on the heels of the run-in with Sutherlin, Justin found himself in thirteenth position. After regrouping, Seeds found a solid pace and began working through the field. He closed in on the top-ten and executed a three-for-one pass as all three riders ahead of him pulled into the pits. From there, Justin was able to make one more pass on the last lap to salvage a ninth-place finish on the day.

"I got off to a [great start]. Then, Taylor was able to sneak by on the inside, but I ran there for a little while. Unfortunately, I got together with Gary Sutherlin, which took me out [of it]. Then I had another little crash after that, so I was a ways back. But I was able to put my head down and start charging forward. Unfortunately, I lost way too much time and could only work my way back up to ninth. I felt a lot stronger than how it looked on paper. All I can do is put that one behind me and move forward."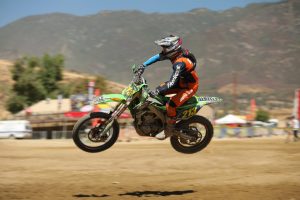 Clay Hengeveld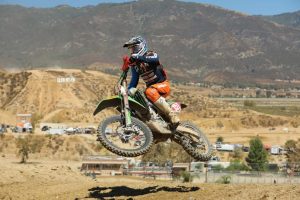 In what was definitely the toughest start to the race, Clay was somewhat fortunate just to make it on the track. Following an abbreviated parade lap, the Chaparral Motorsports, Precision Concepts, Kawasaki Team Green crew noticed that Clay's radiator had taken severe damage and was leaking as a result. With only a few minutes before the drop of the gate, the team worked very quickly to fix Hengeveld's machine and get him on track. Incredibly, just twenty seconds after the Pro 2 field left the line, the team finished Clay's bike and got him out on course. Adding to the challenge for Clay was the fact that he'd only had the pins taken out of a badly broken big toe on the Wednesday before the event. Hengeveld was able to manage the pain in his foot and move forward through the Pro 2 field. He methodically worked his way up to claim a gritty seventh at the checkered flag.

"Where do I start. There for a minute I didn't think I was going to race. Then I saw the Pro 2 line take off and started to really question it. But thanks to all the guys on the team for getting me back out on the track. I tried to ride as hard as I could. Unfortunately, I only got seventh for the weekend. My foot was really hurting during qualifying earlier in the day. So after qualifying I just iced it and rested my foot. Considering I got the pins out on Wednesday and not being able to do much for a month, [a seventh] is pretty good. But I'm going to train hard [because] I want to come out on top for the next round. That's my goal and I believe I can do that."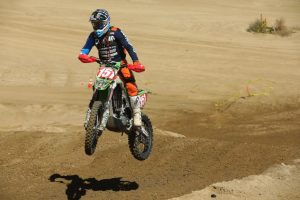 Robby Bell, Team Manager
"Glen Helen is always tough. There's such a variety of terrain, and it's typically a scorcher in September. All three guys showed grit today, overcoming obstacles. It was a bummer that Justin Seeds had the crash, as he was poised to challenge for a top-five. Likewise, Blayne Thompson showed good speed overcoming a poor start and was right in the mix before a few issues set him back. To be honest, I didn't know if Clay was going to be able to race for a minute there. When he came in with the damaged radiator after the parade lap, we just had to focus on getting him on track before the riders finished a lap. So to get him out there just twenty seconds or so behind his line was a victory in itself. I want to say a huge thank you to everyone who helped with the mechanical work. It was quite the fire drill. Up next, we have the big conflict weekend between the two series. That'll be logistically challenging on the team, but we're up for some hard work and making a successful weekend of it."