Poor Sportsmanship Costs Moto2 Rider His Job
Chaparral Motorsports
|
September 10, 2018
While MotoGP racing is thrilling enough with its high speed space, amazing technical riding, and scary offs, sometimes it's the tension and frustrations between riders that brings about the wildest action. These riders are passionate about what they do and while their sport requires instantaneous reaction times and reflexes to avoid catastrophe, when things get heated amongst competitors sometimes we see logic and common sense go right out the window leading to some very scary or scrupulous scenarios.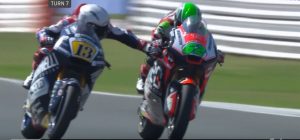 We've seen a lot of wild antics come from the MotoGP world, from riders kicking and punching other riders, to riders hitting the kill switch on a competitors bike at the start of a warm up session-and these incidents are just from one rider, Romano Fenati. Well, the Italian Moto2 rider let his emotions get the best of him once again this past Sunday at the GP Octo di San Marino e della Riviera di Rimini. This time it not only cost Fenati his ride with Marinelli Snipers Team, but it could have cost Stefano Manzi his life.

After jockeying for position Fenati became frustrated with Manzi after they both briefly went off the track, upon regaining control and getting back on track Fenati pulled alongside Manzi in a straightaway and then grabbed his front brake. Manzi's frontend dipped a bit and his backend wobbled which upset his riding position. Luckily Manzi was able to regain control and composure.


Fenati's actions drew immediate punishment from the FIM MotoGP and he was suspended for two races. That suspension doesn't really seem to matter much now though seeing as how today the Marinelli Snipers Team has cut all ties with Fenati, and issued the following statement:

"Here we are. Now we can communicate that the Marinelli Snipers Team shall terminate the contract with the rider Romano Fenati, from now on, for his unsporting, dangerous and damaging conduct for the image of all. With extreme regret, we have to note that his irresponsible act endangered the life of another rider and can't be apologised for in any way. The rider, from this moment, will not participate in any more races with the Marinelli Snipers team. The team, Marinelli Cucine, Rivacold and all the other sponsors and the people that always supported him, apologised to all the World Championship fans."

Things got even worse for Fenati as he was slated to race for MV Augusta in Moto2 next year however, company president, Giovanni Castiglioni, put the kibosh on that this morning with this post on Instagram.

Thankfully Manzi or anyone else wasn't serious injured by this incident. In a recent statement Fenati has accepted responsibility for his actions and showed remorse with the following statement:

"I apologise to the whole sports world. This morning, with a clear mind, I wish it had been just a bad dream," Fenati stated. "I think back to those moments, I made a disgraceful gesture, I was not a man. The criticisms are correct and I understand the resentment towards me. I want to apologise to everyone who believed in me and all those who felt hurt by my actions."

Here's a clip from 2015 when Fenati after hitting and kicking Niklas Ajo, Fenati then pushed the kill switch on Ajo's bike.