De Coster Appointed U.S. Motorsport Director Ktm/Husqvarna; Harrison Promoted
Chaparral Motorsports
|
August 31, 2018
(Press Release)
The Belgian has put pen to paper on a multi-year agreement and a new role for the KTM Group. De Coster will be 'Motorsport Director KTM/Husqvarna North America' and retain a more strategic and senior position in all of KTM and Husqvarna's USA racing activities.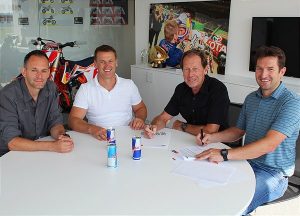 Ian Harrison has been Roger's 'right hand man' and key collaborator for a number of years - certainly since 2011 when De Coster first came to KTM - and has also renewed his position with the KTM Group to become de facto Team Manager of the Red Bull KTM MX/SX squad and Technical Director of the KTM/Husqvarna efforts in the United States.

The De Coster/Harrison link was largely fundamental in the reorganisation of KTM's sporting arm in high profile Supercross and Motocross circles at the start of the decade. The pair were instrumental in forging a close link with R&D in Mattighofen, Austria and elevating the race team to the position of champions.

Ryan Dungey's signature was key as was development of outstanding talent such as Ken Roczen and Marvin Musquin; KTM went on to toast titles and milestones in every AMA division. Recently, the alliance with Aldon Baker's training regime only strengthened the KTM Group's status and ensured the finest resources towards the current and next generations.

De Coster: "I can still remember now when people said I was crazy to join KTM. It has almost been ten years but it shows that when a company is as serious and dedicated about their racing as the KTM Group are then many things are possible. I'm happy to again sign with them and to continue working with them to extend my long story in this sport. We have achieved a lot together and I don't feel that the 'fire' is dimming or my motivation to keep this team and factory at the top of the sport is any less as the first day I wore the orange shirt. I'd like to thank Mr. Pierer, Pit and all the guys who work so hard to allow us to be where we want to be."

Harrison: "Time has passed so quickly and it feels like we have done so much since we started to look at how and where we could be better back in 2011. I don't think we could have imagined all the trophies and red plates we've collected, even if the ambition to do so was very strong then and has not faded in all this time. We went through the Dungey era and have seen the development of Marvin to a bona fide Supercross title contender. We're not stopping and it's exciting to think about where we can go next."

Robert Jonas, Vice President KTM Offroad: "Having Roger and Ian as the solid backbone of our supercross and motocross division in the United States has paid back so much to the company. Believing and backing those guys the best way we can has allowed for some superb success in some of the biggest and most competitive motorcycle racing series'. Keeping them as part of the family and depending on their experience and wisdom was very important to us, so I'm really pleased to be talking about this new contract. I want to congratulate Ian, he is now leading the Red Bull KTM team and this is the least he deserves after so much work and dedication over the years. We will continue to plan and, hopefully, continue to reach our goals on American soil."