The Monster Energy/Yamaha Factory Racing Team Battles To Top-Ten Finishes At Budds Creek National
Chaparral Motorsports
|
August 20, 2018
Plessinger Clinches the 250MX Championship One Round Early
(Press Release) Mechanicsville, Md.-August 19, 2018-
The Monster Energy/Yamaha Factory Racing Team battled through the penultimate round of the 2018 AMA Pro Motocross Championship on Saturday to claim a pair of top-ten finishes at the Budds Creek National in Mechanicsville, Maryland.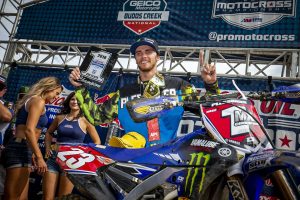 Aaron Plessinger and the Monster Energy/Yamalube/Star/Yamaha Racing Team had a successful weekend as they wrapped up the 250MX Championship one round early at Budds Creek. Plessinger started off with a bang as he piloted his YZ250F to victory in Moto 1, claiming the title before the second gate drop.

450MX

After qualifying fourth overall, Barcia powered his YZ450F into the third-place position off the start in Moto 1. He ran third for a majority of the race until arm pump set in just after the halfway mark. From there, Barcia fought hard to maintain his podium position but he dropped back a few positions to ultimately finish sixth.

Meanwhile, Cooper Webb didn't get off to the best start but he climbed his way into a top-ten position on the opening lap. He continued to charge up to eighth and he maintained a solid pace to finish eighth in the moto.

In Moto 2, Barcia shot off the line to put himself into a top-three position off the start. He immediately went to work climbing into second as he battled for the lead position early on. As he was dicing back-and-forth with the leader, the third-place rider was able to catch up and eventually overtake the second-place position. Barcia worked hard to maintain third but he went down on lap seven and dropped to sixth before charging back to finish fifth in the moto and fifth overall for the day.

Webb began Moto 2 just inside the top-ten and he climbed his way up to seventh by lap four. He pushed hard to catch the top-five riders in the closing laps but he wasn't able to make any passes, finishing seventh in the moto and seventh overall for the day.

Jim Perry, Team Manager

"Today at Budds Creek, we definitely missed the mark as a team. Justin Barcia started off the day qualifying fourth in practice and things seemed like they were going in the right direction; however, the motos didn't play out that way. Justin got two great starts, he challenged for the lead both motos but eventually finished fifth overall. He had a small tip-over in the second moto and the first moto he struggled with a little bit of arm pump. Justin made some changes for the second moto and it seemed to help but not enough to be on the podium, so it was a disappointing day. Cooper Webb went 8-7 for the day, but really never on par. He had okay starts, but it was just a seventh place day. We look forward to the final round next weekend and achieving the goal of winning a moto and being on the box."

Justin Barcia, 450MX #51 (Moto 1 = 6th / Moto 2 = 5th / Overall = 5th)

"Budds Creek was okay, not the best of weekends for sure. I qualified fourth, so I had pretty good practice sessions but I was struggling in the motos. I definitely made a few improvements this weekend - my starts were a lot better - I just wasn't able to capitalize on the good starts. Overall it was a very difficult day for me, definitely not what I wanted but we'll just keep moving forward. I'm excited for next weekend, it's the last one and I'm definitely going to give it my all and rebound from this weekend."




Cooper Webb, 450MX #2 (Moto 1 = 8th / Moto 2 = 7th / Overall = 7th)

"Budds Creek was a so-so weekend. Practice went pretty good, I qualified fifth in the first session and then I got bumped down to seventh, which was still alright. In Moto 1 I didn't get a very good start, I had to make a lot of passes and once I got into eighth, everybody was pretty far out and I was in no-man's land, so I ended up eighth. In the second moto, I got a little better start but still not very good and I made a bunch of passes to get into seventh. I made a charge and caught some guys in fifth and sixth but I just couldn't quite get close enough. It wasn't my greatest weekend but I'm looking to build and try to do better at Ironman."

450MX Results - Budds Creek



Eli Tomac, Kawasaki, (3-1)

Ken Roczen, Honda, (1-3)

Marvin Musquin, KTM, (2-4)

Justin Barcia - Yamaha, (6-5)

Cooper Webb - Yamaha, (8-7)

250MX Results - Budds Creek


RJ Hampshire - Honda, (2-1)

Chase Sexton - Honda, (7-2)

Aaron Plessinger - Yamaha, (1-11)

Justin Cooper - Yamaha, (14-3)

Dylan Ferrandis - Yamaha, (5-10)

Colt Nichols - Yamaha, (15-8)

450MX Standings - After Round 11 of 12


Eli Tomac, 493 points

Marvin Musquin, 473

Ken Roczen, 403

Justin Barcia, 394

250MX Standings - After Round 11 of 12


Aaron Plessinger, 450 points

Alex Martin, 366

Justin Cooper, 318