First Look: Alpinestars New Tech 10 Motocross Boots
Chaparral Motorsports
|
August 15, 2018
Alpinestars' Tech 10 boots have been the company's premiere dirt bike boot for quite some time. However, that's not to say that the company just designed the Tech 10 and left it alone, absolutely not! Through feedback and suggestions from their long list of professional riders the Alpinestars design team has continually adapted new features and incorporated the latest materials into the Tech 10 line. In fact with this latest release, they are now on the third generation of Tech 10 motocross boots.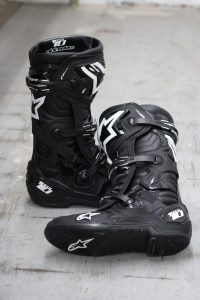 Completely redesigned, these newest boots from Alpinestars are proof of the old adage the things get better with age. Lighter, flexible in the right places while remaining stiff in key areas, as well as offering more comfort than previous iterations, the new Tech 10s are miles away from the original version and quite an upgrade from the second generation.

Some of the key features in the new Tech 10s are that they are a tad shorter which helps make them less cumbersome on the legs, they're less likely to interfere with the bottom of your knee braces, and helps reduce overall weight. In fact, weight-wise the new boots (pair) are almost a pound lighter than the previous model. The inside of the calf area has a larger TPU plastic to provide more protection and grip for the rider's legs. The incorporation of the new Frontal Flex Frame provides quite a few benefits and features most notably controlled flex to prevent over-flexing which could lead to hyper extension.



On the inside the removable bootie has been addressed to offer better comfort, protection, and ease of use. The padding has been beefed up to provide a thicker barrier between the inner/outer ankle and the boot shell. This also makes for less rubbing and irritation. There is also a more robust pull strap on the back of the bootie and as well as a single Velcro closure on the front to help reduce material and overall thickness.

The new Tech 10s won't be available until mid September, but if you're a fan of Aplinestars or you're in the market for some new mx boots you'll definitely want to check out the breakdown video below of Travis going over the differences between the old Tech 10s and this latest version.