RONNIE MAC, TRAVIS PASTRANA, AND RYAN SIPES TO REPRESENT PUERTO RICO AT 2018 MOTOCROSS OF NATIONS
Chaparral Motorsports
|
August 14, 2018
(Press Release) San Juan, PR -
Today the Federación de Motociclismo de Puerto Rico Inc. announced that Ronnie Mac, Travis Pastrana, and Ryan Sipes will represent Puerto Rico in the 2018 Monster Energy FIM Motocross of Nations. The all veteran (over 30 years old) team will be guided by MX legend Ricky Johnson as team coach.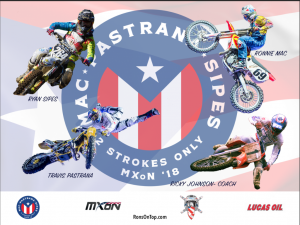 Despite missing a slot on Team USA (yet again), Ronnie Mac, self-proclaimed motocross champion, is on a mission to show the world that he is indeed the best racer of all time and has called in his friends Travis Pastrana and Ryan Sipes to help. This all-star team that has been assembled by Ronnie Mac with help from the Motocross Federation of Puerto Rico and Nitro Circus will see Pastrana enter into the Open class while Ryan Sipes will compete in the MX2 class and the heavy hitter Ronnie Mac will hold it down in the MXGP class. All riders will be racing on 2-strokes.
Pastrana, a Motocross of Nations champion, has not raced professionally since 2006 yet he has remained well more than active on his bike since he decided to retire from motocross racing some 12 years ago. With Pastrana's family ties to Puerto Rico (his Grandfather was born in the USA territory of Puerto Rico), he agreed to make a visit to the gym and dust off his
Suzuki
RM250 under one condition; the team would need to raise funds to give back to Puerto Rico during their time of need.
"Hurricane Maria devastated Puerto Rico almost a year ago and still to this day thousands of people are without the basic resources they need. This is an awesome opportunity for the motocross community to get behind and give back to the beautiful island of Puerto Rico." said Pastrana on his involvement with Team Puerto Rico and the 2018 Motocross of Nations. "I'm also excited to be a part of the largest motocross event ever held in the United States and to give the old guys someone to root for as Team Puerto Rico looks to qualify on 2-strokes."
Ryan Sipes, a well-known vet in the racing world is excited as ever to have the chance to race Motocross of Nations. "Racing in the Motocross of Nations is a dream come true and a once in a lifetime opportunity. To be on a team with one of the best riders to ever throw a leg over a motorcycle is incredible... and my other teammate does double backflips! I can't wait!"
Team Puerto Rico will be raising funds through direct donations and merch sales. A portion of proceeds of all merch sales will be donated to select Puerto Rican organizations designed to provide support to people in need. The organizations receiving funds will be determined in conjunction with the Federación de Motociclismo de Puerto Rico Inc. to ensure they make the largest impact possible. Head to
www.ronsontop.com
now to rally behind the boys by purchasing some merchandise or making a direct donation.
"We're here to win." - Ronnie Mac.