Barcia Charges Into His Home State Of New York For Round 10 Of The 2018 Pro Motocross Championship At Unadilla
Chaparral Motorsports
|
August 9, 2018
(Press release) Cypress, Calif.-August 9, 2018-
The Monster Energy/Yamaha Factory Racing Team is gearing up for Round 10 of the 2018 AMA Pro Motocross Championship this Saturday, Aug. 11, following a weekend off from racing. The iconic Unadilla National, taking place in New Berlin, New York, is a welcomed stop for Yamaha bLU cRU riders with Justin Barcia heading to familiar territory to battle for his first win of the season, and his teammate, Cooper Webb, looking to repeat past success at a track that suits the riding style of both riders.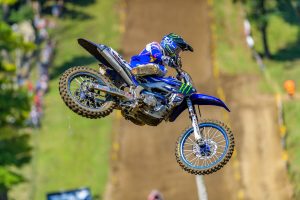 Barcia, who currently sits tied for third in the 450MX standings, has scored eight podium finishes this season with an impressive string of top-three overalls. While he's missed the podium in the last two rounds, Barcia is more determined than ever to put his YZ450F back on the box this weekend at Unadilla.

Four rounds into his return from injury, Webb continues to build each week and he has a positive outlook heading into the final three rounds of the series. The North Carolina resident has been focused on his training efforts back east and he's feeling refreshed and ready to attack the Unadilla race track, which is a place that he deems favorable.

This weekend's schedule at Unadilla will feature the premier 450MX class up first, followed by the 250MX class for both motos due to the live television coverage of 450 Moto 2 on NBC at Noon PDT.

Justin Barcia, 450MX #51

"I had a good week off from the races. I got to work on my bike setup a little bit, put in some good motos and work on my riding, but also have a pretty chill weekend because I want to be fresh going into this weekend at Unadilla. That place, for me, is pretty special. I grew up not far from there, I have a lot of great fans and I really enjoy the track, so it's definitely up there as one of my favorite races of the year. The goal is definitely to be back on the podium - I've missed it the last few rounds - just struggling a little bit - but I believe I found a good setup on the motorcycle and I'm feeling good confidence-wise."

Cooper Webb, 450MX #2

"I'm really excited for Unadilla this coming weekend. I've had a great two "off-weeks" getting better prepared for these last three Nationals and I'm looking forward to finishing the season strong. I'm in North Carolina putting in some work and it was nice to have a weekend off and get ready for 'Dilla. Last year, I was actually on the podium there, so that was a good race for me and in 2016 I went 1-1 [in the 250MX class] and won the overall, so I've had some great races there. I have a lot of fans and friends up there as well, so I'm really looking forward to it."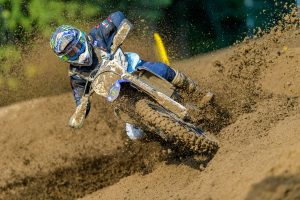 MEET JUSTIN BARCIA AND COOPER WEBB AT THE RACE TRANSPORTER DURING SATURDAY'S AUTOGRAPH SESSION­

Stop by the Monster Energy/Yamaha Factory Racing team transporter on Saturday from 11 a.m. - Noon (the time is local and subject to change due to scheduling). Justin and Cooper will be there to meet fans and sign autographs.

IF YOU CAN'T MAKE IT TO UNADILLA, TUNE INTO MAVTV, NBC AND NBCSN

The first set of motos from Unadilla will be broadcast live on MAVTV beginning with 450 Moto 1 at 10 a.m. PDT and 250 Moto 1 at 11 a.m. 450 Moto 2 will be broadcast live on NBC at Noon, with 250 Moto 2 airing later at 4:30 p.m. on NBC Sports Network. All motos can also be viewed live on the NBC Sports Gold App, beginning at 1 p.m. PDT.

For more Yamaha racing news, results, photos, and videos, visit http://www.YamahaMotorsports.com/Racing