BFGoodrich Enters Side-by-side Tire Market With New Mud Terrain T/A KM3
Chaparral Motorsports
|
August 1, 2018
|
Last Updated: November 9, 2020
BFGoodrich is recognized as a leader and innovator in the offroad world and for good reason. For more than 40 years the company has earned praise and accolades through its spectacular accomplishments and achievements in competitions and overall performance. The tire company has helped offroad drivers and teams win some of the toughest races in the world, and most notably have more SCORE Baja championships to its name than all the competition combined.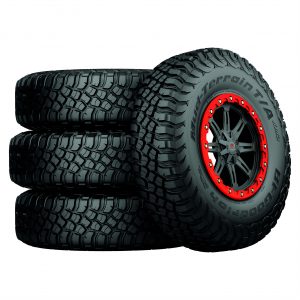 It's not just professional drivers and race teams that love the performance of the BFGoodrich tires, BFG is one of the top tires of choice for everyone from the serious offroader to the casual weekend warrior who outfit the four corners of their trucks and jeeps with BFGs.
Besides ripping the desert in their Baja trucks or rock crawling in their Jeep Wranglers, many 4x4 enthusiasts also own side-by-sides as well. So you can only imagine the excitement they must be feeling with the announcement that BFGoodrich now has a line of UTV tires highlighted by the all new BFGoodrich® Mud Terrain T/A® KM3.
BFGoodrich says they designed the new Mud Terrain T/A KM3 for sport and multipurpose side-by-sides and that the tires were adapted from race-proven technology designed for the Baja 1000-winning Mud-Terrain T/A® KM3 and Baja T/A ® KR2. The Mud Terrain T/A KM3 have steel-belted radial construction for increased durability and optimal ride quality and are engineered to balance maximum toughness with minimal weight for more comfort and handling performance.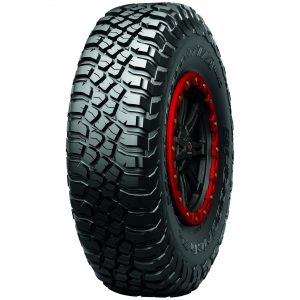 Key technologies in the Mud Terrain T/A KM3 include:
Traction-Armor Sidewall Sculpture: Designed to boost traction capabilities in mud and soft soil thanks to a notched shoulder design and to prevent hazards from snagging and splitting the sidewall.
Terrain-Attack Tread Design: Tread blocks are designed to deliver incredible grip from any angle of approach.
Mud-Phobic Bars: Created to release compacted mud for enhanced traction in muddy and soft soil conditions.
Linear Flex Zones: Built to allow the tire to flex and envelop objects in aired-down situations.
UTV-Specific Tread Compound: Grips rock and other slick surfaces
Stable Tread Blocks: Help provide foundation in rocky conditions. -Tough Sidewall Rubber: Helps resist splitting and bruising
Thick, Extended Shoulder Rubber: Helps protect the critical sidewall failure zone.
While these new tires are designed to deliver superior performance in all types of terrain and scenarios, they are unfortunately not DOT-approved and therefore not street legal. However, some of the states and counties in the US that allow side-by-sides to be driven on surface streets don't require DOT tires, so check with your local municipality.
The Mud Terrain T/A KM3 tires will be available to fit 14-inch and 15-inch UTV/SXS rims sizes and will be offered in 28-inch, 30-inch and 32-inch widths.
Sizes
| Size | Max Load @Max PSI | Max Load @18 PSI | Ply Rating | Weight (lbs.) |
| --- | --- | --- | --- | --- |
| 28X10.00R14 NHS | 1557 lbs. @44psi | 910 lbs. | 8 | 36.6 |
| 30X10.00R14 NHS | 1760 lbs. @44psi | 1034 lbs. | 8 | 39.24 |
| 30X10.00R15 NHS | 1694 lbs. @44psi | 1015 lbs. | 8 | 38.36 |
| 32x10.00R14 NHS | 2002 lbs. @44psi | 1172 lbs. | 8 | 42.14 |
| 32x10.00R15 NHS | 1936 lbs. @44 psi | 1150 lbs. | 8 | 41.95 |