Track-Side Tech: Dirt Bike Sprocket And Chain Swap
Chaparral Motorsports
|
July 16, 2018
|
Last Updated: December 12, 2020
There quite a few reasons as to why you might want to change your dirt bike sprockets. First of all, your sprockets wear down over time. Depending on the material the sprockets are made out of they may last a long time or a short time. Aluminum is softer than steel so if you have an aluminum sprocket it'll need to be replaced sooner than a steel sprocket.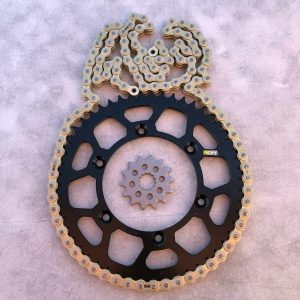 An aluminum sprocket can be more than 1-pound lighter than a steel sprocket with the same amount of teeth, which is yet another reason why you might want to change things up-to shave some weight off your bike. Just like the sprockets, a dirt bike chain needs to be replaced due to wear. Over time the torque and power put upon the chain will cause the chain to stretch (that's why you need to keep adjusting your chain) and eventually you will get to the point to where you run out of room in your axle adjusters to keep the chain properly adjusted. The components that make up the chain may wear down as well causing you to have to swap it out for a new one.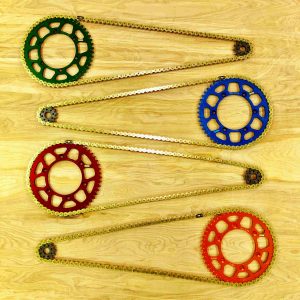 Another reason why people change out the sprockets on a dirt bike is for looks-especially the rear sprocket. There is a wide array of colors that companies like Pro Taper, Flo Motorsports, and Renthal offer their sprockets in so that you can match it up with the color scheme of your bike for a custom look.
Beyond looks and maintenance, the biggest reason people will change out their sprockets is for performance reasons. Depending on your gear ratio and whether you gear up or gear down by swapping out the smaller counter shaft sprocket (front) or the larger drive sprocket (rear) you can increase you motorcycle's top speed or help get more torque and power in the lower RPMs for better hole shots and acceleration out of the corners. You don't have to swap out both sprockets when doing a gearing change; you can just change out the rear or the front. If it's just a mild change you are looking for then address the rear, if you want a bigger jump in performance then look at installing a new front sprocket. Changing up the gearing on a dirt bike can be confusing for some people and that' totally understandable. To make things a little simpler and get an idea as to what you can expect performance-wise by going up or down on the number of teeth on your sprockets check out this graphic below.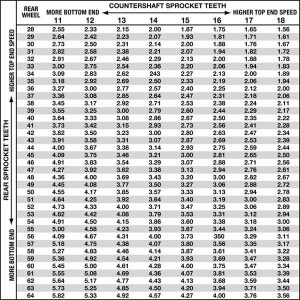 One thing to keep in mind, whatever reason you have for changing out your chain or sprockets it is best practice to go with all new running gear each time. By installing all new front and rear sprockets as well as a new chain everything will wear together evenly giving you the best performance and extended life of the components.
Performing a sprocket and chain swap isn't too difficult if you have the proper tools. In fact it's easy enough that the last time we were at the track, Travis changed out the setup on his 2018 Yamaha YZ450F. He was going to be spending quite a bit of time at Glen Helen and wanted to draw out his gearing and get a bit more top end so he dropped down the teeth in the rear with a new Pro Taper rear sprocket. Pro Taper also recently came out with a new Pro Series Forged Chain that has slimmer outer plates. The new design and manufacturing process makes for a lighter chain that's still strong and durable. So sit back grab a pen and paper and take some notes so that you can perform your own chain/sprocket swaps.