Video Shows How Scary George Clooney's Scooter Accident Really Was
Chaparral Motorsports
|
July 13, 2018
While the picture and video would have you think otherwise, actor George Clooney was miraculously able to survive a head on collision with a Mercedes station wagon while riding a scooter without any reported major injuries. The accident occurred on July 10th, on the Italian island of Sardinia where Clooney is currently filming.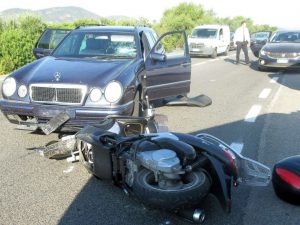 Video from a security camera along the road where the accident occurred shows the Mercedes cross over the center line into the lane of oncoming traffic as if it were making a left hand turn. A person riding a scooter just a head of Clooney was able to narrowly miss the car and then a split second later Clooney is seen colliding with the front of the vehicle.


ETonline reported that Clooney was traveling at nearly 60 mph before the moment of impact. Thankfully Clooney was wearing a motorcycle helmet, as the force of the impact caused Clooney to slam his head into the windshield, shattering the glass and leaving a distinct visual as to how important motorcycle helmets are. The helmet did its job and took the brunt of the force, it's been reported that the motorcycle helmet broke upon impact.

Watching the video it really is incredible to believe that Clooney wasn't seriously injured-especially with the speed at which the accident occurred. Apparently he was immediately taken to the local hospital and released a little while later. He was most recently seen just yesterday gingerly walking onto a private plane and using a handrail to help him up the steps. Best wishes on a quick and full recovery George.