Dani Pedrosa Announces His Retirement
Chaparral Motorsports
|
July 12, 2018
After more than a decade of being one of the top contenders in motorcycle racing's premiere class Dani Pedrosa has announced he will retire after this year's MotoGP season. Pedrosa will leave the sport with a stellar record that is pinnacled with several championships and multiple astounding achievements.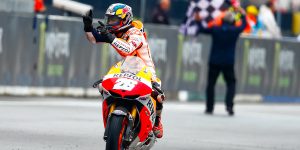 Born in 1985 in Sabadell, Catalonia, Spain, Pedrosa started on motorcycles when most people were just learning how to ride bicycles. By the time he was nine he was already lining up at the grid giving spectators a glimpse at the prosperous career that lay ahead for him, He first began racing in the Spanish Minibike Championship and placed second overall in his first season.

Pedrosa started his Grand Prix racing career in 2001 competing in the 125cc class aboard a Honda RS125. He quickly made a name for himself in his rookie season by scoring two podiums and placing 8th overall. In 2003 he won his first 125cc championship, moved up to the 250cc class the following year and won the 250 title on a Honda RS250R, and then repeated the feat in 2005.

Despite naysayers and teams overlooking him because of his small stature, he measures in a 5-foot 2-inches tall and tips the scale at just over 110 pounds, many felt he was too light to handle the power of a premiere MotoGP bike, Pedrosa hopped aboard a Honda RC211V in 2006 for the Repsol Honda team and never looked back. In his inaugural MotoGP season he recorded two wins, eight podiums, and a fifth overall finish.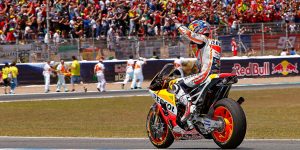 Although Pedrosa's career was plagued with injury and he was never able to capture the coveted MotoGP title (he finished runner up three times), he spent 18 years racing in the world's premiere series and is second overall in Grand Prix career points. What's almost more impressive than his records and championships is that Pedrosa spent his entire Grand Prix career aboard a Honda. Since he entered the series in 2001 he's competed in all three Grand Prix classes on the same motorcycle brand and that's something that greats like Marc Marquez, Jorge Lorenzo, and Valentino Rossi can't claim. Now that's cool!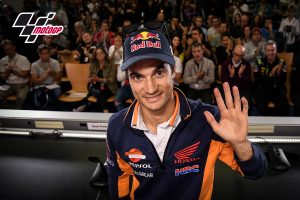 Here's a list of just a few of Pedrosa's accomplishments:

He has been on a Honda since his first season in the Grand Prix series (2001)

2003-125cc championship

2004 won the 250cc championship--rookie season and youngest 250cc world champ

2005 won 250cc championship

2006 Entered the premiere MotoGP class --he's been a Repsol Honda rider ever since (13 seasons)

2007, 2010, 2012 runner-up in MotoGP class

Has never placed outside of top 10 in entire Grand Prix career

Second in overall career Grand Prix points with 4,086 points. Valentino Rossi in number one with 5,974

Third overall in Grand Prix career podiums with 153.

Tied for second with Jorge Lorenzo in MotoGP podiums with 112: Rossi has the most with 195.