Travis Pastrana Looks To Recreate A Trio Of Evel Knievel's Legendary Jumps
Chaparral Motorsports
|
July 6, 2018
This Sunday, Travis Pastrana, one of the greatest motorcycle stunt riders of our time, will attempt to recreate three of the greatest jumps performed by one of most iconic motorcycle stuntman in history with arguably the greatest name ever, Evel Knievel. Pastrana will put his high-flying, death defying talents to the test as he goes for a trifecta of feats to beat some of Knievel's most legendary stunts in the City of Sin. Dubbed "Evel Live", all the action will play out on live TV on the History Channel for the world to witness starting at 8pm eastern time.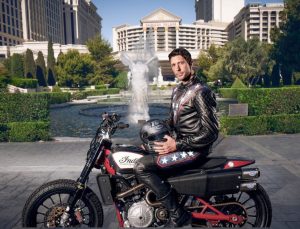 Of the three jumps that are planned for the three hour event, two will attempt to beat Knievel's records and the third will be to successfully land a stunt that could have ended Knievel's career-let alone almost ended his life. The first record attempt will be to clear 52 crushed cars, two more than Knievel jumped. Next will be to fly across 16 busses, again beating out Knievel's record by two a count of two. And finally Pastrana will hurdle himself and his motorcycle over the illustrious fountain in front of Caesar's Palace.

When Knievel attempted his historic fountain jump on New Year's Eve in 1967 things didn't go nearly as planned. Knievel stated that upon his approach up the ramp he felt his Triumph Bonneville T120 lose speed, which in turn caused him to lose momentum and instead of hitting the landing ramp he came up a bit short and landed on the safety ramp. Knievel flew over the handlebars and rag dolled across the parking lot. His injuries were numerous and serious; he suffered a crushed pelvis and femur, fractures to his hip, wrist, and both ankles, as well as sustained a concussion.


Remarkably, that crash didn't change Knievel's drive to entertain crowds with his outlandish jumps. Really the only thing that changed was the motorcycle. After riding everything from a Honda Scrambler to a 750cc Norton Atlas, and the Italian American Eagle 750, from the end of 1970 until his final jump in 1977 Knievel rode the American-made Harley-Davidson XR750. A dominant machine on the flat track, Knievel helped propel the XR750 to its icon V-Twin status with his incredible jumps.


While many motorcycle stunt men have done the same if not wilder jumps as Knievel, most have done so on dirt bikes that are much lighter and more adept at handling the stresses of long distance jumps and hard impact landings. In fact, Las Vegas has played host to several dirt bike riders performing wild stunts. On New Year's Eve in 2007 Robbie Maddison broke a world record by jumping a Honda CR500 322-feet across a make shift football field in the parking lot of the Rio Casino.


Maddison then followed that up exactly a year later by completing a nearly 100-foot step up jump to the top of the Arc de Triomphe at the Paris casino, and then dropping back down some 80 feet to the landing ramp.


The Caesar's Palace fountain has been the backdrop for several jumps with Gary Wells missing the landing and crashing into a cement wall in 1980 and then Evel's own son Robbie becoming the first person to successfully land the jump in 1989. By far the most remarkable jump over the fountains however, was back in 2006 when Mike Metzger set a world record by successfully back flipping his Yamaha YZ250 over the water feature.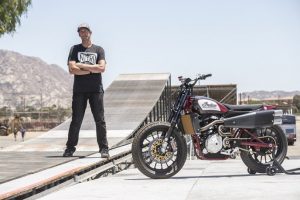 As for Pastrana, instead of jumping a dirt bike as he's known for, and as many others have already done, he is looking to honor Knevel's spirit and tenacity by performing all three jumps aboard an Indian FTR750. Similar to the legendary XR750, the FTR750 was built to win flat track races, not make spectacular 100-foot plus jumps. So while others may have flown higher, further, or in more spectacular fashion through the Vegas sky on a motorcycle, Pastrana will keep to the tradition set by the originator and fly high on a heavyweight V-twin. Best of luck Travis.