Mirror, Mirror On The Motorcycle: Motorcycle Mirrors 101
Chaparral Motorsports
|
June 27, 2018
|
Last Updated: June 18, 2020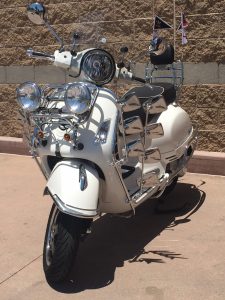 Did you know, as important as motorcycle mirrors would seem to be, not all states require them on street motorcycles? Each state has its own rules as to how many or whether or not motorcycle mirrors are required at all. For example, in order for a motorcycle to be street legal in California it has to have at least one mirror. In the state of Washington on the other hand requires that you run two motorcycle mirrors, one on each side, (unless your motorcycle was built before 1931 then no mirrors are required). But then in Nebraska, you are not required to have any motorcycle mirrors.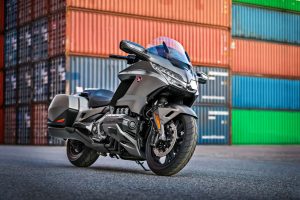 Obviously, it's a little easier to see on either side of you and check for obstacles when riding a motorcycle than it is when driving a car or truck. However, in our opinion if your state doesn't require mirrors or you can get away with only one, we suggest you go ahead and stick with one on each side of your handlebars. Two mirrors makes it much quicker and easier to check and see if someone is behind or to the side of you without having to fully turn your head.
You will typically find motorcycle mirrors mounted in one of three locations: at the hand control mounts, on the fairing, or at the ends of the handlebars. Most stock cruisers, dual sports, and standard motorcycles will have the mirrors mounted to the hand controls. Sport bikes and some touring bikes with fairings will have mirrors mounted to the fairings. Sport bike mirrors are mounted on the front side of the fairing while the mirrors on Harley's popular Street Glide are secured to the backside of the fairing and the late model Honda Goldwings have the mirrors mounted to the outer edge of the fairing. Bar end mirrors are a custom application and not typically found on stock motorcycles but are highly popular.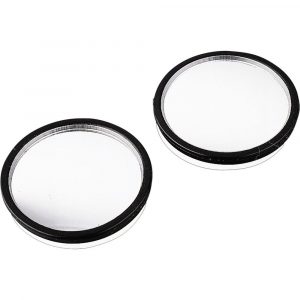 There are several reasons as to why someone might want to change up their stock motorcycle mirrors or replace them with aftermarket units. Some people may feel that the stock mirrors aren't tall enough or the shape doesn't provide enough rearward visibility. For those that want to narrow down blind spots these 1-1/4" convex mirrors Eye Ball Mirrors from Bikemaster can simply be stuck to the outer edge of the stock mirrors to help broaden the view.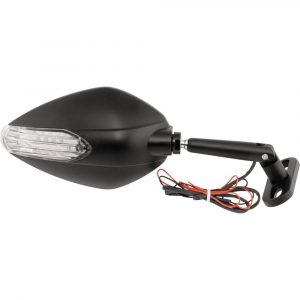 Other people may want to clean up the look of their motorcycle by removing the stock front turn signals and installing something like Bikemaster's Candy Drop Sport Bike Mirrors that have turn signals incorporated into the backside. Designed to fit most sport bike applications these mirror will help give a motorcycle a more streamlined look while providing plenty of viewing angle with their adjustable heads.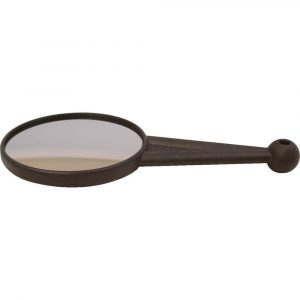 If you own a dual sport or ADV style motorcycle and want a mirror that can be easily folded out of the way or completely removed when offroading then the Sicass Racing Double Take Mirrors mounted to Ram Mounts Double Socket Arm are a great way to go.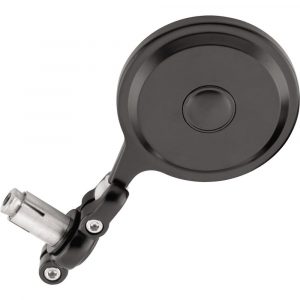 As the name implies, bar end mirrors are installed into the ends of the handlebars. Depending on your motorcycle installing bar end mirrors requires having to cut away or drill out the end of the grip, or removing the bar end weights in order to secure the mirrors in place. However, due to their versatility, bar end mirrors can be found on a variety of motorcycles from cruisers and dual sports to sport bikes and even baggers.
One bar end mirror that many riders prefer is the Bikemaster Folding Bar End Mirror. The reason why this mirror is so popular is because it offers good quality construction and versatility. With its wide range of adjustability the mirror can be set either straight out parallel with the handlebar or up into a more perpendicular position on the handlebar. Then if you encounter a tight space it can easily be folded in.
Some people love bar end mirror while others prefer sticking with their stock or standard mirrors. Here are some of the positives and negatives of bar end mirrors versus standard mirrors:
Bar End Mirrors Positives:
Smaller and more compact
Stealthy look
Don't stick up and distract from the overall look of the motorcycle
Often fold away easily
Reduces blind spots
Shoulders and/or upper body doesn't get in the way
Bar End Mirrors Negatives:
May have to drill or cut into grip ends
Stick out further-makes it harder to split between lanes/ tight spaces
May be difficulty to see due to vibration at bar ends
Standard Mirrors Positives:
Easy to install and adjust
Lots of styles and options to choose from
Don't stick out as far as bar end mirrors
Standard Mirrors Negatives:
Shoulders/and or upper body can bock view
Stick up like antennae and distract from custom looks/stealthy styling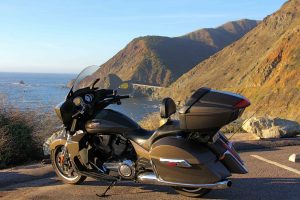 As was stated at the beginning of the article, whatever style of bike your ride or type of mirror you prefer, for the utmost in safety it's best if you always ride with one mirror on each end of your handlebars. And just like ad campaign says "Look twice for motorcycles," look twice for vehicles before you change lanes. For even more about motorcycle mirrors and the options that are available check out the video below.