We Teach Suburban Delinquent How To Ride A Motocross Track
Chaparral Motorsports
|
June 18, 2018
Do you remember the first time you rode on a dirt bike track? The anticipation as you tossed on all your motocross gear. The excitement as you fired the bike to life. The nerves as you rolled towards the entrance of the track. Learning to ride a dirt bike out in an open field can be pretty intimidating too, but at least you typically don't have major obstacles like, jumps, berms, and ruts to deal with.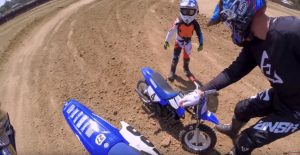 Our friend Suburban Delinquent has extensive experience ripping around Southern California streets on his GSXR which he documents on his YouTube channel. Sub D wanted to change things up and broaden his riding repertoire so he picked up a Yamaha WR250F. With very little dirt biking experience this was completely new territory and he was somewhat nervous. After taking a few rides out on big open areas to get accustomed to the Yamaha our Offroad Apparel Manager, Travis Snyder, offered to take him out to Milestone MX so he could learn how to ride a dirt bike track, and of course we followed along to document the event.

While Sub D was a bit hesitant at first, Travis walked him through all the basics of how to prep your dirt bike for each ride, track etiquette, and the basics of riding on a MX track. They took it easy at first, but as you can see in the video below, Sub D did extremely well and got the hang of it rather quickly-and no he didn't cause that little dude on the PW 50 to crash.