NEW POLARIS® RZR® VISIONS VIDEO SERIES DEMONSTRATES THE UNMATCHED TERRAIN-DOMINATING NATURE OF RZR® XP TURBO S
Chaparral Motorsports
|
June 7, 2018
(Press release) MINNEAPOLIS (June 7, 2018)
- Today, Polaris® RZR® unleashed VISIONS, a four-part mini-series highlighting the all-terrain-decimating nature of its newest side-by-side to date, the RZR® XP Turbo S. The series features off-road racing star RJ Anderson pushing the limits of the Turbo S in conditions virtually no other side-by-side could successfully take on.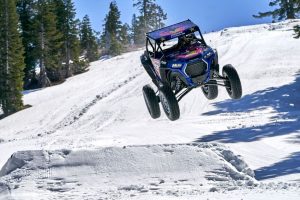 The series' first installment - "Snow Blind" - sees Anderson and the Turbo S exploding down the unhinged slopes of Donner Ski Ranch, joined by professional snowboarder Torstein Horgmo. The three-minute video captures the two celebrities shredding the mountain side-by-side in their respective disciplines, showcasing the Turbo S taking on terrain typically reserved for snowboarders and skiers. Anderson attacks the mountain with no mercy, demonstrating the performance capabilities of the Turbo S and the new standard set by Polaris engineering with this incredible new vehicle.

"I love racing and ripping through desert terrain, but when I saw the specs on the all-new Turbo S Polaris dropped earlier this year, I envisioned this thing dominating any terrain," said Anderson. "People are used to seeing me fly through the desert, but sending the Turbo S through snow-covered mountain terrain and off jumps alongside Torstein was something entirely new for me."

The three additional adrenaline-packed installments of VISIONS will be released in the coming months. Each installment showcases Anderson and the Turbo S, joined by other action sports stars, shredding totally unique forms of extreme terrain.



Polaris RZR continues to be the driving force of innovation in performance side-by-sides. In March, Polaris unleashed an absolute terrain-dominating beast with the unveil of the all-new RZR XP Turbo S. Born bigger, bred smarter, and built tougher, the 72-inch RZR XP Turbo S is an off-road monster, completely redesigned and reengineered from top to bottom. It sets the standard in performance for recreation utility vehicles.