Yamaha Introduces Completely Redesigned YZ250F And Updated YZ450F For 2019
Chaparral Motorsports
|
June 6, 2018
(Press Release) Cypress, CA - June 6, 2018
- Yamaha Motor Corporation, USA, today introduced the entirely redesigned 2019 YZ250F, complete with electric start and the world's first smartphone engine tuning app featured for a production 250cc motocross bike. An all-new engine, new frame, new bodywork and more are also major focal points of the extensive model redesign.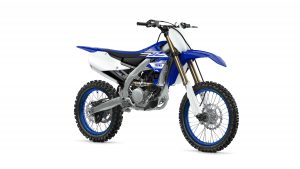 The 2019 YZ450F returns to the lineup with several updates, including updated suspension settings, changes to the electric start system and more.

2019 YZ250F

The 2019 YZ250F utilizes an all-new engine design that features electric starting, a new cylinder head, piston, cam shaft profile, cylinder geometry, larger diameter clutch and more. Working together, these changes produce more mid-range and top-end power and deliver class-leading engine performance.

The bilateral beam frame is all-new with an optimized engine mounting position to improve the machine's rigidity balance, resulting in improved cornering ability and traction. Redesigned bodywork and ergonomics provide a lighter and more compact feel with easier rider movement, while the class leading KYB suspension with updated internal components provides the optimal balance between comfort and race-winning performance.

World's First Production Power Tuner App

Yamaha is breaking new ground in the industry again, with the 2019 YZ250F becoming the world's first production 250cc motocross bike with a wireless smartphone based engine tuner. Yamaha introduced the Power Tuner app, which brings the power of the GYTR Power Tuner to your iOS® or Android® device. Using Wi-Fi to connect to the bike's onboard CAN-bus network via a Communication Control Unit (CCU), the app allows owners to adjust air/fuel mixture and ignition timing maps to tune engine performance for track conditions, record race log information, and monitor a range of data such as maintenance and system diagnosis, engine run time, and more.

The Yamaha Power Tuner App, first released with the 2018 YZ450F, makes it possible to modify engine mapping in greater detail than previously possible. It also allows users to share settings among their team or with friends (along with other information), thus evolving the system into a tool that facilitates group communication.

Dual-Mode Switchable Engine Mapping

Two-mode adjustable engine mapping allows the rider to adjust engine character with the push of a button, making it easy to tune the YZ250F for changing track or weather conditions.

All-New Electric Start

Utilizing a compact starter motor and ultra-lightweight lithium-ion battery, the 2019 YZ250F brings the convenience of push-button starting to the racetrack for quick and effortless restarts under pressure, and relaxed riding when the clock isn't ticking. Powered by a high-capacity and ultra-lightweight lithium-ion battery, the system adds minimal weight.

New Engine

For 2019, Yamaha has refined its distinct rearward-slanted cylinder design for the YZ250F engine. The liquid-cooled, DOHC 4-valve, fuel-injected engine features a forward-positioned straight downdraft intake with symmetrical intake and exhaust ports. Fuel is delivered by a lighter 44mm throttle body, through a new 12-hole Denso® injector. A new, higher-compression flat-top forged piston features a bridge-box design for additional strength with minimal weight. The piston, rings and DLC-coated piston pin, along with the offset cylinder configuration, all reduce friction loss and contribute to quick response.

The engine's intake ports, cam profiles, high-strength connecting rod and optimized crank and counterbalancer all work together to produce more potent mid-to-high-rpm power with user-friendly delivery and exceptional reliability. The new cylinder is also lighter and angled more upright to improve mass-centralization.

The 2019 YZ250F's transmission and clutch were also overhauled for a more direct connection as well as enhanced durability. The gears and shift drum have been revised for lighter weight, and the dogs and shift mechanisms are designed to smooth gear changes and improve durability under the heavy demands of motocross racing. A larger-diameter clutch is also a new feature, designed to improve feel and boost reliability even further under high-heat conditions.

The radiators and exhaust system have also been modified for improved performance and weight distribution. The updated radiators are larger and angled more directly into the incoming air stream for improved cooling under the most demanding race conditions. The innovative wraparound exhaust pipe design improves mass concentration and improves power development, with revised geometry for 2019. The new layout moves the rear end of the exhaust pipe farther forward and enables a muffler position closer to the bike's center of mass.

New Frame and Optimized Ergonomics

The compact bilateral beam frame is completely new for 2019, and it further refines the instinctive feel that makes this Yamaha the best handling machine in the class. Designed to improve contact to the ground and provide the best possible balance of stiffness for bump absorption and effortless cornering, the all-new frame features a redesigned swingarm pivot area along with redesigned upper frame bracing and rear frame spars. All-new engine mounts that centralize mass and increase rigidity on lateral, horizontal and vertical axis help to provide an ideal balance between cornering feel and straight-line rigidity.

New Compact Body and Seat Design

Surrounding the fully-redesigned chassis, the 2019 YZ250F features a new lighter, compact body from tip to tail. The radiator shrouds incorporate a new air duct with a concave shape that not only improves styling, but is also narrower for better knee grip and overall rider movement. The seat height has been reduced by 8mm towards the front and almost 20mm lower at the tail end, giving the rider better maneuverability on the bike.

Easily Tuned KYB® Coil Spring Suspension

The industry-leading, fully adjustable KYB® coil spring-type forks with speed sensitive damping receive updated settings, larger pistons and newly designed fork lugs/axle brackets to provide exceptional balance between handling and bump absorption for race-winning performance. The KYB® shock boasts new damping characteristics to match the new chassis as well as a new, lighter-weight spring. The reservoir has been increased 30cc to increase damping control during long motos.

Lighter Wheels

Careful computer-aided refinement of the EXCEL rim's cross-sectional profile shaves valuable un-sprung weight without sacrificing durability, while wheel collars with increased rigidity provide an improved feeling of contact to the ground when braking and a clear feeling of traction.

Price, Color and Availability

Available in either Team Yamaha Blue or White color schemes, complete with the onboard Communication Control Unit (CCU) and the Yamaha Smartphone Power Tuner App, the all-new 2019 YZ250F will arrive at Yamaha dealers beginning in June 2018 with a MSRP of $8,199.

2019 YZ450F

The potent YZ450F went through a complete redesign in 2018 and enjoyed immediate success on-and-off the race track. It returns for 2019 with its powerful yet easy to use engine, simple electric starting, rearward-slanted cylinder design with rear exhaust and forward mounted downdraft intake system as well as Yamaha's exclusive Power Tuner iOS® and Android® App and communication control unit.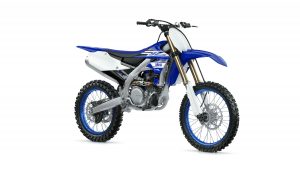 Other returning features of the 2019 YZ450F include the compact bilateral beam frame, compact body, adjustable ergonomics and industry leading KYB® Coil Spring Suspension.

New features for the 2019 YZ450F include:



Updated suspension settings for improved feeling of traction

Redesigned front fork lugs/ axle brackets for improved rigidity and front-end feel

Redesigned front and rear wheel collars for improved feeling of traction

Updated starter system to reduce drag and horsepower loss

Increased seat foam density

Blue valvetrain cover

Price, Color and Availability
Available in either Team Yamaha Blue or White color schemes, complete with the onboard Communication Control Unit (CCU) and the Yamaha Smartphone Power Tuner App, the 2019 YZ450F will arrive at Yamaha dealers beginning in June 2018 with a MSRP of $9,299.