Chaparral Motorsports Super Street Bike Night June 6 2018
Chaparral Motorsports
|
June 1, 2018
What better way to kick off the summer riding season than a meetup with a couple hundred of like-minded hardcore motorcycle enthusiasts? Well, that's exactly what Chaparral Motorsports has planned with its Super Street Bike Night Event June 6th from 5pm to 9m.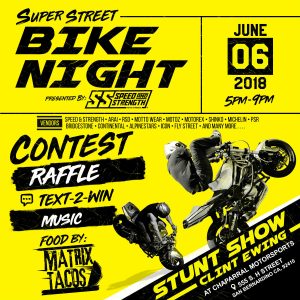 Besides hundreds of bikes to check out and plenty of new friends to meet, the air will be filled with plumes of toasted rubber as Clint Ewing shreds the parking lot with some motorcycle drifting, burn outs, wheelies, and wheel stands. And if you should get hungry there will be plenty of tacos to grub on from Matrix Tacos-yeah we know the event is a day after taco Tuesday, but who has even complained about eating tacos two nights in a row?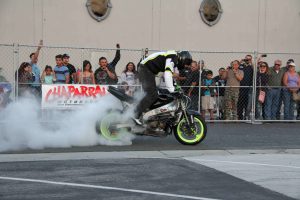 If you're interested in upgrading your bike or riding gear there will be plenty of vendors such as Speed and Strength, Roland Sands Designs, Shinko Tires, Icon, and many more on had displaying all the newest and hottest parts, accessories, and apparel. Of course there will be steady beats pumping to ensure good vibes and high energy all evening. However, what really might spark your interest is the chance to win some awesome prizes throughout the night with the Text to Win contests.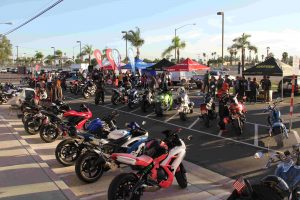 The Chaparral Motorsports Super Street Bike Night is a family friendly event open to everyone. No matter if you ride a stretched Ninja, raked and flaked chopper, dual sport, or even a super trick Honda Ruckus, all bikes are welcome. So ride on down and join us for some fun.