Chaparral Motorsports Is Going Dirt Biking With Suburban Delinquent
Chaparral Motorsports
|
May 25, 2018
Chaparral Motorsports recently partnered with popular YouTube motovlogger Suburban Delinquent and is sponsoring his offroad adventures on a Yamaha WR250F. SubD is a highly experienced street rider and has logged tens of thousands of miles on his Suzuki GSXR 750 (he's hoping to hit 100K), but what he doesn't have experience with is a dirt bike. While he recently achieved the amazing feat of chugging the Gixxer up to the top of Orange County's Santiago Peak along a dusty and extremely rocky fire road, he has hardly any experience riding a dirt bike.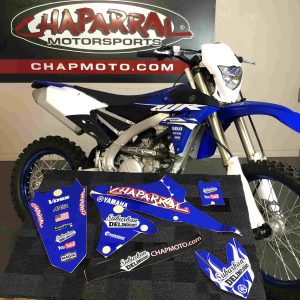 So SubD has made the decision to take to the dirt on a WR250F and has created a new YouTube channel called Extra Delinquent to capture all the ups and downs as he learns the ins and outs of riding mx tracks, switchbacks, and single track trails. We here at Chaparral Motorsports like to see people riding two wheels no matter if it's on the street or dirt, and we really like it when people do both. So with that we decided to join along as a sponsor of the new Extra Delinquent channel and help SubD get up to speed so to say.

We have a lot of staff members that are hardcore moto fans and are more than willing to help SubD with learning the basics of riding a dirt bike, teaching him about the parts and accessories many riders like to add, and showing him all the dirt bike gear that people like to wear. Over the next few months we will be creating videos to post on our Chaparral Motorsports YouTube channel showing some of our staff, guys like Travis Snyder and Kyle Bradshaw, giving SubD pointers and how to ride MX tracks and trails, as well as talking about safety gear and showing him how to perform basic dirt bike maintenance and install different parts.

In this first video we rolled the brand new Yamaha WR250F into our back room and installed a custom graphic kit made especially for this project by Magik Graphics. If you've never installed dirt bike graphics before but have been wanting to change up the look of your ride, you're in luck. In this video Travis provides very detailed instructions on how to give your dirt bike a fresh new appearance.

If you haven't already subscribe to our YouTube Channel as well as Suburban Delinquent's channels to stay up to see all the action. Be sure to tune in to our channel this Saturday and watch the video of SubD picking up his new Yamaha WR250F and we reveal the new graphics we installed.