Dunlop Extends Supercross Record, Heads Into Motocross Season
Chaparral Motorsports
|
May 16, 2018
(Press Release) Buffalo, NY: In 2018,
Dunlop
riders swept every single podium in the Monster Energy AMA Supercross 450 and 250 East and 250 West classes, and swept all three series championships for an astonishing ninth consecutive year. No other tire company comes close to this record.



Heading into the 2018 Motocross season, Dunlop hopes to do the same-extend an unbroken streak of Pro Motocross Championship series titles to nine years.

Despite the Supercross championship being an open tire series-teams can choose any tire brand they want to run-Dunlop's Geomax® tires remain the tire of choice for the majority of riders, including Jason Anderson who won his first 450 title this year, Team Dunlop Elite alumnus Aaron Plessinger who took the 250 West title, and Zach Osborne who once again captured the 250 East championship.

During the Supercross season, Dunlop's off-road support crew has changed more than 15,000 tires for Dunlop-equipped teams at Supercross races alone in the last nine years. Dunlop can expect to change double the amount of tires during typical motocross season.

"We have a very hard working crew of fitters under the Dunlop awning at every race," said Broc Glover, Dunlop's Off-Road Sr. Manager. "It's mind-boggling to stop and think about how many tire changes we do during a typical weekend and how that adds up over the course of the many seasons. By the end of the 2018 Pro Motocross Championship series, we will have changed more than 42,000 tires just on race weekends in the last nine years."

Dunlop's support of professional racing has a direct impact on the products we develop for our customers, such as the all-new Geomax MX33, the most technically advanced off-road tire Dunlop has ever made.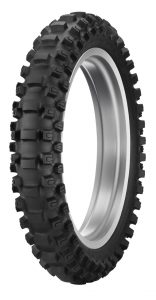 "We want to congratulate all the teams and riders for an exciting championship season, and especially Jason, Aaron and Zach for their accomplishments," said Mike Buckley, Dunlop Motorcycle's Vice President of Sales and Marketing. "I also want to congratulate Broc Glover, Brian Fleck and all of our off-road team for extending Dunlop's championship record, and for all their hard work and dedication to supporting the Supercross paddock. We're looking forward to the outdoor nationals, and another great championship battle."