ChapMoto 2018 Supercross Race Recap: Round 17
Chaparral Motorsports
|
May 9, 2018
Last year we started a new series called the ChapMoto Supercross Race Recap, where several Chaparral Motorsports employees gave their thoughts on the past weekend's Supercross event. That series was so fun and popular that we decided to keep it going. It's a pretty simple concept; we pose about 8-10 questions to the group regarding the evening's activities, highlights, and lowlights and they reply with their thoughts. This is meant to be a casual, fun, and lighthearted series.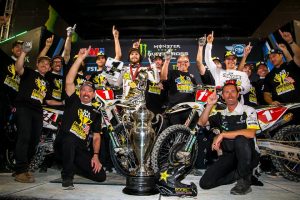 The Chaparral Motorsports staff (and one outsider) consist of:

Travis Snyder (TS): Chaparral Motorsports Offroad Products and Apparel Manager. Travis is one of our in-house moto racers. A Honda guy, Travis is either at one of the local tracks or prepping his bike for his next event.

Mike Medina (MM): Chaparral Motorsports Technical Advisor/Communications Specialist. When Mike's not at the office he's in the pits spinning wrenches for the Enticknap brothers, #722 Adam (The Seven Deuce Deuce) and #723 Tyler.

The Outsider (TO): N/A. The outsider is not a Chaparral employee but he is an industry veteran with a good perspective on the inside.

Kyle Bradshaw (KB): Chaparral Motorsports Marketing Department. The newest team member, Kyle is a highly experienced offroad/ADV/dual sport rider who splits his seat time between his stable of KTMs and his custom Honda VTX1300.

Eric Ellis (EE): Chaparral Motorsports Marketing Department/Social Media. Eric is just a Harley guy who likes to watch Supercross.

Who had the best night?
TS
: Jason Anderson!! along with the Factory Husqvarna team, receiving their first premier class championship (another 250 lites championship thanks to ZachOh as well!) Great night for Aaron Plessinger too, Winning his first 250 SX championship and proposing to his girlfriend afterwards!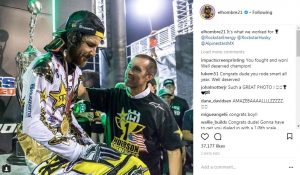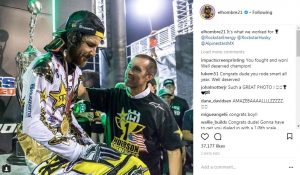 MM: El Hombre, Wacko Osborne, and Aaron Plessinger for winning their championships.

TO: Anderson and the Rockstar team. Winning their first 450 Supercross championship. Very cool.

KB: Anderson, to walk away with the 450 Championship. That's got to feel great. He was pretty speechless.

EE: Jason Anderson and Husqvarna, both the rider and team earning their first 450 Supercross Championship is pretty awesome.

Who had the toughest night?
TS
: Mitch Peyton?

MM: Adam Cianciarulo finishing as the bride's maid for the second year in a row and looking forward to an ACL surgery that will take him out of the Lucas Oil Motocross Championship this Summer.

TO: A.C. losing the championship the second year in a row by two points. Ouch.

KB: Tomac for sure. He wins eight races of the series and probably would have been the champ if he would not have missed that early race. If he just would have finished it... even half pack, he probably would have been our Champ.

EE: Cianciarulo. Once again he missed it by that much.

Did anyone surprise you?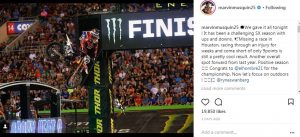 TS
: Chad Reed leading the heat race for as many laps as he did. -Oh! It surprised me to see Plessinger save that swap job early in the main event.

MM: There were no surprises, everything that happened was expected. No wait, I will have to say that El Chupacabra Blake Baggett finishing on the podium and 4th overall for the season was not expected. Bravo.

TO: Musquin. He was able to match Tomac's speed. Tomac can usually pull away from the Frenchman.

KB: Osborne just sat in the pack... not making any moves. Pretty disappointed in the entire race actually. After last week's performance I was expecting to see some crazy racing in Vegas. Was pretty hum ho...

EE: No.

Who had the worst spill?
TS
: I don't know if I remember anyone crashing??

MM: I do not recall any spills, the track was fast and too easy.

TO: It wasn't a spill, But Plessinger almost had the crash of the night and saved it.

KB: I give Plessinger the best "almost crash" and amazing save at about the 10 minute mark of the 250 Main. He swapped it up good and pulled it back. Nice riding!!!

EE: Not a spill, but that bronco ride Plessinger took in the main must have puckered him pretty good. Plessinger didn't have much room to give in the point spread with Cianciarulo making a charge on the Kawasaki, and it he would've went down we might have seen Cianciarulo get the crown instead.

Best pass of the night?
TS
: Cianciarulo through the whoops!

MM: There were many passes that happened in Vegas but the best spot that most of the passing was happening was coming back into the stadium from Monster Alley and cutting the corner with some speed was a good passing point.

TO: A.C. getting to the front in the 250 main

KB: There were passes? Kind of boring actually. The leaders found their spots and just comfortably stayed there. Was not really impressed by any great passes.

EE: Cianciarulo passing teammate Savatgy in the whoops in the 250 main was nice. Kid was just letting it all hang out.

Best battle?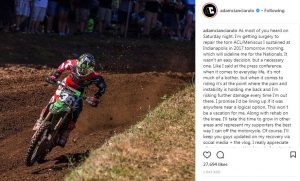 TS
: The top five guys in the 250 class battled the entire race.

MM: Reed holding off Tomac for five laps in the heat race was cute.

TO: A.C. battling to the front.

KB: In the 250 Main, Martin and Savatgy had a great battle. Best of the night in my opinion.

EE: Reed and Tomac in their heat race. People must have been psyched in the stands.

Who gives better interviews? Plessinger or Anderson?
TS
: I'd say Anderson. Plessinger rambles on a little too much with his sponsors along with every cousin and friend he'd like to thank.

MM: AP23 is always lost for words but he has the best victory dances. El Hombre is just a real dude and tells it like it is.

TO: I think they both are great for the sport. Personalities plus!

KB: Anderson is way more polished when it comes to the interview. Plessinger was all over the place.

EE: They are both great for the sport. I'm so tires of the canned responses from most of these riders. For a sport that's roots is all about having fun, most of the fun has been sucked out of it. So it's nice to have guys like Plenssiger and Anderson either tell it like it is or not afraid to goof off.

Which 250 riders do you think will move up to the 450 class next year?
TS
: Zach Osborne and Justin Hill. Maybe Plessinger? Depends how he does outdoors.

MM: Wacko Osborne is moving up to the big bike this summer which everyone is anticipating.

TO: Osborne, Savatgy, Davalos

KB: I think that all three should step it up. Cianciarulo, Plessinger & Osborne. The rest of the pack really did not much to challenge them this year. Move them all up and make them fight for position.

EE: I think Osborne will be pointing out of the 205 class? Maybe? Not sure? I'd like to see McElrath jump on a 450 KTM, and with Broc Tickle's future in jeopardy in regards to his suspension there just might be a spot open.

What are you predictions for the Outdoors Series 250 winner? 450 winner?
TS
: Jeremy Martin has finally adapted to his Geico Honda, He's going to be the one to beat. Look out for McElrath as well. As far as the 450 class, we'll see who can stay healthy through summer. It might be a showdown between Tomac & Musquin.

MM: Eli Tomac will smash everyone this summer and if he does not move up to the 450 class, Jeremy Martin will kill it in the 250 class.

TO: Jermey Martin in the 250's and Eli Tomac in the 450's

KB: Don't have a prediction as I am less familiar with the Outdoors Series. I am however looking forward to following it this year.

EE: We just might see Musquin get his first 450 Outdoors title, if Tomac doesn't boot him off the track at Hangtown. I'm not sure about the 250s.