Get To Know A ChapMoto Employee: Jennifer Lee Rios
Chaparral Motorsports
|
May 4, 2018
Jennifer may be somewhat new to the ChapMoto family, she has been working as a PDI Tech for the past six months, but what is not new is her love of motorcycles. As a military kid, Jennifer has lived all over the place however, since the age of 11 motorcycles have always been a constant in her life. The first motorcycle she tossed a leg over was a dirt bike that came from Pep Boys. And while it might not have been the newest Yamaha, with her burning mechanical curiosity, it's safe to say 11-year-old Jennifer probably found a way to squeeze every bit of power out of it as possible.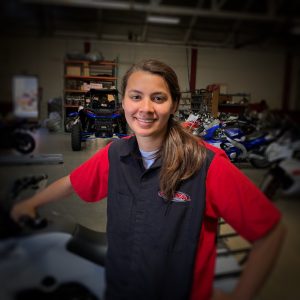 In fact it was her quest to know everything she could about how motorcycles operate and how to operate on motorcycles that led Jennifer to Phoenix, Arizona, where she enrolled in the Motorcycle Mechanics Institute (MMI). After graduating Jennifer spent a few years in Texas and then made her way to California and Chaparral Motorsports.

Jennifer has been riding for a little more than 11 years and while most of her time has been spent riding dirt bikes on trails, tracks, and freestyle motocross ramps, she recently picked up a 2016 Triumph Thunderbird LT. The Thunderbird might be a far stretch from her beloved 2011 Yamaha YZ250, but it makes a ton of sense when you learn that the sole reason she got the bike was so she could spend more time on the road with her dad. Honestly, what could be better than loading up the saddlebags on the classically styled cruiser and hitting the road side-by-side with pops?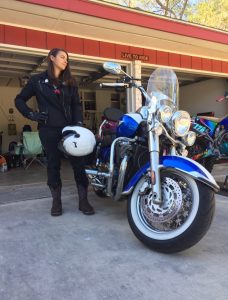 Jennifer says she'll never get rid of her YZ250, she loves everything about the 2-stroker. It's easy to maintain, lightweight, affordable, and she loves the power it makes. Since she's owned the YZ Jennifer has made quite a few mods to it. She's installed full perch footpegs, replaced the stock plastics with UFO plastics, changed over to Pro Taper Contour Bars with ODI grips, and ditched the stock exhaust for a FMF header and shorty pipe.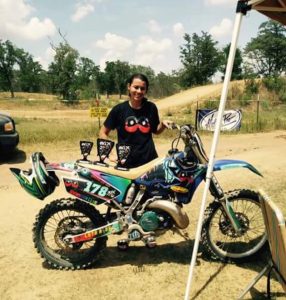 As stated earlier Jennifer rides her 250 on trails and has competed in a couple races. In 2017 she raced in the Mammoth Qualifier at Milestone and competed in the Day in the Dirt event where she won second place in the Women's B Class. Besides taking second place, one of her other highlights from the Day in the Dirt was getting to spend some time on the electric Alta Redshift MX. "I really liked that bike. It's got great power and good handling, but best of all you can ride in suburban areas without any noise pollution" Jennifer stated. "You can ride it in the city and you won't disturb people."

What Jennifer really enjoys doing on her 250 however, is to get loose off of big hits. Her excitement for freestyle motocross (FMX) started back in Texas when she went to an amateur FMX event. Having never been off a ramp before Jennifer says she received plenty of advice and encouragement from the other riders there and the next thing she knew she was launching off the lip of a ramp. Over the course of the day Jennifer quickly progressed and continued to get feedback from the other riders. As the event carried on, the organizers would move the ramps further and further back from the landings and by the end of the event Jennifer says she was clearing huge gaps.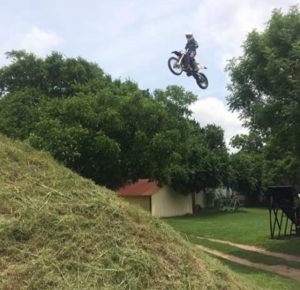 She ended up winning the award for most improved rider for the competition but it was all the support and positive vibes she got from the other riders that really solidified her love for FMX. "It was a very friendly environment. All the riders just wanted to see everyone ride safe, have a good time, and keep jumping," Jennifer told us. "It wasn't like racing where everyone is so competitive. Everyone was eager to help you with tips and advice." Now that she's extremely comfortable with big ramps Jennifer says she wants to beat her personal record of jumping a 55-foot gap and wants to go for a 75-footer.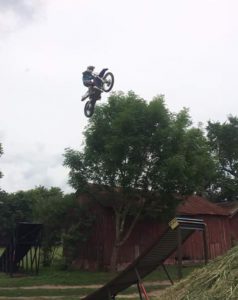 This past weekend Jennifer attended the Babes in the Dirt event that is put on by the same group of women that do the hugely successful Babes Ride Out ride. She said she had an awesome time as there was plenty to do from track riding to trail hopping, meeting new people, checking out different motorcycles and test riding new dirt bikes.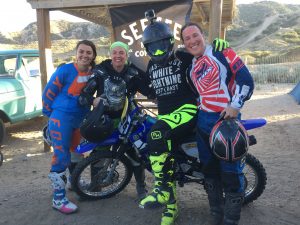 While some of her best memories on two wheels come from riding FMX because she loves doing tricks and jumping high, Jennifer told us any time she's on two wheels she has a great time because she is always up to ride anywhere and everywhere.