2018 Supercross: The Numbers Between Anderson And Musquin
Chaparral Motorsports
|
May 2, 2018
In a Supercross season that's been plagued with injuries that have sidelined some of the premier class' top riders for anywhere from one to multiple events, one rider, Jason Anderson has been able to avoid the Noid and charge through the season without injury or a major hiccup-that is until this past Saturday. On the verge of what could be his first ever 450 Supercross championship (he won the 250 West title in 2014) title, as well as a first title for his factory sponsor, Husqvarna, El Hombre could have clinched the title but his front spokes got chewed up by Eli Tomac's footpeg in the first turn off the start which forced him to pit for a tire change, losing valuable time and points and thus ending his night with his worst finish of the season at 17th place.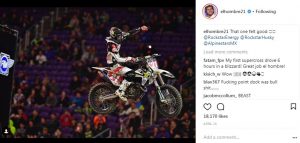 While Anderson hasn't had a perfect season it's been pretty damn good. He hasn't missed a single race, and except for the opening round in Anaheim where Musquin won, Anderson has led the entire series in points. In fact, although he is tied with Musquin with four overall wins this season, since round two Anderson steadily increased his lead over the field-all the way up to the ninth race where he achieved his greatest margin of a 42 point lead over second place. Speaking of second place, the number two spot had changed hands eight times (Anderson was sitting in second after the first race of the season) until half way through the season when Musquin settled into the position for good after the eighth race of the season.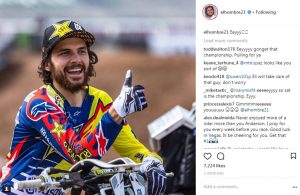 At the 11th race Anderson still had a 42 point lead over Musquin and although his lead fluctuated a few points over the next few races, many assumed Anderson had the championship locked in. Heading into the 16th race with a 34 point lead on Musquin all Anderson needed was 19 points, a 4th place finish or better, and he would have clinched the season a race early.

But it would be that dreaded tangle with Tomac's footeg and Anderson's dirt bike wheel suffering the brunt of it, which would significantly throw a wrench in his season. In that one race, Anderson's lead over Musquin was reduced by more than half from 34 to only 14 points. Now as we enter the last race of the season, Anderson has to do what he's been doing pretty much all season, just ride smooth and don't force any mistakes upon himself.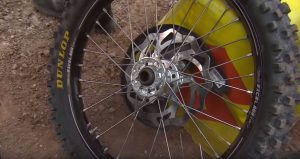 Heading into this final race, Anderson has 338 points and Musquin has 324. That means if Musquin wins he will end the season with 350 points and Anderson will have to finish at least 10th in order to end the season with 351 points and win his first 450 Supercross championship.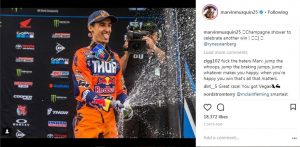 On the flip side of all of this, is Musqiun. Musquin had been on quite the tear leading up to the Supercross season, sweeping the Monster Energy Cup and scoring the $1million prize, as well as winning the Straight Rhythm and the Paris and Geneva Supercross events. He started off the season exactly where he wanted to be by taking the win. But then the following week he went down in Houston and sustained a shoulder injury in his heat race and didn't line up the rest of the night.

With zero points for the evening Musquin desperately needed to salvage some points in order not to let the season get to far out of reach. Unfortunately for him the third race of the season was the first Triple Crown event and that meant riding three main event style races with a bum shoulder. He managed to make his way into the night show but was only able to compete in the first two mains where he finished mid pack resulting in him riding away with only 10 points for the night. Musquin quickly recovered though with a couple top five finishes followed by a handful of second place finishes and then regained the top of the podium back to back in Foxborough and this past Saturday in Salt Lake City.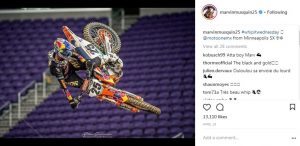 Musquin is only 14 points away from possibly winning his first Supercross title as well, he won the 250 East title in 2015, and it would be KTM's fourth title in a row. This is the closest he's been in points to Anderson since the first race of the season when there was only three points between them after Musquin took first and Anderson took second. If Musquin wins he will be the first non-American rider to so in a decade; Chad Reed won his second title in 2008. If Musquin wins the championship he will also snap a nearly 30 year stretch since the last time a French rider won, when Jean-Michel Bayle won in 1991.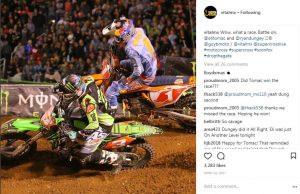 It's not as tight as the series was last year between Ryan Dungey and Eli Tomac, only nine points separated the two going into Vegas, but just like last year the stakes are high, nothing is guaranteed, and anything can happen. The one thing that is for certain is there will be a lot of tension at the line and we will see some great racing.