ChapMoto 2018 Supercross Race Recap Week 16
Chaparral Motorsports
|
May 1, 2018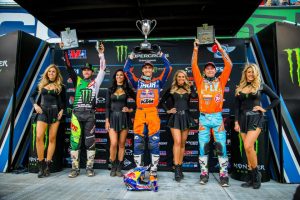 Last year we started a new series called the ChapMoto Supercross Race Recap, where several Chaparral Motorsports employees gave their thoughts on the past weekend's Supercross event. That series was so fun and popular that we decided to keep it going. It's a pretty simple concept; we pose about 8-10 questions to the group regarding the evening's activities, highlights, and lowlights and they reply with their thoughts. This is meant to be a casual, fun, and lighthearted series.

The Chaparral Motorsports staff (and one outsider) consist of:

Travis Snyder (TS): Chaparral Motorsports Offroad Products and Apparel Manager. Travis is one of our in-house moto racers. A Honda guy, Travis is either at one of the local tracks or prepping his bike for his next event.

Mike Medina (MM): Chaparral Motorsports Technical Advisor/Communications Specialist. When Mike's not at the office he's in the pits spinning wrenches for the Enticknap brothers, #722 Adam (The Seven Deuce Deuce) and #723 Tyler.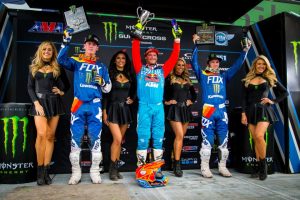 The Outsider (TO): N/A. The outsider is not a Chaparral employee but he is an industry veteran with a good perspective on the inside.

Kyle Bradshaw (KB): Chaparral Motorsports Marketing Department. The newest team member, Kyle is a highly experienced offroad/ADV/dual sport rider who splits his seat time between his stable of KTMs and his custom Honda VTX1300.

Eric Ellis (EE): Chaparral Motorsports Marketing Department/Social Media. Eric is just a Harley guy who likes to watch Supercross.


Who had the best night?
MM
: I would have to say the Frenchman Marvelous Marvin Musquin had the best night considering the points he gained on El Hombre and has now been given a shot at the title if he gets another small break in his favor. He has to win in Sin City and hope for El Hombre to have a bad night. Musquin has won in Las Vegas the last time everyone was there when he swept the Monster Cup in October winning the...1 meeeellion dollars ( in a Dr. Evil tone ) LOL!

TO: Musquin - Staying out of the way of Tomac as he wins the race and gains huge points on Anderson.

KB: Marvin Musquin for sure! Was able to take the win in SLC and close the gap between himself and Anderson even more... Just 14 points! Pretty amazing after that HUGE lead that Anderson had just a few races ago. Slow and Steady wins the race...

EE: Marvin Musquin. He didn't really have to do anything but ride his race. There was no need for him to to worry about pressure from Anderson due to the wheel debacle and even though Tomac put in a hard charge he had a few slip ups that gave Musquin some breathing room.


Who had the toughest night?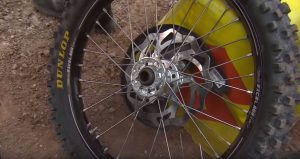 MM
: El Hombre finally had a hiccup in his pretty sterling 2018 450 campaign, although it was a freak broken wheel that occurred. He will hold it together as he has all year and close this season out on top to give Husqvarna their first 450 championship. He still has some breathing room between himself and the Frenchman.

TO: Anderson - He finally had his "bad luck" race this year like all his competitors have had.

KB: I am going to have to give this one to Jason Anderson. Busted front wheel leaving him two laps behind... taking a 17th place finish at the end of the race. For someone who looked like he had it in the bag... How crazy is it that a potential clinch... to arguably having the worst race of the season let alone his main event career?

EE: Anderson for sure. He could have clinched it and just been thinking about where he was going to be partying in Vegas. Now he has to keep it all together, be smart, maintain his composure and hope that no freak incidents like Saturday night happen again.


Did anyone surprise you?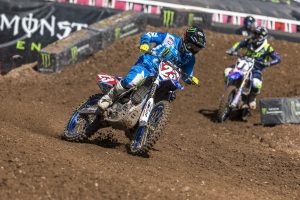 MM
: Yeah, the Rockstar Husky crew for taking sooo long to change a front wheel on El Hombre's steed during the 450 main event and costing him precious time and points.

TO: Tomac- He's been getting better starts lately. Coming out of the first turn 10th place doesn't make things easier.

KB: No, not until watching the race recaps and behind the scene footage. TransWorld did a clip having riders tell watchers about their weekend... Stewart - man... I did not like his responses. Kinda shed a new negative light on what I had previously thought about his demeanor.

EE: I guess maybe I expected more out of Plessinger. He might have been playing it safe but he's only got a 13 point lead over Cianciarulo and you know the PC Kawasaki team is going to be gunning hard for a shot at the title.


Who had the worst spill?
MM
: The worst spill was not on TV but in the 250 qualifying, Noah McConaughy went over the bars when he mistimed the rhythm section landing on his head. Wild ride for sure but he walked away from it.

TO: Anderson in the first turn.

KB: Tomac's not horribly bad spill cost him the race Win. That is horrible for him... thus I am giving it the Worst Spill.

EE: Anderson. It wasn't a hard fall but it cost him dearly and not clinching the title had to be a hard pill to swallow at the end of the night.


Best pass of the night?
MM
: Best pass of the night was a 2 for 1 pass when Shane McElrath of the TLD KTM team split the Pro Circuit boys, Versace and AC, to take the lead in the 250 main event without breaking a sweat from third place. Nice!

TO: Tomac passing thru the field.

KB: Best pass was part of the Best Battle of the night! McElrath, Cianciarulo, Savatgy, and Plessinger battled the entire race and it was exciting. With all four riders battling from beginning to end, at it in the beginning phases of the race. Somewhere near the 10 minute mark was my favorite pass where McElrath and Cianciarulo pass Plessinger pushing him from 2nd to 4th. It was great to watch!

EE: McElrath passing the PC Kawasaki team on the whoops. I don't know what was going on there but Cianciarulo and Savatgy especially (at one point I don't think he was on his pegs) were clamoring through as McElrath and his 250 SX-F zipped on by.


Thoughts on Anderson's pit crew wheel change, on point or cost him points?



They never said it'd be easy. @RockstarEnergy @Rockstar_Racing @alpinestars pic.twitter.com/UfNuIJI52y
- Jason Anderson (@elhombre_21) April 30, 2018
MM
: That was the slowest front wheel change I have ever seen in my life. I was in shock when I saw how long that took. Hopefully this will not cost him in the end.

TO: The thing that was interesting was Jade Dungey (KTM) giving the Husky mechanics a stand to throw the bike on to change the front wheel. As far as points I thought Anderson was going to make it thru the year without any mishaps.

KB: His bike broke. He made to to the pits. Lost 2 laps... but was still able to get back out there and finish. I think it is on point. Looking at the big picture, it did cost him points. If he hadn't needed to swap the wheel, he would have worked his way through the pack and would probably have placed in the top 5. I think he suffered enough.

EE: I know there are some intricacies when it comes to removing/installing a wheel, like making sure everything stays aligned and the caliper doesn't cinch down, and that doing at a hurried and pressure situation exacerbates everything but that was kind of hard to watch, as it seemed to take forever. I bet they'll be practicing wheel changes all week.


With Tomac eliminated from a shot at the title will we see him "strategize" against Musquin to aid Anderson, or is his reputation too much on the line from his "strategy" last year against Dungey?
MM
: I think ET3 is just gonna blow the barn doors off in the 450 main event in Vegas and just go for the dub. He wants to send a message that he is going to be the man when they decide to take it Outdoors this summer. But, ET3 and El Hombre are Alpinestar gear sponsored riders, crazy stuff happens in Vegas boys and girls. The popcorn is popping already and the frosty adult beverage of choice is on ice chillin.

TO: I think he will take Musquin wide in a few corners to get back at him.

KB: I think he will try to win, but will not "push the limits or make waves" by taking anyone out. I don't think he'd jeopardize his future with a bonehead strategy with no chance to take the win. But then again... he may surprise me.

EE: After last year's Vegas main I think Tomac wants to steer clear of any drama. But then again he seems to wear his emotions on his sleeve and isn't one to really hold back. So even though Tomac doesn't have a dog in the fight, I think Tomac is going to go for the race win. If Musquin doesn't get the hole shot of an early lead he better keep his eyes peeled for Tomac.


How do you think the 450 Main in Vegas will play out?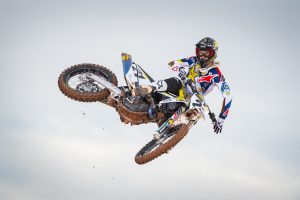 MM
: ET3 will smash everyone and win by 20 plus seconds sending a message to the masses that they better get used to this view for the rest of the summer when they go Outdoors.

TO: Tomac wins and Anderson wins his first 450 supercross title.

KB: I am split. I think Anderson or Tomac will take the race win. Anderson will be the Champion. For some reason I don't see Musquin taking it all.

EE: Musquin will put in a valiant effort but Anderson will take the title and Tomac will most likely win. Anderson will sit back and let Tomac and Musquin fight it out.


What are your predictions for the 250 East/ 250 West titles?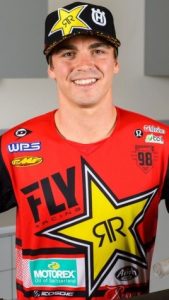 MM
: Wacko Osborne will take the dub and the 250E title in his main event as will Aaron Plessinger for the 250W title and the dub in his main event. The final 250 main event top 3 will be..... J-Mart, Ciancarulo, and Osborne.

TO: Osborne and Plessinger.

KB: I am predicting... Plessinger will win the West Heat Race. Forkner will take the Win in the East Heat Race. At the end of the night, Plessinger will be the Champ, but Osborne, Cianciarulo and Savatgy will not let it go easily.

EE: It'll be fun and exciting but I think Plessinger and Osborne will ride away with the championships.