Mees Wins Texas Half Mile And Jumps Back To Leading AFT Twins Series After Georgia Disqualification
Chaparral Motorsports
|
April 30, 2018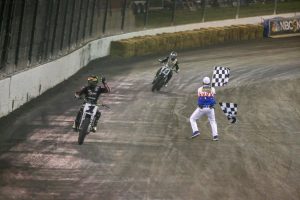 After getting disqualified for running chemically altered tires during his American Flat Track (AFT) Twins race at the Atlanta Short Track event on April 8th, Jared Mees bounced right back with a win this past weekend at the Texas Half Mile race.

The 2017 AFT Twins champion was knocked from his perch of leading the 2018 series last week after the DQ was announced with the resulting points being wiped away moving him down to 4th place with 25 points overall and Kenny Coolbeth Jr. taking the series lead with 36 points.

Well that all changed on Saturday when Mees piloted his Indian Scout FTR750 to the front of the pack after a third place start and then continued to lead the race to the end with a 1.33 second margin of victory over second place finished Briar Bauman on his Kawasaki Ninja 650. Surprisingly however, Coolbeth didn't make the main event. The combination of Mees' win and Coolbeth failing to make the main shuffled the overall standings once again with the riders swapping overall positions. Mees is now back on top with 50 points and Coolbeth now sits in 4th place with 36 points.

The scariest part of the event took place in the first AFT Twins Semi in which Bryan Smith's bike washed out leading to a gnarly crash that took down Jake Johnson and sent Stevie Bonsey flying some 10-plus feet in the air. Thankfully and rather amazingly all riders were checked out with only Bonsey sustaining an ankle injury. He seems to be in good spirits though as he's posted a picture of him flying through the air ABOVE his bike!!!



The series makes it way to the west coast this Saturday as they race the Calistoga Half Mile on Saturday.