Broc Tickle Speaks On Suspension
Chaparral Motorsports
|
April 27, 2018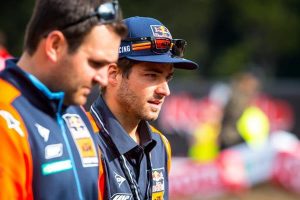 Just over two weeks ago on April 12th, the Supercross/Motocross world was shook when FIM announced the provisional suspension of Red Bull KTM rider Broc Tickle for violating its ant-doping policy. WADA, the organization the conducts testing for FIM, took a urine sample from Tickle after the 6th round of Supercross in San Diego back on February 10. There was quite the uproar when the suspension was announced and Tickle immediately flew home from Minneapolis (he was getting ready to race in round 14 of the Supercross series) so that he could meet with his lawyer to address the situation.

Just today Tickle made an announcement in regards to the suspension and the process of clearing his name. There are parts of Tickle's statement that echo the sentiments of Clade Clason when he had the unfortunate experience of having to deal with the FIM and his suspension back in 2017--most specifically a lack of communication and failing to quickly respond to questions. You can read Steve Mathes write up on Racer X about it here> http://racerxonline.com/2017/11/03/privateer-profile-cade-clason-addresses-positive-test

Below is Tickle's statement on the situation. His frustration is completely understandable as the guilty until proven innocent process of this situation must be extremely disheartening.

Statement from Broc Tickle: As has been widely reported, on April 12, 2018 I was notified by the FIM of an alleged Adverse Analytical Finding for 5-Methylhexan-2-Amine, stemming from a random urine test on February 10, 2018, directly after the San Diego Supercross Event. The notification from the FIM was a complete surprise to me because I have never, intentionally or negligently, ingested any prohibited substance, and specifically, the alleged substance I allegedly had in my system on February 10, 2018. I have never cheated, doped, or tried to better myself by taking the short way; nor, has anyone around me offered or provided to me any substance that is prohibited by the FIM Anti-Doping Code. I have worked too hard throughout my career to put my career at stake by taking any prohibited substance.

I am devastated about this allegation, and really frustrated with the process. The FIM has been less than professional with me regarding timeliness of communication, disclosure of information related to my Sample A test, and request to Test Sample B. After much delay, the FIM finally has informed me that the soonest that my Sample B will be tested is May 16, 2018*, the receipt of results and supporting lab documentation undisclosed. In addition, the soonest I will receive the lab documentation associated with Sample A is 10-15 working days from April 15th, 2018.

At this point, I have filed a Request to Lift the Discretionary Provisional Suspension imposed, but have little faith in this process as it is based solely on written documentation. The soonest that I will have a full blown hearing regarding this allegation will be months from now. I have discovered that the FIM is an organization that possesses ultimate power - to suspend a professional athlete with the stroke of a pen, without any process, opportunity to defend, and no supporting evidence. Consequently, the FIM eliminates the athlete's source of income, and consequently their financial wherewithal to defend themselves with what little information is provided, all while refusing to timely communicate, and disclose evidence. To say that the process is unfair is an understatement.

Despite this disproportionality, I will do everything possible to fight this allegation, clear my name, and continue with my career. Should anyone have any information that may be relevant to my case, please contact my to my attorney, Brian D. Harrison at harrison@harrisonlegal.net. Thank you.

*Interestingly, shortly after filing of my Request to Lift the Provisional Suspension, the FIM advised me that they contacted the Laboratory to change the date for Sample B testing to
May 9, 2018
; however, no information was conveyed as to date of receipt of such test, or the lab documentation associated therewith.