ChapMoto 2018 Supercross Race Recap Week 15
Chaparral Motorsports
|
April 25, 2018
Last year we started a new series called the ChapMoto Supercross Race Recap, where several Chaparral Motorsports employees gave their thoughts on the past weekend's Supercross event. That series was so fun and popular that we decided to keep it going. It's a pretty simple concept; we pose about 8-10 questions to the group regarding the evening's activities, highlights, and lowlights and they reply with their thoughts. This is meant to be a casual, fun, and lighthearted series.

The Chaparral Motorsports staff (and one outsider) consist of:

Travis Snyder (TS): Chaparral Motorsports Offroad Products and Apparel Manager. Travis is one of our in-house moto racers. A Honda guy, Travis is either at one of the local tracks or prepping his bike for his next event.

Mike Medina (MM): Chaparral Motorsports Technical Advisor/Communications Specialist. When Mike's not at the office he's in the pits spinning wrenches for the Enticknap brothers, #722 Adam (The Seven Deuce Deuce) and #723 Tyler.

The Outsider (TO): N/A. The outsider is not a Chaparral employee but he is an industry veteran with a good perspective on the inside.

Kyle Bradshaw (KB): Chaparral Motorsports Marketing Department. The newest team member, Kyle is a highly experienced offroad/ADV/dual sport rider who splits his seat time between his stable of KTMs and his custom Honda VTX1300.

Eric Ellis (EE): Chaparral Motorsports Marketing Department/Social Media. Eric is just a Harley guy who likes to watch Supercross.

Who had the best night?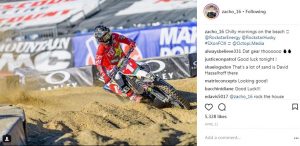 MM
: Wacko Osborne of the Rockstar Husky ride had the best night extending his points lead and will be going into Las Vegas with a little cushion for the 250 East title.

TO: Anderson. He just keeps being consistent and collecting points towards his first Supercross championship.

KB: Musquin with the win, for sure.

EE: Zach Osborne and Husqvarna. Osborne picked up three more points over KTM's Jordan Smith to pad his lead to 15 as they sit out a week and wait for the finals in Vegas. Not a bad position to be in. Between Osborne and 450 points leader Jason Anderson, as long as the two riders can keep it together Husqvarna is about to wrap up a two title season.

Who had the toughest night?
MM
: J-Mart for coughing up some serious points in the 250 class making his title hopes a little out of reach now. He needs a big break.

TO: Tomac in the 450s and Martin in the 250s

KB: One minute left of the 250 LCQ and Seizmore crashes face first into the ground taking him out of the Main. I felt for him... hard way to end the night.

EE: Tomac. You could feel his tension towards Musquin in the presser after the race

Did anyone surprise you?
MM
: Bam Bam Barcia for coming off of the DL and winning his heat race, well done.

TO: Musquin. He's usually not that aggressive.

KB: Osborne took the hole shot and rode it to the end. Good ride. Not much action...

EE: Kyle Peters. I had heard about his torn ACL/MCL injuries and didn't expect much from him, but man that kid put in a very impressive night. He had to go through the LCQ (which he won) to make the main and then held his own to and charged his way to a third place finish. That's some true grit right there.

Who had the worst spill?
MM
: J-Mart had a pretty nasty spill making him come from behind to take as many points as he could.

TO: Tomac in the 450s and Martin in the 250s. Both could have won.

KB: Jeremy Martin in the 1st lap! Ouch!

EE: Cody Vanbuskirk in the first 250 heat race had a transfers spot to the main but got taken out in the very last turn and then looked like he was going to scramble to pull a Chad Reed and run it across the line to still make it but grabbed too much throttle and washed it out. Bummer.

Best pass of the night?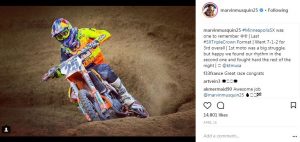 MM: Musquin of Tomac in the 450 main event, no contest!

TO: Musquin for the Win.

KB: Hands down the 450 Heat #2 when Reed was leading... Barcia and Baggett "Sandwich Passed Him" and exiting the corner Reed was in 3rd. They ate him up... It was a good clean pass and a good battle for the lead spot in that corner.

EE: Jeremy Martin passing the majority of the 250 field from a last place start in the main and nearly landing on the podium. It would have been crazy if there was one more lap left as he would have really put the heat on Peters and the fans would have went nuts.

Best battle?
MM
: Musquin vs Tomac

TO: Tomac & Musquin

KB: Best battles were for the checkered flag this week! In the 250 heat race between Alves and Vanbuskirk they crashed, had whisky throttle picking up bikes and fought to get up and over the jump for the win. It was great!

EE: Musquin/Tomac.

Did you like the day race or do you prefer the night races?
MM
: Day races suck, shadows make it difficult and you can not get the full wrath of the pyrotechnics.

TO: Supercross is for nights. Outdoor nationals are for the daytime.

KB: I like the idea of the day races, but I do think the night races pack a little more punch, or energy if you will. I am a fan of night races under the lights.

EE: I like the night races better. You get all your errands done or do some riding of your own and the just chill, eat some bbq, have a couple beers, and enjoy the racing. Afternoon races interrupt the flow of the day. If it's beautiful sunny day nobody wants to be sitting around watching the races on TV, they'll just record them and watch them later anyways.

What are your thoughts on the Musquin/Tomac debacle?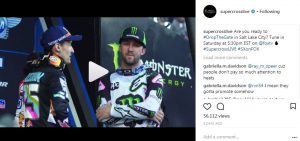 MM
: The pass was all good in my book, it was for the W and Musquin wanted to retake the lead for the W from Tomac. It was extreme, but I am ok with it.

TO: It goes back to New York last year carrying over into Las Vegas. There is no love lost between Tomac & Musquin. If I were Musquin I would watch out these last two rounds. I think Tomac is pretty mad and given the chance will take Musquin out!

KB: I really don't think that it was intentional. Now... if it was a known "bad boy" who was doing it just to take out the opponent, I think the outcome would have been viewed differently. But Musquin isn't typically that type of rider and that is why I don't think any action was taken.

EE: It's racing, shit is going to happen when guys are going for the win. Tomac was naive to think Musquin wouldn't go after him, especially after Tomac paced behind him nearly the entire race and then made his move on the last lap. Like the Wu-Tang Clan says Eli, #protectyaneck

Say instead of Tomac it was Anderson that Musquin ran into and Anderson was injured, do you think there would still be no response/penalty from the race organizers?
MM
: If it was Musquin on Anderson, it should not matter but considering where they both are in the points chase, Musquin may have been penalized if Anderson got injured from a pass like that. If the injury kept Anderson from racing the last two races, Musquin would have a chance to make up the points he was down.

TO: The FIM and AMA are not consistent throughout the season.

KB: Again, Musquin has proven that his is a "good guy" and is not out to hurt people. I think if it was Anderson instead, the outcome would have been the same. NOW... that being said... if BamBam would have been the attacker, I do think that the judges / fans would have seen it as a malicious attack, going in for a kill. I think it is a matter of character and intentions.

EE: Absolutely. Even if Anderson wasn't injured I think the race officials would look at it differently and probably would penalize Musquin.