Lug It To Laughlin: Top 10 Pieces Of Motorcycle Luggage For The River Run
Chaparral Motorsports
|
April 19, 2018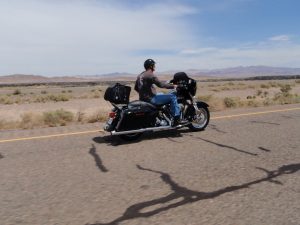 Nestled along the banks of the Colorado River at the southern edge of Nevada, the small gabling town of Laughlin has played host to one of the West's largest motorcycle rallys, the Laughlin River Run, for the past 35 years. With its close proximity to Las Vegas, Phoenix, and Southern California, the River Run draws thousands of riders and has become the unofficial kickoff for Harley enthusiasts-even though these regions typically experience year-round riding weather.

Taking place at the end of April (just before the desert gets too hot) the rally is usually a four-day event spanning Thursday through Sunday, however with most riders only living a few hundred miles away many kick off work early Friday or just make a quick trip and go Saturday and come home Sunday. Whatever your schedule for the event is, we've put together this list of our 10 favorite pieces of motorcycle luggage that can help you carry everything from a week's worth of gear to just a tee shirt and a toothbrush if you like to travel light.

Kuryakyn XKursion XS4.5 Sissy Bar Bag $249.99
If you have a tendency to over pack or are traveling two up, then you'll definitely want to consider the XKursion XS4.5. Boasting 3,825ci of storage space, this bag can handle quite a bit of gear. The nice thing is that you have the option of one large main compartment or use the zippered dividers to create his and hers and also hers separate sections. There are several smaller exterior pockets to store things like keys, garage clicker, and sunglasses. Heavy duty D-rings allow for easy securement to the sissybar or a luggage rack. The removable coat flap provides a convenient way to store your jacket when it gets hot or to have your rain hear readily available when riding towards a storm.

Saddlemen S3500S Studded Deluxe Sissy Bar Bag $247.00
For those that ride something with more classic styling like a Heritage Softail or a Deluxe it's hard to pass up the studded S3500S from Saddlemen. With its rigid construction the bag holds it shape which makes it very easy to pack your clothes into or finds things in a hurry. The S3500S is comprised of durable, waterproof material that is also protected from the harmful effects of the sun and has leather-like SaddleHyde panels to match the styling of classic leather saddlebags. The side zipper opens to the large flap to reveal the main compartment with a Velcro adjustable shelf to separate you gear. The side door has mesh pockets and there are multiple exterior pouches to give you 3,500ci of storage. Adjustable mounting means you can strap it to just about any motorcycle. One of the best features however is the roll bag which can be used on its own or secured to the top to hold your jacket, sleeping bag, or whatever else you want.

Tour Master Select Trunk Liners $59.99
Not all River Run attendees ride Harley's, you'll see everything from a dual sport DR-Z400 crisscrossing desert trails to Honda Gold Wings cruising the strip. For you Goldwing riders we picked out Tour Master's Select Trunk Liners. They might not look like much but these tombstone shaped travel bags make organizing your motorcycle trunk a breeze. What we like best about these bags (besides the price) is that they clip together making it easy to carry all your gear to your room once you arrive at the hotel.

Willie And Max Fleetside Deluxe Slant Saddlebag $187.99
Have saddlebags will travel. If you don't own a bagger or your bike doesn't already have saddlebags then you can't go wrong with the Fleetside Deluxe Slant Saddlebags from Willie and Max. These bags feature great styling and have an adjustable yoke to make for universal mounting on just about any Harley or other cruiser. You can secure them to your ride with some zip ties or whatever straps you may have on hand. Rugged and well-built they can handle the rigors of the open and look good doing it with their synthetic leather exterior. They measure 16"W x 11"H x 6 1/2"D-just enough for a couple days ride.

Kuryakyn Saddlebag Liners $71.99
If your motorcycle came stock with saddlebags then these Saddlebag Liners are a must. Load up and carry out, these bags make it very convenient to get your stuff from one place to another and help keep the insides of your saddlebags organized. The dual zip tops make getting all your clothes and gear in and out of the bags extremely easy. It doesn't matter if you ride a Gold Wing or a Harley Road King, the bags are designed to fit inside most GL 1800 and H-D hard and leather style saddlebags.

Nelson Rigg Compression Bag $11.65 - $17.95
Are you an overpacker? Need to fit a lot of gear into a tight space? Nelson Rigg offers these Compression Bags in various sizes that can help you significantly reduce the overall size of your haul. With adjustable cinch straps you simply toss in your clothes and then pull down as the bag shrinks it all down by a claimed 30%. The bags are lightweight and water resistant and come in either a 10 liter capacity, 20 liter capacity or 35 liter capacity.

Firstgear Torrent 25 Liter Waterproof Duffel Bag $59.95
If you are extremely concerned with your clothes or other items getting soaked in a unexpected storm or you also do some offroad adventure riding then Firstgear's line of Torrent Waterproof Bags are good to have on hand. Seen here is the 25 Liter Waterproof Duffle Bag which is comprised of heavy-duty PVC (Polyvinyl Chloride) tarpaulin panels that have been sonically welded to add strength and water protection. D rings have bene placed throughout the bag to provide plenty of attachment points and the exterior pockets feature waterproof zippers. The traditional duffle can be set on a rear motorcycle rack or stand it up on the passenger seat between you and your tour-pak or trunk and use it as a backrest for long rides. Firstgear offers several larger duffle bags as well as a backpack in this line.

Saddlemen Cruisn' Deluxe Windshield Bag $74.00
As popular as they are, one of the minor problems with Harley's Batwing model touring bikes like the Electra Glide and Street Glide is that unlike the Road Glide there no "glove box" to store small items that you can quickly and easily access. To combat this problem Saddlemen offers its Deluxe Windshield Bag. It may look small but the three individual pockets offer a total of 450ci of storage. Sunglasses, cell phone, asthma inhaler, or whatever else you might need can be stored or grabbed as you ride. Saddlemen's SaddleHyde material provides protection from the elements and looks clean against the stock dash. Installation is extremely easy and just requires you to loosen the top three fairing/windscreen bolts so the unit can be slid into place. Those that have GPS devices will appreciate the fact that the far left bag can be removed and you can mount your GPS device in its place. If you're worried about your items "walking away" when you aren't near the bike, you can install small mini locks onto the flap releases to keep your items secure.

Firstgear Silverstone Tank Bag $89.95
If you've never ridden with a magnetic tank bag you're really missing out on a very convenient and handy way to keep important items with you at all times. The Firstgear Silverstone Tank Bag has super strong magnets incorporated into the bottom to keep the bag securely attached to your motorcycle's metal gas tank. But don't worry the bottom is thoroughly protected with soft material so it won't mess up your paint job. With its expandable design you can go from 750ci of storage to 850ci of storage by unzipping one zipper. Pockets are located all over to keep items separated and the bag is waterproof to keep your gear dry. The top clear pocket is great for viewing your cell phone or maps/directions. By far the best feature of this bag is the magnets make it easy to remove or install which is very useful when you stop for lunch or do some roadside exploring.

Willie And Max Braided Tool Pouch $44.99
Nothing is worse than breaking down and having to dig around through your gear to try and find your tools. This Tool Pouch from Willie and Max can hold all the vital tools you might need for an emergency roadside repair. While it has a leather-like exterior inside is a hard plastic shell that helps the bag keep its shape. You can mount this bag to your down tubes, between your fork tubes, or any other safe place on your motorcycle with a couple zip ties or some heavy duty laces. The buckle straps on the front will make sure your tools stay in place and don't bounce out all over the road.