Top 3 Motorcycles For Women
Chaparral Motorsports
|
April 4, 2018
When it comes down to riding ability and experience being equal, any motorcycle that a male can ride a female can ride and get just as much enjoyment. That's not to say however, that there aren't certain factors such as a lower seat height and ergonomics, which can make some motorcycle models more popular among female riders. With so many bikes and styles to choose from we are going to keep things simple and break our top three motorcycles for female riders into three different categories: cruiser, sport bike, and touring.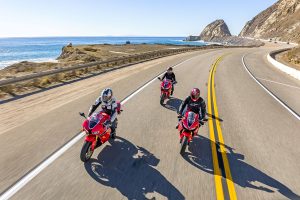 Cruiser: Kawasaki Vulcan S
The Kawasaki Vulcan S offers sport bike like power-its 649cc engine is based off the highly popular Ninja platform-with a more relaxed cruiser riding position that put the rider's center of gravity directly over the middle of the bike. The low 27.1-inch seat height helps riders with shorter inseams rest flat footed at stops and better balance the bike on awkward inclines. What's most appealing beside the smooth and reliable power is Kawasaki's Ergo Fit system which allows riders to easily modify the Vulcan between three different configurations (reduced reach, mid reach, an extended reach) to best suit a riders' stature and comfort level via different seats, relocated foot controls and different handlebars.

Sport Bike: Honda CBR 500R
Sleek bodywork, a sporty riding position, great power across a broad powerband, and Honda's well known reputation for reliability make the CBR 500R a great choice for female riders who like to carve canyons or just enjoy the nimble characteristics of a sport bike. With features and technology trickled down and adapted from its MotoGP sibling, the RC213v, the CBR 500R punches above its weight class in many categories. The 30-inch seat height helps the 432-pound bike feel much lighter than it is and the svelte mid-section makes the bike feel shorter than it is.

Touring Bike: Harley-Davidson Street Glide
Don't let its size and weight fool you, even though the Street Glide rolls around at nearly 800 pounds, there are plenty of female riders who find the extremely low 26-inch seat makes for easy handling. Add in the fact that the bike is well balanced with a low center of gravity and you have a very enjoyable ride whether cruising along the shoreline or on a spirited mountain run. The 111-ft-lbs of torque from the 107ci V-twin may sound intimidating but the power is easily manageable, making the distinct Harley rumble the only thing intimidating about the bike. With plenty of aftermarket parts and accessories the bike can be lowered, seating position moved forward, or different bars installed to accommodate any sized rider. Plus customizing a Harley is almost as fun as riding it.