ChapMoto 2018 Supercross Race Recap Week 11
Chaparral Motorsports
|
March 22, 2018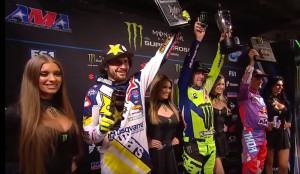 Last year we started a new series called the ChapMoto Supercross Race Recap, where several Chaparral Motorsports employees gave their thoughts on the past weekend's Supercross event. That series was so fun and popular that we decided to keep it going. It's a pretty simple concept; we pose about 8-10 questions to the group regarding the evening's activities, highlights, and lowlights and they reply with their thoughts. This is meant to be a casual, fun, and lighthearted series.

The Chaparral Motorsports staff (and one outsider) consist of:

Travis Snyder (TS): Chaparral Motorsports Offroad Products and Apparel Manager. Travis is one of our in-house moto racers. A Honda guy, Travis is either at one of the local tracks or prepping his bike for his next event.

Mike Medina (MM): Chaparral Motorsports Technical Advisor/Communications Specialist. When Mike's not at the office he's in the pits spinning wrenches for the Enticknap brothers, #722 Adam (The Seven Deuce Deuce) and #723 Tyler.

The Outsider (TO): N/A. The outsider is not a Chaparral employee but he is an industry veteran with a good perspective on the inside.

Kyle Bradshaw (KB): Chaparral Motorsports Marketing Department. The newest team member, Kyle is a highly experienced offroad/ADV/dual sport rider who splits his seat time between his stable of KTMs and his custom Honda VTX1300.

Eric Ellis (EE): Chaparral Motorsports Marketing Department/Social Media. Eric is just a Harley guy who likes to watch Supercross.

Who had the best night
https://youtu.be/8X5gCSADfQg

TS: Zach Osborne in my opinion. ZachO & Forkner both went into St. Louis with Red number plates. Forkner folded under pressure and we're back to only one red plate.

MM: Wacko Osborne of the Rockstar Husky team for getting the 250 win, stopping the PC Forkner train, and having some momentum going into the first 250 shootout of the year.

TO: Tomac and Anderson. Tomac with a great win and Anderson controlling the points

KB: The West Coast had the best night! 450 Main, our top guys took it all! Tomac, Anderson, Musquin and Peick in the top 5. Come on east cost guys... where are you?

EE: Osborne. He rode solid and kept it together while still putting down the heat.

Who had the toughest night?


TS
: Forkner did, considering only one rider was leaving St. Louis with the red plate... it wasn't Forkner.

MM: Austin Forkner of the Pro Circuit team for throwing away the win with a brain fart in the final laps of the 250 main event.

TO: Forkner. Two crashes and losing the 250 east points lead.

KB: Davalos came in LAST Place. Not a fun place to be for a guy who is usually up near the top.

EE: Probably Tomac. Yeah he won another race but with each race he wins races and the more Anderson continues to be consistent, his mistakes and issues from earlier in the season have to be haunting him.

What was the best or most exciting thing YOU saw all evening?
https://youtu.be/mv1Ompd9Bb0

TS: Either Tomac lapping up to 8th or Forkner buckling under Osborne's pressure

MM: Jeremy McGrath's Science of Supercross segment, always good stuff.

TO: Osborne putting pressure on Forkner and forcing Forkner into a mistake.

KB: Eli Tomac taking 1st place... wearing GREEN. If a orange, blue, yellow or red bike would have won... there would have been some sad Leprechauns.

EE: Ask me next week.

With Anderson having a 42 point lead with six races to go in the season what do you think his strategy will be? Layup and secure a championship or ride 100% for each and every win?


TS
: I think he needs to stay focused on himself and not the points lead. Racers are more likely to get hurt when they back it down a notch. If you're lining up Not Looking to Win, you shouldn't be racing. I think this is Anderson year!

MM: El Hombre has not been hitting the deck lately so he is a much more solid rider these days. He just needs to podium out the rest of the way which will not be difficult for him to grab the title in Las Vegas. No DNF's is a must.

TO: He says he wants to beat Tomac straight up, but why risk anything when the championship is his to lose?

KB: I think he should ride each race like it's his last race. Ride good. Ride smooth. Ride as fast as you are comfortable with... and Race to the end.

EE: Do dirt bikes have cruise control?

Eli is obviously the fastest guy out there on any given day, but why do you think he struggles with consistency?


TS
: He struggles with consistency because he the fastest guy out there... his mental game isn't all there in my opinion.

MM: Head Case!

TO: Loses concentration and makes stupid mistakes. If Tomac figures it out he will win everything the next few years.

KB: He is the fastest and I think that when you are riding that line... what are small mistakes to "slower riders" turn into big mistakes for faster riders. I had a trainer once who used to say that practice is not what makes a winner as "lots of practice does not make perfect... Only Perfect Practice Makes Perfect" he used to say. Same thing... It does not matter how fast you are if you can't execute perfectly.

EE: I have no idea but I wonder how many sports psychologists' have some knocking on his door?

What are your predictions for this first 250 showdown we'll see this coming weekend?


TS
: I think its going to be exciting! This round could make it or break it whether you're on the West or East series. The points are definitely going to get shuffled around for the Lites class.

MM: West Coast Best Coast, here is the podium. Plessinger, Hill, Osborne, right it down.

TO: Osborne will win

KB: I predict the West to dominate.

EE: I'm hoping it will be some of the best/most exciting racing we've seen all season. That last Triple Crown was awesome but I expect the east/west shootout surpass it.