Polaris Introduces The New RZR XP Turbo S
Chaparral Motorsports
|
March 6, 2018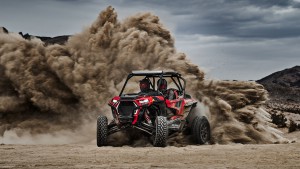 Hot on the heels of the announcement last month about the new Polaris RS1, the company has shot yet another new model out of the canon, the brand new Polaris RZR XP Turbo S. Upgraded in nearly every way, this new side-by-side looks fit to tackle any terrain or could be a nearly turnkey race-ready machine eager to rip the competition in some UTV racing. Read the full press release below.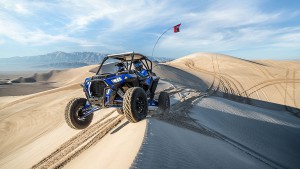 (Press Release) Minneapolis, MN (March 6, 2018) - Today, Polaris® unleashed an absolute terrain-dominating beast with the release of its most capable RZR® ever, the all new RZR® XP Turbo S. Bigger, tougher, the 72-inch RZR XP Turbo S is an off-road monster, completely redesigned and reengineered from top to bottom. The result is RZR's most capable side-by-side machine, setting new standards in nearly every measurable category. Complete with Polaris' exclusive DYNAMIX™ Active Suspension, the RZR XP Turbo S has an all-new vehicle design and an evolved cockpit allowing the driver to devour virtually everything in its path.

[caption id="attachment_66976" align="alignright" width="300"]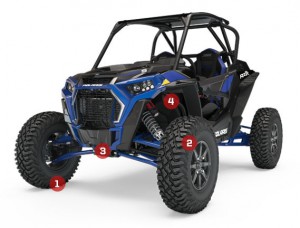 1-72" Width
2-32" ITP Coyote Tires (8-Ply)
3-16" Ground Clearance & Full Heavy-Duty HMW Skid
4-Reinforced Drivetrain & Chassis[/caption]

"We set out to create the most capable and aggressive side-by-side in the industry, and without a doubt, we accomplished that with RZR XP Turbo S," said Chris Musso, president of Off-Road Vehicles, Polaris. "This machine raises the bar for the industry. The sheer size of the machine and its significant performance upgrades will have even the most passive drivers attacking terrain with confidence."

The Industry's Toughest Machine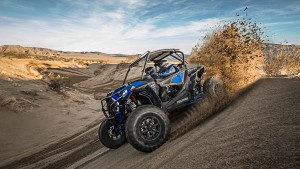 Polaris pushed the limits of engineering when designing the RZR XP Turbo S. From a reinforced chassis to bigger, stronger axels, Polaris incorporated significant performance upgrades and strengthened nearly every component of the machine. The all-new isolated front drive features three times higher impact strength, while the ROPS, control and trailing arms, and radius rods help handle the extreme force produced by this beast of a machine.

https://youtu.be/o2INdg1yvpo

These efforts helped make it possible to engineer the industry's first-ever side-by-side vehicle to come stock with 32-inch tires. Delivering an industry-best 16 inches of ground clearance, the massive 32-inch tires are also 249 percent more resistant to punctures than the competition. The combination of a flickable wheelbase and massive tires produces a machine that is extremely agile, yet capable of smashing though the toughest terrain with the ease of a trophy-truck.

[caption id="attachment_66978" align="alignright" width="300"]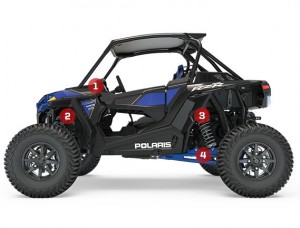 1-DYNAMIX Active Suspension™
2-25"/25" Usable Travel & 19"/21" Wheel Travel
3-FOX® 3.0 Internal Bypass Live Valve Shocks
4-Reinforced Arched A-Arms, Radius Rods & Trailing Arms[/caption]

The Industry's Most Capable Suspension

The new machine's toughness is complemented by its industry-best suspension. An intimidating 72-inch broad-shouldered stance opened new possibilities for smart and usable travel upgrades. The intelligent, industry-leading DYNAMIX Active Suspension system optimizes every inch of the vehicle's 19-inch or 21-inch traditional wheel travel for both low-speed comfort and high-speed performance. Plus, the impressive design offers an industry-leading 25-inches of Useable Travel before bottoming out on the skid plate. Needless to say, drivers will enjoy putting all 168 horses to use, ripping through terrain that would tear up any other machine.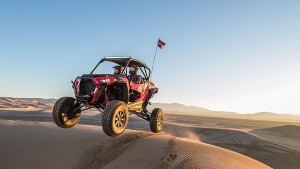 Performance Upgrades

The RZR XP Turbo S was designed with extreme performance capabilities in mind. With 25 percent more assist in power steering, the RZR XP Turbo S keeps the driver focused on effortlessly maneuvering through the terrain, not on forcing the wheel. Recalibrated aggressive throttle mapping gives the driver phenomenal throttle control and the redesigned clutch box allows for better air flow and decreased belt temperatures.

[caption id="attachment_66984" align="alignright" width="300"]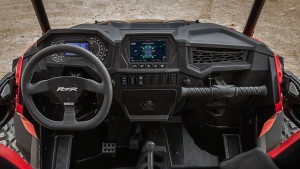 -Improved Driving Position
-Sparco® Steering
-Wheel & 4-Point Harnesses
-Interior Dash & Ride CommandTM[/caption]

The Industry's Most Evolved Cockpit

The machine also features the industry's most-evolved cockpit and an improved driving position, enabling drivers to comfortably command it through any obstacle desired. The cockpit boasts a four-point harness, premium flat-bottom SPARCO® steering wheel, and a new instrument cluster with seven-inch RIDE COMMAND™ glove-touch display on the center dash. Additionaly, the machine is cut with a new predatory look: low profile ROPS, aluminum roof and premium panels featuring LED lighting packages that comes standard to let your competitors know how far they are falling behind.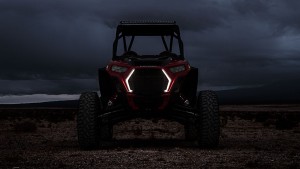 Off-road addicts will welcome the challenge to drive harder, faster and farther than ever before. Available in Indy Red and Polaris Blue, this 168-horsepower beast of a machine will be available in dealerships as early as mid-March, and despite all of the enormous upgrades, checks in at a base price of $27,499 US and $33,599 CA.

Chaparral Motorsports is an authorized Polaris dealer.