2018 American Flat Track Season Offers Up Record Amount In Contingency Money
Chaparral Motorsports
|
March 2, 2018
If there was ever a time to be an American Flat Track (AFT) racer, now would be it as the series is loaded with more than $2 million in contingency money with the most recent announcement of Ducati ponying up $180,000 for racers. The 2018 contingency pool was already flushed with a ton of money with Indian Motorcycles announcing back in November that they would offer up more than $350,000 for riders and Harley-Davidson upping the ante a month later in December by announcing its pot of $562,500-the most ever from one company.



These large caches of cash do come with stipulations though as each manufacturer has its own set of contingency rules riders have to abide by in order to be eligible. For example, for a chance at the Harley money you have to be a privateer team/rider piloting either the company's XG750R or XR750. Indian's contingency is up for grabs for professional riders/teams and privateers campaigning the series on the Scout FTR750. And for a shot at the Ducati money you need to be on 821cc twin-cylinder motorcycle with an engine that powered Ducati's 2015-2018 Monster and 2013-2015 Hypermotard models.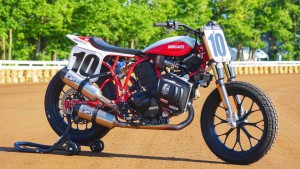 The contingency payout from each manufacturer for each race is as follows:

Ducati

1st: $5000

2nd: $2000

3rd: $1200

4th: $750

5th: $500

With $10,000 for a Championship win.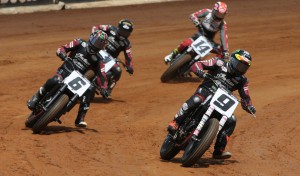 Indian Motorcycles:

Championship - $25,000

1st: $5,000

2nd: $4,000

3rd: $3,000

4th: $2,000

5th: $1,000

6th: $900

7th: $800

8th: $700

9th: $600

10th: $500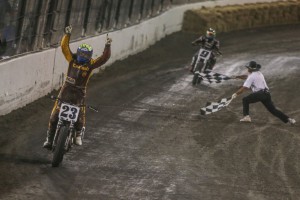 Harley-Davidson

1st: $10,000

2nd: $8,000

3rd: $6,000

4th: $2,000

5th: $1,500

6th: $1,250

7th: $1,000

8th: $750

9th: $500

10: $250

The AFT season opener is just barely two weeks away on Thursday March 15, and will take place at the trioval at the famed Daytona International Speedway. Last season was an extremely exciting one for Indian they snatched top honors with Jared Mees winning the Grand National Championship in historic fashion. Mees set a new single season record with 17 podiums to go along with his ten race wins. Indian dominated the 2017 series with a total of 14 race wins, 37 podiums and swept the podium six times.

While the AFT series has experienced 65-years of incredible racing and rivalries, the last few years the series has exploded in popularity with much more participation and fans attending events or tuning in to watch the racing on TV or over the internet. In fact, this year fans that can't watch one of the 18 motorcycle races live can view the tape delayed telecasts on NBCSN on weekend afternoons often following or preceding the network's NASCAR, IndyCar, and Pro Motocross coverage.