ChapMoto 2018 Supercross Race Recap Week 8
Chaparral Motorsports
|
February 28, 2018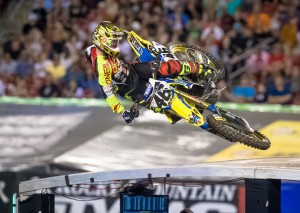 Last year we started a new series called the ChapMoto Supercross Race Recap, where several Chaparral Motorsports employees gave their thoughts on the past weekend's Supercross event. That series was so fun and popular that we decided to keep it going. It's a pretty simple concept; we pose about 8-10 questions to the group regarding the evening's activities, highlights, and lowlights and they reply with their thoughts. This is meant to be a casual, fun, and lighthearted series.

The Chaparral Motorsports staff (and one outsider) consist of:

Travis Snyder (TS): Chaparral Motorsports Offroad Products and Apparel Manager. Travis is one of our in-house moto racers. A Honda guy, Travis is either at one of the local tracks or prepping his bike for his next event.

Mike Medina (MM): Chaparral Motorsports Technical Advisor/Communications Specialist. When Mike's not at the office he's in the pits spinning wrenches for the Enticknap brothers, #722 Adam (The Seven Deuce Deuce) and #723 Tyler.

The Outsider (TO): N/A. The outsider is not a Chaparral employee but he is an industry veteran with a good perspective on the inside.

Kyle Bradshaw (KB): Chaparral Motorsports Marketing Department. The newest team member, Kyle is a highly experienced offroad/ADV/dual sport rider who splits his seat time between his stable of KTMs and his custom Honda VTX1300.

Eric Ellis (EE): Chaparral Motorsports Marketing Department/Social Media. Eric is just a Harley guy who likes to watch Supercross.

Who had the best night?


TS:
Justin Hill. He showed he can run with the big boys with style! I was very impressed. I believe he would have been on the podium if MM25 didn't pull a vet move on him.

MM: Best night goes to Austin Forkner of the Monster Pro Circuit team for winning his first 250 main event.

TO: Austin Forkner

KB: Luckiest Night, maybe Baggett who flew into the "safety net" like a spider onto web. Climbed down and continued on.

EE: I'm going to say Hill. He had a excellent debut night on the Suzuki RM-Z 450. He won his heat race and even though he didn't finish out as promising as he started the 450 main he looked awesome and woke up the field. Austin Forkner winning his first 250 main was pretty awesome too. It was a great night for the Kawasaki team.

Who had the toughest night?
https://youtu.be/WGpvWTK2EMk

TS: Cole Seely. I hate to see that kind of stuff happen. It's a part of racing though...

MM: Toughest night goes to Cole Seely of the Honda HRC team for getting injured and putting an end to his season.

TO: Cole Seely, distant second - BB4.

KB: 114 Hartranft was in top 3 until the corner before the Checkered Flag of the LCQ and he goes down... HARD. Gets up ... gets hit and then finishes 5th. Ouch!

EE: Oh there's a couple that make up this list. First is Cole Seely. He was having a good season, and now he's sidelinded with a pretty nasty pelvis break. Seely's injury just stacks up with the other 450 fan favorites, highly anticipated title contenders, or whatever you want to call them. The 450 class is a big draw for viewers so with another rider out it just hurts the overall excitement. Also with Seely now joining Roczen on the injured list the Factory Honda team has no one to contend the 450 class unless they pull someone up or tap one of the satellite riders, so Saturday night was definitely a tough one for Honda.

Did anyone surprise you?


TS:
Again, Justin Hill. I'm sure we're all on the same page with this question.

MM: Justin Hill aboard the JGR Suzuki 450 looked right at home on the big bike winning his heat race and looking good in the main event until he made a mistake.

TO: Justin Hill.

KB: Justin Hill on a 450! Pretty awesome to see him ripping the heat race for a 1st Place. Another surprise was Reed taking not only the HOLE Shot, but also 1st in the 450 LCQ. Super stoked for that. And then making history for # of starts. I guess... if you can win the most... the most starts is 2nd best?

EE: Hill. Can't wait to see him continue to rip on that 450.

Who had the worst spill?


TS:
Again, Cole Seely. I'm eager to see what Trey Canard is doing about making this sport safer.

MM: The worst spill or most exciting spill was Blake Baggett of the Rocky Mountain ATV/MC KTM team for mis timing the rhythm section and launching into the safety nets, saving him from slamming into the stands.

TO: Cole Seely.

KB: #14 causing the Red Flag in the 450 Heat Race #2. Took a header and then the bike hit him... not good.

EE: Seely I guess. But Baggett's was pretty fun to watch. Guess someone was really thinking when they decided to bring in the net system.

Best pass of the night?
https://youtu.be/8rHpqKhjR64

TS: Justin Hill... on everyone!

MM: Marvin Musquin on Eli Tomac in the chicane before the over under bridge jump in the main event.

TO: Musquin on Tomac in the main.

KB: I loved Davalos getting the lead at the end of the 250 Heat Race #2 when Hampshire ran off course... Davalos charged through the sand, passing Hampshire (who was off the course) to take the lead. That was fun!

EE: There were quite a few but I think Hill's pass on Tomac rang loudest.

Best battle?
https://youtu.be/6JZvNjgeuTE

TS: This is always a hard question for me to answer. Each one of those racers goes to battle every Saturday.

MM: Marvin Musquin and Eli Tomac for trading positions for two laps in multiple sections, good stuff.

TO: I would have to say Musquin and Tomac for a few laps.

KB: Hampshite & Davalos in the 250 Heat Race #2 with two minutes left in the race. And then the 450 Heat Race #1, the last two minutes Musquin & Hill were swapping back and forth... super exciting! Man... Anderson / Tomac battle at the end of 450 Heat Race #2, that was great!

EE: I enjoyed the Musquin/Hill battle in their heat race. Hill wasn't messing with anyone Saturday night and it was awesome. I also enjoyed the Forkner/Hampshire battle as well as the Ferrandis/Forkner last lap battle in the 250 main.

Reed rode into the record books on Saturday night, logging his 228th main event start. How many more do you think he will get? Will this be his last season?


TS:
If he stays healthy, I think he will make the main's for the rest of the year

MM: This will not be Reedy's last season. He's a racer and still has the fire. He will not retire with a sub par season due to an injury that gave him no time to get ready and is having to get in shape as he is racing against the best in the world. I see no reason why he would not make the rest of the main events for the year, whether through the LCQ or not.

TO: I believe his start record is one for the records already, with the new generation of riders coming up through the ranks and our current guys in the 450's, don't think we will have the longevity of riders racing today. These guys all go for it and with those rewards, you have the heavy risks. Record is set, this one won't be touched. He will finish out the season and will crack a top 5 or podium before the season wraps up. I believe as long as he's healthy and still competitive he'll come out again next season, ala Tom Brady. : - )

KB: From what I can see Reed is having a great time, just riding his dirt bike. And that is how it should be. Although it is kinda strange to see an "old guy" out there cruising around mid-pack just having a day... while other "more relevant pros" are hashing it out with one another. Almost like two races in one...

EE: Honestly I could see Reed racing as long as he's a top ten contender. So while he has the heart, determination, and skill to continue making the mains and could remain a top ten rider for a while, I think it's going to be money that will be a big influence on his decision to continue racing. I'm not saying he only races for the money, we know that is far from true for any of these riders. But it's really expensive to race, travel, and pay the people that need to get paid when you're doing it on your own. So I think if he can't get the support he needs for next year he could hang it up.

What did you think of that sand section? What other types of terrain or challenges would you like to see incorporated into the tracks?


TS:
Bad Ass! Finally, some REAL sand! And a good long section of it. More beach sand... Bring it!

MM: The sand section was awesome. Good passes were made and it was a nice curve ball to throw at these guys for a challenge. I would like to see an alligator pit introduced into the track designs.

TO: I thought it was pretty cool, guys were figuring out how to get through it as I believe I only remember Reed and Peick had slight issues through there.

KB: I loved the sand section! They got so squirrely in that section that it really made them break out skills they don't normally need to use. There was some action in the sand for sure! I know that this is Supercross and not EnduroX but... laying in some more technical sections would be fun. Maybe a water pit? Or a rocky steep uphill?

EE: The sand was pretty fun to watch. I haven't seen any walls this year like they had last year. There was a wall followed by sand last year that was a blast as riders had to navigate the roost from the previous rider as they crested the wall.

What are your thoughts on the first half of the series so far?


TS:
I think something needs to change. I'm beginning to think 450cc dirt bikes are not the best to race Supercross on. Too much torque, too fast, and making these rhythm section like a video game, leading riders to get injured. Bring back 2-strokes for racing SX where you need corner speed and finesse though the whoops. Leave the 4-stroke for Outdoors.

MM: Too many injuries is definitely putting a damper on the series, but it is not due to the track designs. Unless lightning strikes El Hombre, I would give him the title right now. The series has lost some of its luster with all the missing players unless the 250 riders can put on a show to keep fans interested.

TO: Besides the injuries to the major players in the 450's, it's been great racing in both classes. Triple Crown was cool to see and should be fun for a few more rounds.

KB: It has been a strange year with all of the injuries taking out top riders. I have liked beginning to follow some of the other mid-pack guys I have not previously paid much attention to... They will be the next stars, unless another Bubba or Villopoto rides onto the scene here in the next couple years. I am having a great time watching... no matter who the racers are. Long Live Supercross.

EE: I was so extremely excited to watch Musquin, Tomac, Anderson, and Roczen go head to head. Unfortunately we've seen very little of that and with Anderson's sizeable point gap my excitement has dwindled. Not that I don't want him to win a championship, but I was just hoping for a closer series at this point in the season.