2018 Canyon WORCS Report
Chaparral Motorsports
|
February 26, 2018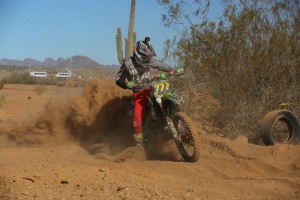 (Report by: Precision Concepts)
A very rocky and technical racecourse awaited the Chaparral Motorsports, Precision Concepts, Kawasaki team at round two of the WORCS series. The 2018 Canyon WORCS track took the racers through numerous rocky washes. Tying it all together were a slippery, high-speed section and flowing motocross course. In the Pro class, Justin Seeds and Blayne Thompson both started just inside the top twenty. By the finish, Thompson had worked his way up to eighth place. Seeds was just a few seconds back in tenth. In the Pro 2 class, Clay Hengeveld fought forward after an awkward start. Clay would come home in fourth place by race end.

Blayne Thompson - 8th place Pro
Blayne spun his rear tire off the concrete start pad, getting pinched instantly. Then, a few corners later he was caught in a pile-up, coming out around nineteenth. From there, Thompson steadily worked his way forward. He made a few passes in the technical pro-only section and took advantage of mistakes from a few other riders to get inside the top ten. Blayne was at the tail-end of a five-rider train up to fourth place. Unfortunately, he just lost the tow of the group in the middle of the race. Thompson came home eighth place at the checkers.

https://youtu.be/uHDdhluly_M

Blayne commented after the pro race, "I got a good jump, then hit the [extended] section of cement and lit the tire up like a race car. I don't even know what I was off the start. Then it got even worse when Zach Bell went down and I almost crashed into him. I was able to make a few passes on the first lap. There were a couple close calls, but I was able to keep it on two wheels. Me and Zach [were close] for a few laps. I was trying to push and get up there to the top four, but they were riding good today. The course actually got better throughout the race. It was fun, but I think I can work on getting through the rocks a little better. [Looking to BIG 6 next weekend] my foot's feeling better. So, we're going to come into Glen Helen and just push it. I'm going to come out swinging because I'm not liking eighth today. So, we're going to see what we can do."

Justin Seeds - 10th place Pro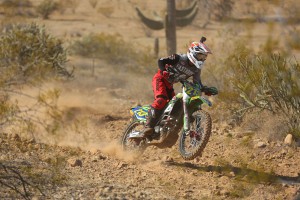 The Chaparral Motorsports, Precision Concepts, Kawasaki rider had a solid showing at the 2018 Canyon WORCS round. After a mediocre start, Justin rounded the first few corners in fifteenth. From there, he methodically worked his way forward. Seeds battled with the likes of Steven Gibson and Travis Damon, moving up to tenth. Late in the race, Justin was in a back-and-forth battle with Logan Chambers. The two were closing the gap to eighth place, but in the end, Justin just ran out of time. He crossed the line tenth.

https://youtu.be/S1JtxjSFEco

"I came out [of the first few corners] in a decent spot," remarked Justin post-race. He continued, "From there everybody started to spread out. This track was very tricky, and I just started making mistakes. I'd push, then make a mistake, then push, then make another mistake. I think every lap I had a close call [laughs]. There were a lot of [embedded] rocks and you'd hit one and your front end would go one way. Honestly, we got the two unique events out of the way. So, now we'll be able to really out the hammer down and get back to where we know we should be. Obviously, tenth isn't where I want to be, but I'm healthy and I'm moving forward. [Going into BIG 6 Glen Helen] I'm looking for a podium. I know I have the speed. I'm just going to go as fast as I can and I don't see a reason I shouldn't be on that top spot."

Clay Hengeveld - 4th place Pro 2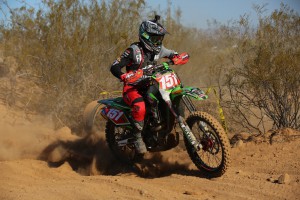 The 2018 Canyon WORCS round was Clay's 450 debut-he raced a 250F at the Vegas opener. A slight miscommunication between the starting crew and the riders led to an awkward start for Clay's Pro 2 main. After it all shook out, Clay rounded the first few corners just outside the top ten. Hengeveld put in a shift to get himself up to fourth place before the close of the first lap. From there, Clay was right on the heels of Mitch Anderson for a podium finish. As white flag came out, Clay had closed to within five seconds of Anderson. Pushing hard to close the distance, Clay made an unfortunate mistake and fell on the final lap. Fortunately, he had a comfortable gap on fifth place and was able to maintain fourth place at the finish.

https://youtu.be/jOos6Ki2oQw

Clay was happy with his performance. He stated, "The race went good for me. This was my first 450 race, and kind of a hometown race for me, too. The course was good, nice and rough, which I liked. My start was a little haywire, but...I rode a lot better today than I did yesterday [in the qualifier], so I'm a lot happier. I was right behind Mitch [Anderson] going into one of the creeks [on the last lap]. Then, I just hit a rock and washed my front end, so he got away from me. We ended up fourth today and I'm happy with that. I'm really excited to go to Glen Helen [BIG 6], racing the 250 again. My mind is set to go win the Pro 2 class there, so we'll see what happens."

2018 Canyon WORCS Results
Pro


Giacomo Redondi

Gary Sutherlin

Dante Oliveira

Eric Yorba

Zach Bell

Justin Jones

Justin Wallis

Blayne Thompson

Logan Chambers

Justin Seeds

Pro 2


Trystan Hart

Noah Kepple

Mitch Anderson

Clay Hengeveld

Austin Serpa