Polaris Acquires Historic Glamis Beach Store And Surrounding Property
Chaparral Motorsports
|
February 23, 2018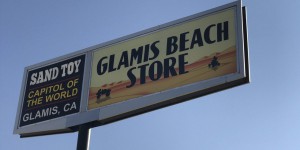 (Press Release) MINNEAPOLIS
(February 22, 2018) - Polaris® Industries Inc. (NYSE: PII), in partnership with the LeBlanc family, is announcing the completed purchase of the 166-acres of land and buildings associated with the historic Glamis Beach Store in Glamis, California.

"When my father first opened the doors of the Glamis Beach Store in 1979 his mission was to provide Glamis visitors a home base stocked with all the amenities they need while enjoying the dunes," said Jeannie "Mama Jeannie" LeBlanc. "It only makes sense to partner with the leader in the off-road recreational community to carry on the traditions that he created."

"The LeBlanc family created the iconic establishment within the dunes community and we are honored to carry that legacy forward, helping to preserve and protect all that is great about Glamis," said Bob Mack, senior vice president of Corporate Development & Strategy, Polaris. "For so many riders, the dunes and the Glamis Beach Store are part of a lifetime of riding memories and we plan to make sure that riders and visitors can continue to experience all the dunes have to offer, including a visit to the Beach Store, as a part of their Glamis adventures for many years to come."

Polaris has partnered with the LeBlanc's in the past, utilizing the Glamis property to host Camp RZR for the last six years. This signature event takes place in late October, serving as a kick off to the dunes riding season, and a celebration of the riding culture and comradery that is created among riders. More than 20,000 attended Camp RZR in 2017 and the acquisition of the property will allow Polaris to continue to expand the event.

"For the rider and dunes community, the iconic Glamis Beach Store represents the epicenter of the dunes, so when we were looking for a location to hold our first Camp RZR we only had one place in mind," said Craig Scanlon, chief retail and marketing officer, Polaris Off-Road Vehicles. "To the riders, community and many at Polaris, Glamis is an extraordinary place and our goal is to continue the unique aspects that make this area special and to help it thrive."

Polaris acquired the property from the Estate of Beach Store founder Eurgene LeBlanc.

Polaris expects to work with Jeannie LeBlanc, other local business owners, the dunes community and Imperial County officials to improve the services available in the Glamis riding area, while preserving the rich history and character of the property.

Glamis is one of the most popular off-road riding areas in the USA with riders coming from all over the world to experience its massive sand hills. The Glamis Beach Store has been a central part of the Glamis experience since 1979 and will continue in operation.