ChapMoto 2018 Supercross Race Recap Week 7
Chaparral Motorsports
|
February 23, 2018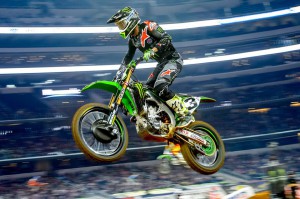 Last year we started a new series called the ChapMoto Supercross Race Recap, where several Chaparral Motorsports employees gave their thoughts on the past weekend's Supercross event. That series was so fun and popular that we decided to keep it going. It's a pretty simple concept; we pose about 8-10 questions to the group regarding the evening's activities, highlights, and lowlights and they reply with their thoughts. This is meant to be a casual, fun, and lighthearted series.

The Chaparral Motorsports staff (and one outsider) consist of:

Travis Snyder (TS): Chaparral Motorsports Offroad Products and Apparel Manager. Travis is one of our in-house moto racers. A Honda guy, Travis is either at one of the local tracks or prepping his bike for his next event.

Mike Medina (MM): Chaparral Motorsports Technical Advisor/Communications Specialist. When Mike's not at the office he's in the pits spinning wrenches for the Enticknap brothers, #722 Adam (The Seven Deuce Deuce) and #723 Tyler.

The Outsider (TO): N/A. The outsider is not a Chaparral employee but he is an industry veteran with a good perspective on the inside.

Kyle Bradshaw (KB): Chaparral Motorsports Marketing Department. The newest team member, Kyle is a highly experienced offroad/ADV/dual sport rider who splits his seat time between his stable of KTMs and his custom Honda VTX1300.

Eric Ellis (EE): Chaparral Motorsports Marketing Department/Social Media. Eric is just a Harley guy who likes to watch Supercross.

Who had the best night?
https://youtu.be/1yDmFK_AMu8

TS: Zach Osborne, starting off the 1st round of the East Coast series right with a Main event WIN!

MM: Wacko Zacho Osborne of the Rockstar Husqvarna team getting his 250E title defense started off right. He was very aggressive the whole night and looked to make a statement to everyone that he plays for keeps!

TO: Jason Anderson is the only big name title contender that hasn't made crazy mistakes. Jason had the best night/season so far!

KB: In the 250 class, Ozborne the reigning champ came back out and took the 1st win. He was stoked and he deserved it. In the 450's I'm going with Tomac. He rocked his hole shots and really rode out the win, 3rd of the season. He has had some rocky races this year, but this was a great win for Tomac.

EE: Osborne has my vote. He tucked his frontend in the 25o Main and shuffled back to fifth, but yet battled back to take the win and retain the red plate.

Who had the toughest night?


TS
: Martin Davalos. It's unfortunate to say the least, considering it's his 11th year in the 250 class.

MM: Barcia Barcia Barcia for getting landed on by Tyler Bowers and breaking a bone in his hand causing him to be on the bench for a few weeks.

TO: Martin Davalos- Fastest in practice, won his heat race and then taken out in the first turn. Ouch. Barcia also had a tough night. Bummer for both these great riders.

KB: Justin Barcia with his broken hand. Hopefully he can make it back out... but to be taken out by a freak blindside, that's no fun!

EE: It's really getting ridiculous. Almost too many people to list but I think this award has to go to Barcia for obvious reasons.

Did anyone surprise you?
https://youtu.be/Q8x7YZboS4I

TS: Eli Tomac. I'm more confused with Eli than I am surprised. Confused about the fact of how inconsistent he is....

MM: Jimmy Decotis of the JGR Suzuki team for his first podium in his 250 career.

TO: Tomac. He is so up or down. If he rode like he did this last Saturday night without mistakes he would win the championship no problem.

KB: My buddy Chad Reed continues to surprise me. His heat race was awesome... then mid pack for the main. I am used to it... but I totally thought he was feeling the track and was going to pull harder in the main. Let's go Reed!

EE: No not really.

Who had the worst spill?


TS
: It's a tie between Barcia and half the 250 class that went down in the first corner.

MM: This has to go to that 250 guy that was punted off of the track and spun out trying to re-enter the track. That concrete floor looked more slippery than a politician.

TO: Davalos in the first turn pile up.

KB: The 250 Main hole shot taking out a dozen or more bikes! That was nasty!

EE: It's a tie between Davalos and Shaw. That first turn mash up was pure mayhem! I have watched the replay over and over and I'm still not sure how he made it out without serious injuries. As for Shaw, man that was just a really tough break. He had a transfer spot out of the LCQ in sight and it all went crashing down.

Best pass of the night?


TS
: Zach Osborne had some of the best passes, making his way to the front in the main event.

MM: Pretty much any 250 pass in any race in Dallas was RAW, like my sushi! Too many to name off.

TO: Zach Osborne on everyone in front of him.

KB: I really liked all of the block passing. It was like a hockey match out there! One specific pass did not stand out to me when watching, but I loved the action and the energy.

EE: That pass that Anderson put on Wilson in their heat race was sweet.

Best battle?


TS
: The best battle was the 450 points race... that's now come to a halt since Roczen & Barcia's recent injuries

MM: RJ Hampshire of the Geico Honda team and Austin Forkner of the Pro Circuit team in their heat race.

TO: I like the 450 heat battle with Bowers, Peick and Friese

KB: I love the battles in the front. The Ozborne / Hampshire battle was great! Swapping places back and forth... that is what I call racing!

EE: There were a couple good ones. The back and forth between Webb and Musquin in their heat race was great. The battle between Osborne and Hampshire was good too. I really liked watching Anderson and Peick go at it too.

First turn pile ups, riders crossing lanes and running head on into each other, and riders losing control or getting knocked off track; there was a lot of mayhem Saturday night. Do you think it was the track design or are the riders just riding too far on the edge of control?


TS
: : I think it was the fact that it was the 1st round of the 250 East coast. All the anticipation and nerves can get a hold of you.

MM: All of the mayhem that took place in Big D was the cause of two months of anticipation for the 250 East bros and everyone was in Send It mode. The head on collision was bound to happen once the track design was presented a couple of months ago.

TO: It's a combination of faster bikes, tracks breaking down as the night goes on and the riders having so much pressure to perform. Look at Anderson this year. He's taken lessons from Dungey and figured out you have to finish in the top 5 week in and week out. It's a long season.

KB: I think it was a bit of both. The East guys have been watching the West guys race for weeks and they have not been able to participate. When the gates dropped it was ON and they fought for it. I think the technical tracks are fantastic. I love seeing the various riders find their "way through" and although different in technique, they all put in a great moto.

EE: Thee tracks do seem to be getting pretty technical and breaking down. I'd much rather see faster tracks where there's more competition throughout the entire race rather than just watching to see who can survive the corner let alone make it to the finish line.

What's the bigger disappointment, Roczen out with a broken hand or Barcia out with a broken hand?


TS
: Both injuries are a big disappointment in my eyes. Both Roczen & Barcia were second in point when they injured they're right hand. (ironic)

MM: K-Roc is definitely the bigger draw for Supercross but Barcia Barcia Barcia was starting to turn heads again and it was a bummer to see him hurt and taken out for a few weeks' time just as the best season of his career was happening. Both are bad breaks for Monster Energy Supercross.

TO: Both had great stories this year. Comeback's that had you cheering for both of them. It's bad for the sport that they are both out.

KB: For me, Roczen and it is probably due to the magnitude of the injury. I really want to see both guys back out there. At this point Barcia will be back quickly I think and according to the latest report, Roczen will be out another 6 to 8 weeks.

EE: I'm bummed by both of them being out. Both those guys being out is a huge loss right in the middle of the season for the sport.

We are nearly half way through the season and Anderson has a 36-plus point lead on Seely in second place; with a point gap like this and favorites like Roczen, Tomac, and Musquin far out of contention, this is when it's hard to keep some fans interested in the series, is there anything organizers can do to combat this?


TS
: If Jason Anderson has some type of bike problem or crashes without finishing a main event.... that might make thing interesting. As a fan of the sport, I'm not going to stop watching just because the points leader has a decent lead. Every weekend brings a different style track with different soil as well. You never know what could happen! Heck, if Weston Peick stays healthy and the top contenders keep crashing out... he might have a chance at the championship!

MM: Without Feld Entertainment or Monster Energy paying off El Hombre to sandbag a few races, we have to hope the 250E class is a barn burner. This is shaping up to be The Husky Show starring El Hombre and Wacho Zacho for the next couple of months until the series heads back West.

TO: I was hoping we would go into Las Vegas with Tomac, Roczen, Anderson, Barcia, Seely, and Musquin all with a chance at the Championship.Iit makes the series boring with the outcome already pretty much decided. Hopefully the organizers learn from this year and make the tracks safer next year.

KB: I think they should somehow give the fans a little more insight into the lives of the "new favorites." Fans follow their favs, and when they are out... the organizers need to help fans find a new favorite. I hope that the new top dogs will learn something from this experience and will step up their game so that when the big dogs return, the race is a bit closer.

EE: I know motorcycles are dangerous and these racers put their lives on the line week in and week out, but it doesn't do the fans, the racers, or the teams any good if these guys are constantly getting injured and sitting out one, two, three races or entire seasons. Something has to be done, I just don't exactly know what though. Tone down the tracks? Make the tracks faster rather than more technical? Open up the lanes for more passing? What I do know is this whole new point structure and triple crown series means nothing if 1/4 of the field is constantly in the pits waiting to heal up.