ChapMoto 2018 Supercross Race Recap Week 6
Chaparral Motorsports
|
February 13, 2018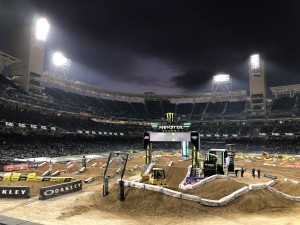 Last year we started a new series called the ChapMoto Supercross Race Recap, where several Chaparral Motorsports employees gave their thoughts on the past weekend's Supercross event. That series was so fun and popular that we decided to keep it going. It's a pretty simple concept; we pose about 8-10 questions to the group regarding the evening's activities, highlights, and lowlights and they reply with their thoughts. This is meant to be a casual, fun, and lighthearted series.

The Chaparral Motorsports staff (and one outsider) consist of:

Travis Snyder (TS): Chaparral Motorsports Offroad Products and Apparel Manager. Travis is one of our in-house moto racers. A Honda guy, Travis is either at one of the local tracks or prepping his bike for his next event.

Mike Medina (MM): Chaparral Motorsports Technical Advisor/Communications Specialist. When Mike's not at the office he's in the pits spinning wrenches for the Enticknap brothers, #722 Adam (The Seven Deuce Deuce) and #723 Tyler.

The Outsider (TO): N/A. The outsider is not a Chaparral employee but he is an industry veteran with a good perspective on the inside.

Kyle Bradshaw (KB): Chaparral Motorsports Marketing Department. The newest team member, Kyle is a highly experienced offroad/ADV/dual sport rider who splits his seat time between his stable of KTMs and his custom Honda VTX1300.

Eric Ellis (EE): Chaparral Motorsports Marketing Department/Social Media. Eric is just a Harley guy who likes to watch Supercross.

Who had the best night?


TS
: The #1 of Justin Hill finally got his first win of the year. He was patient, yet aggressive the entire day.

MM: The best night goes to El Hombre for winning the 450 main and extending his points lead. He can now take a night off if he wanted to and still have the lead.

TO: Jason Anderson. He's riding really good this year, but more importantly, he's not making all the stupid mistakes his competition is making!

KB: Justin Hill. He has not yet this season done anything exciting. Has been a no-name out there... just riding around. Sat night he won! Not only did he win, it was the first time Suzuki has taken a win since 2013 if I am remembering correctly. If so, best night goes to Hill and Suzuki!

EE: In the 450s it was Musquin. I think all the discussion about the bump between him and Anderson the week prior and all the questions about how it affects their relationship as training partners finally lit a fire under his butt. He was looking like Marvin of 2017 out there. In the 250s it was Justin Hill's night for sure. As reigning 250 West Champ I expected to see him on the podium a lot more this season. Not sure if he wasn't quite dialed in with the Suzuki RM Z250 or what, but it looks like he might have figured it out now.

Who had the toughest night?


TS
: It's a tie between - Roczen, Tomac, Webb, Seely, McElrath, Savagty, Martin, etc. #WelcometoSX

MM: The tough night is split between ET3 and K-Roc for their DNFs in the main event. K-Roc has now injured himself again and will be out for a while. ET3 is having the worst luck I have seen.

TO: Roczen. He threw away a chance at the Championship.

KB: Man... this could go to a handful of riders this week! Before the event in practice Savatgy crashed and a track worker picked up his bike and grabbed throttle ROOSTING his leg! No way! Good thing he was okay! Bogle's 450 heat race crash left him with a broken arm after Lamay's tire contacted Bogle's helmet and then his arm, making them both crash off the track. No bueno! Then there was Hoeft's crash in the 250 LCQ. He landed on his feet, but it looked painful! At the end of the 250 LCQ, #138 was in 2nd place and was pushed off the track by 2 Kawi riders! My wife was literally crying for him she was so sad. "It isn't fair" she sobbed... And then Roczen... getting his arm jammed between the swingarm and the wheel shredding his gear! No thank you. Pretty crazy night of racing! It was entertaining.

EE: Bogle, Roczen, Tomac in that order. Bogle= tough crash, injury. Roczen= tough crash, injury could have been much worse. Tomac=I have no idea what happened but it's not looking good for ET3.

Did anyone surprise you?


TS
: Ralph Shaheen surprised me, he wasn't wearing a pink or purple shirt....

MM: Justin Hill of the JGR Suzuki squad for finally showing up in the 250 main event and scoring a win.

TO: Anderson just keeps surprising me week after week.

KB: My Buddy Mr. Reed #22 pulled off a 2nd place start! Well, before the red flag...Which resulted in a mid-pack start for the second attempt. I was hopeful for a couple laps. And then the candle was blown out... Sorry Chad. I was rooting for you!

EE: Musquin. Since his injury he hasn't ridden with the same speed and determination, but he turned it all around on Saturday night.

Who had the worst spill?


TS
: Ken Roczen for sure. Cooper's real wheel gobbled his arm up! Be thankful it wasn't his left arm... that could have been career ending!

MM: The worst spill of the night is perhaps Justin Bogle getting landed on by Ben Lamay which resulted in a broken arm. Bogey had doubled the triple jump section and Ben had already committed to the triple jump in the first lap of the 450 heat two race which resulted in a red flag restart. Honorable mention goes to K-Roc for his run in with Cooper Webb and Broc Shoemaker for breaking his A-Kit Showa fork in half after cartwheeling through the whoop section in his practice.

TO: Roczen, Bogle, Tomac, take your pick.

KB: Natural spill or forced spill? Man there we a lot of spills in SD this past weekend. I touched on most of them in the Toughest Night question.... and if Worst Injury was in question, I'd have to give it to the broken Bogle who is probably in surgery as I type... But

EE: Bogle. He was just getting used to being back on the line after being sidelined with the concussion and now he's out again. Bummer.

Best pass of the night?
https://youtu.be/aanL5jXAvSk

TS: Baggett punting Seely off the track late in the main event!

MM: Cooper Webb on K-Roc in the 450 main event just before they got tangled up.

TO: Hill in the 250's

KB: My favorite pass of the night was in the beginning of the second 450 heat race where Webb passed Musquin. He just cut right in there, it was textbook! Then as the night progressed, Cinciarulo passing his teammate in the air was awesome! And then.... what became my favorite pass at 3:45 left in the 250 Main, Hill laid a pass on Cincerello and then it was ON and quickly turned into the best battle of the night, Hill vs Cinciarulo.

EE: The pass El Hombre made on Seely to take the lead and win.

Best battle?
https://youtu.be/ZdGKpCnjP5Y

TS: Hill vs. Cianciarulo in the 250 main

MM: Cole Seely and "El Chupacabra" Blake Baggett trading passes in their 450 main event.

TO: Hill & Savatgy

KB: Hill vs Cincerillo hands down. Major game of Cat and Mouse with the two riders swapping places and battling it out. Great racing!

EE: In the 250s I enjoyed watching the Cianciarulo and Hill go at it and in the 450 you couldn't beat the Seely/Baggett battle. Those guys traded positions like five or six times. It was great!

What did you think of the incident between Cooper Webb and Ken Roczen?


TS
: It's unfortunate. 100% a mistake on Kenny's end. Something he will truly regret when the season is over.

MM: K-Roc had a mental lapse of judgement when he tangled with Cooper Webb. Coop made a fast aggressive pass and K-Roc looked to return the favor in the next corner, instead he looped out and tore up his right arm with Coop's bike resulting in a DNF and ending his title hopes.

TO: Fighting over a girl? Crazy!

KB: Roczen needs some more practice before pulling BamBam moves on Race Day.

EE: I know there's been some off track kerfuffle between the two, but really I don't think what happened to Roczen was a result of any kind of aggression or attempt at retaliation for the pass Webb had put on him the turn prior, as many have speculated. In my rudimentary knowledge of Supercross and from my armchair quarterback analysis it looked as though Roczen went into the turn one lane below Webb, his rear tire lost traction/slid outward which upset his balance and caused him to roll back hard on the throttle and lose total control of the bike. In the press conference after the race, Baggett commented on how the track was moist and slick and that they were always getting wheel spin. That's what I saw: loss of traction, wheel spin, hook up, loop out, and then Roczen's hand playing Webb's rear spokes like a Ukulele.

Eli isn't having the season many expected. Just bad luck or do you think there is more to it?
TS
: I think it's a combination of bad luck along with issues within Tomac's head. He's proven to us twice this season that he can block those issues out, but ultimately he needs to be more consistent.

MM: I think it is a combination of both bad luck and pressure to perform and to be "the guy to beat". His championships hopes are all but gone now with his DNF in San Diego.

TO: Bad luck? Or do you make your own luck?

KB: Bad luck for sure... and maybe a hint of "I deserve to be up there" thinking is allowing the universe to use him as an example? Either way he has a lot of ground to make up when it comes to wins and points.

EE: I don't know what's going on with Tomac, but it's not good! I read somewhere that he had ripped his grip after going down in the first turn at the start of the main and that he had bike issues. I was in the stands and all I saw was him ride into the pits, speak with his mechanic/team, and then blast away into the tunnel never to return. If he had issues with his Kawasaki KX 450F it was hard to tell. Webb had bike issues too after that mix up with Roczen and I saw him ride into the mechanic's area two or three times and at one point he was off the bike kicking the front wheel/end and then jumped back on the tack to salvage a few points.

Predictions for first race of the 250 East?


TS
: Zach Osborne

MM: Wacko Zacho Osborne of the Rockstar Husqvarna team to sweep the 250 East class starting next week. Write it down.

TO: Davalos

KB: Being a NorCal boy... I have never really followed the East series. I am pretty stoked to follow this year and to learn their riders and programs.

EE: My money is on Troy Lee Designs/Red Bull KTM rider Jordan Smith. He was right up in there last season with Savatgy and Cianciarulo and was only 12 points behind east coast champ, Zach Osborne. He should be primed and ready to jump out the gate and take the win.