Carey Hart Becomes Dunlop Motorcycle Tire Ambassador
Chaparral Motorsports
|
February 12, 2018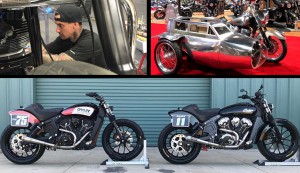 (Press Release) Buffalo, NY:
Dunlop has enjoyed a long relationship with Carey Hart. A lifelong Dunlop rider, Hart has used Dunlop tires throughout his amateur and professional career. After landing the world's first backflip in competition, Hart went on to a highly successful freestyle career, owned his own Supercross team, and is now focused on custom bike building around the Indian motorcycle brand.

All of Hart's builds so far have featured Dunlop tires. He has already won major custom competitions and has more builds planned for 2018, as well as special appearances for Dunlop at the Sturgis Rally, Daytona Bike Week and additional venues. Stay tuned to Dunlop's social media channels at @ridedunlop for more details.

"I've always been a Dunlop guy, so this is a great fit for me in my new bike-building venture," said Hart. "Bike building has been a dream of mine, and even though I'm just getting started and still have a lot to learn, I'm having a blast."

Hart joins other Dunlop ambassadors, including Roland Sands and Clint Ewing.