2018 Taft BIG 6 Report
Chaparral Motorsports
|
February 12, 2018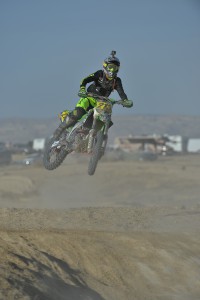 By: Precision Concepts
It was a solid showing for the Chaparral Motorsports, Precision Concepts, Kawasaki team at the 2018 Taft BIG 6 Grand Prix. A silty, beat-up racecourse made the start critical. Justin Seeds overcame early tightness in his shoulders to finish fifth. Blayne Thompson battled hard at the edge of the top ten all day. In the end he netted a twelfth-place finish. Additionally, Clay Hengeveld backed up his Pro2 win at the season opener, finishing second in Taft. Lastly, Robby Bell was able to overall the Vet AA/Expert line.

Justin Seeds - 4th place WCGP Pro
In the WCGP Pro race, Justin started just outside the top five. After making a couple passes early on the first lap, he held down fifth place. Unfortunately, Justin experienced some tightening in his shoulders, which forced him to slow his pace. Once he worked through the tightness, Seeds dropped his lap times and charged back after the top five. The Chaparral Motorsports, Precision Concepts, Kawasaki crew had a great pit stop. As a result, Justin was able to pass Trevor Stewart as he exited the pits. A couple laps later, Seeds had caught up to the back of Ricky Dietrich, making the pass for fifth when Dietrich fell. Justin was making a last-lap charge at Justin Jones for fourth, but hit a hole he didn't see and suffered a fall late in the lao. Luckily, he was able to remount quickly enough not to lose any positions, coming home in fifth place.

https://youtu.be/UjQszO6i8uw

"I snuck around the inside [off the start] and came around seventh, and then moved up to fifth or sixth" said Justin after the race. "I stayed there for the first lap or so, but then dropped back a little bit. Around forty-five minutes in I started really going to my normal pace. I was running a really good race. No mistakes, really smooth. The dust was really bad, and the sun, so I did what I could do. I made my way back up to fifth and was catching JJ [Jones] for fourth. Unfortunately, the sun and dust combined and I couldn't see what I hit. I tagged a square edge and went down, but was able to get right back up and salvage the fifth. All-in-all, there wasn't a lot of excitement [in my race]. We're just going to keep building and come into our next round."

Blayne Thompson - 12th place WCGP Pro
It was a hard-fought battle all day for Blayne. After starting just inside the top ten, Blayne got shuffled back in the early-race chaos. He found himself at the tail-end of a multi-rider train that included the likes of Kailub Russell and Gary Sutherlin. With the dusty conditions, passing proved difficult. Blayne pushed to get by Sutherlin, nearly making the move stick a couple times, but later lost the tow of the group. After the pit stops, Thompson wound up in a heated battle with Nick Burson. Even with the dust, the two would trade positions multiple times in the closing stages. Blayne just ran out of time to make the final pass and came home in twelfth place.

https://youtu.be/pYsLjKfa724

"The dust was gnarly!" commented Blayne. "I got a somewhat decent start, but got stuck in the dust a little bit. I'm not one of those guys that's going to pin it through it, especially with the track [being] sketchy. The couple times I did try to go through the dust I ended up almost crashing. So, I calmed down a little bit and fought back. Me, Kailub, and Gary had a nice little battle for like three laps. Kailub actually went down right in front me a couple times. Then, after the pit I got stuck behind a few people and they got away. I gained a couple positions, then lost a couple positions. But I just kind of struggled throughout the race. I don't know what happened. We'll just keep working."

Blayne stuck around for the Heavyweight AA/Expert race and Sunday. His goal was to do a little extra testing and get some more seat time to continue to build fitness and speed. After grabbing the early lead, Blayne stretched away to a comfortable victory.

Clay Hengeveld - 2nd place WCGP Pro 2
Clay didn't make it easy on himself, rounding the first corner just inside the top twenty. On a track that made for difficult overtaking, he made a great charge to move up to tenth at the close of the first lap. From there, Hengeveld methodically moved up through the field, picking off the likes of Beau Baron and Mitch Anderson. Baron was later able to make a charge back by as Clay pitted, pushing Hengeveld back to fourth. From there, Clay put on a late-race charge. He made the pass on Mitchell Greene for third. And a last-lap move on Jake Alvarez moved Clay up into second position. Unfortunately, Baron was just too far out of reach at that point. But all things considered, Clay came home with an impressive second-place finish.

https://youtu.be/POYT29NMa38

"So, we got off to a terrible start, I don't know what happened there," said Clay after the 2018 Taft BIG 6. "Early in the race it was tough [to make passes] just because...it was really tough to see. But I knew what I had to do, so I made the passes I needed to make. I just put my head down and charged up to third. On the last lap I made the pass for second. I tried to charge to catch Beau, but he got me this round. Overall, we had a great weekend. I'm very happy with a second, considering how rough and dusty the track was. There were a lot of square edges, and especially the sun coming down. I just can't thank the Chaparral, Precision Concepts, Kawasaki team enough for all that they do for me. I'll continue to keep working hard and hopefully get another win here soon!"

2018 Taft BIG 6 Results
WCGP Pro


Zach Bell

Dalton Shirey

Eric Yorba

Justin Jones

Justin Seeds

Gary Sutherlin

Ricky Dietrich

Trevor Stewart

Kailub Russell

Derek Kelley

Nick Burson

Blayne Thompson

WCGP Pro 2


Beau Baron

Clay Hengeveld

Jake Alvarez

Mitch Anderson

Mitchell Greene