ChapMoto 2018 Supercross Race Recap Week 5
Chaparral Motorsports
|
February 7, 2018
[caption id="attachment_66487" align="alignright" width="580"]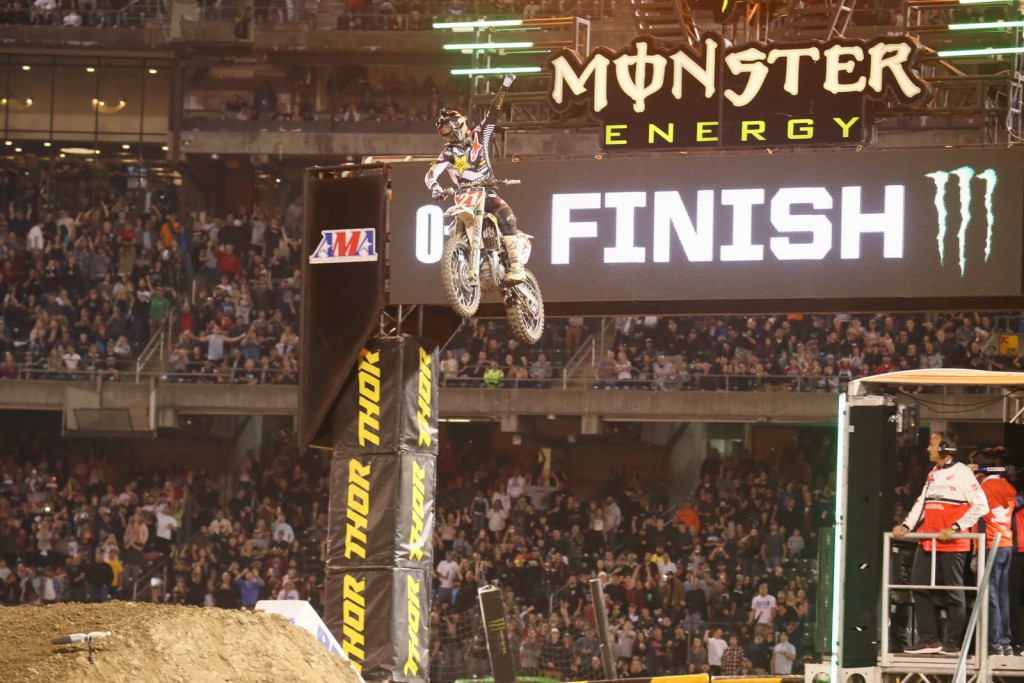 Image: GuyB Photo--Vital MX[/caption]

Last year we started a new series called the ChapMoto Supercross Race Recap, where several Chaparral Motorsports employees gave their thoughts on the past weekend's Supercross event. That series was so fun and popular that we decided to keep it going. It's a pretty simple concept; we pose about 8-10 questions to the group regarding the evening's activities, highlights, and lowlights and they reply with their thoughts. This is meant to be a casual, fun, and lighthearted series.

The Chaparral Motorsports staff (and one outsider) consist of:

Travis Snyder (TS): Chaparral Motorsports Offroad Products and Apparel Manager. Travis is one of our in-house moto racers. A Honda guy, Travis is either at one of the local tracks or prepping his bike for his next event.

Mike Medina (MM): Chaparral Motorsports Technical Advisor/Communications Specialist. When Mike's not at the office he's in the pits spinning wrenches for the Enticknap brothers, #722 Adam (The Seven Deuce Deuce) and #723 Tyler.

The Outsider (TO): N/A. The outsider is not a Chaparral employee but he is an industry veteran with a good perspective on the inside.

Kyle Bradshaw (KB): Chaparral Motorsports Marketing Department. The newest team member, Kyle is a highly experienced offroad/ADV/dual sport rider who splits his seat time between his stable of KTMs and his custom Honda VTX1300.

Eric Ellis (EE): Chaparral Motorsports Marketing Department/Social Media. Eric is just a Harley guy who likes to watch Supercross.

Who had the best night?


TS
: BamBam Barcia almost executed a perfect night (Qualify-1st,Heat-1st,Main-1st), except a bad start left him with 5th in the main event. Anderson and Roczen should both be stoked on their night. That was a technical track to push your skills on while keeping it on two wheels.

MM: The best night has to go to El Hombre of the Rockstar Husqvarna team. He extended his points lead and held it together through a very difficult track. He is slowly creeping away from the other title contenders.

TO: Jason Anderson. After crashing in practice and still coming away with the win- Impressive!

KB: I'd have to say Plessinger for the 250's and Anderson for the 450's. Both of those guys have had multiple wins this season and are both the respective points leaders. I was happy to see both of them do well.

EE: Anderson all the way. Took the win and added more cusion to his points lead. Definitely a good night for El Hombre!

Who had the toughest night?
https://youtu.be/alE8BQ1qi1I

TS: The track took a lot of riders out throughout the night. Seely being one of them. I was hoping he was going to pull off the main event win. Tough night for sure.

MM: The toughest night has to go to Shane McElrath of the TLD KTM team. His poor finish from a costly mistake he took full blame for may have sealed his fate for the 250 West championship, especially with AP23 being on fire right now.

TO: Eli Tomac. I thought after two wins in a row he could get back into the title fight. It's going to be tough now.

KB: Tomac. Got hit by Bam-Bam's club once again taking him out of the running.

EE: First of all, from the couch in my living room, it appeared as though the film crew had the toughest night as there were people flying off the track and tumbling all over the place, and there were at least two instances where they missed something big because Ralph and Fro went crazy, but I didn't see it. There was a lot going on so it must have been hard for them to keep up. The viewers at home need the ability to select individual cameras (like picture in picture) on different riders/groups of riders so they can choose who they want to watch.
Tomac had a rough night as well. The championship chase isn't looking good for him. Can't forget about Plessinger though, did you see him at the end of the race? Dude could barely stand. He had been sick earlier in the week and you could tell he had nothing left at the end of the race. That must have been hell for him.

Did anyone surprise you?


TS
: Eli Tomac surprised me. Winning the last two rounds, I would have never picked him to finish 13th. #ThanksBamBam

MM: Cole Seely of the HRC Honda team looked to be the fastest rider of the night but a costly mistake on his part threw away his second win in the 450 class of his career. He is looking more and more confident with his heat races and main events.

TO: Roczen looks really good and is improving week after week.

KB: The technical track and the lead taking Whoop section is what surprised me. I really really liked the track lay out. It made the guys work for it... all of them... a bit more so than we have seen at this season's previous races.

EE: Webb getting the holeshot in the second heat was a nice surprise.

Who had the worst spill?


TS
: I'm sure we're all going to be on the same page with this one... Tyler Bowers. I'm glad he walked away.

MM: The worst spill of the night happened to #69 Tyler Bowers aboard his Kawasaki. Tyler hit the eject button and landed on his tail bone when his feet came off of his bike going off a triple jump in the rhythm section of the 450 main event. Ouch!

TO: Seely. He maybe could have pulled off a win, instead crashed out.

KB: Our local Cali guy Tyler Bowers... man he sent that Kawi into space in the whoop section! The way his helmet hit the track, geez... I felt that from my couch! But the crash I related to the best was the Cole Seely cross rut that sent the handlebars and rear wheels in different directions. It was sketchy, but he recovered well. As I watched... it felt like deja vu of a cross rut I recently experienced on my 950 Super Enduro... fighting the best until it mellows out... I felt his fight.

EE: Tyler Bowers. That could have been a lot worse.

Best pass of the night?


TS
: Jason Anderson put a nasty pass on Marvin Musquin. "Nasty", meaning I wouldn't call it a CLEAN pass at all!

MM: The best pass went to Bam Bam Justin Barcia when he put Eli Tomac to the ground in the 450 main event. Justin is just as much alive in this title chase and it was all good in my view.

TO: Anderson on everyone in front of him.

KB: The Bam-Bam pass on Tomac. Oh... you want to race me into the corner... ok, but you are not coming out on two wheels! See ya!

EE: So many great passes! Anderson had a great pass on Friese in the corner. It was super quick. I'm sure Reed passing Weimer for the lead and win in the LCQ had the crowd rocking. Craig's pass on Martin in the whoops section was sweet. But the absolute best was the last pass of the night with Anderson taking over Roczen for the win.

Best battle?
https://youtu.be/nc7AvbVWV54

TS: The final laps of the 450 main: Roczen vs. Anderson

MM: The best battle has to be between K-Roc and El Hombre during the last couple of laps of the 450 main event. There were passes traded and mistakes made much to the delight of the Oakland crowd.

TO: Anderson & Roczen

KB: The last two minutes of the 450 Main was epic. Anderson and Roczen battling and swapping places time and time again. It was really down to who made the last mistake. It was a GREAT race and a spectacular finish. Nice work guys!

EE: Again quite a few good ones. In the 250 main I liked the Martin and Craig battle and the Savatgy and Hill battle. In the 450 the battle between teammates Tomac and Grant was fun to watch, Musquin and Seely, and of course, Roczen battling to keep Anderson at bay.

Racer X asked Musquin about the pass Anderson put on him in the main: Are you a little unhappy with the move that he (Anderson) put on you there?
"Yeah, for sure.
I feel like it's been two weekends in a row. He's racing hard, which is understandable, but also I'm mad at him because we know each other. It's a bummer to make somebody crash like that. It's not like he's racing me for the championship right now."
What are your thoughts on Anderson's pass?


TS
: As I said, it was dirty! You have to think though... How long would Marvin have held Anderson off if he attempted to pass him cleaner? That could have left Roczen with the win.

MM: El Hombre was definitely the faster rider of the two and he did not have to do what he did resulting in Musquin in the dirt. He could have made a cleaner pass somewhere else, especially when they both will be at the Baker Compound Monday morning training again. Tension may be a little high.

TO: Aggressive.

KB: Dude, it is racing! I totally race harder and would totally knock a buddy out of his place before doing that to a stranger. Racing is racing... and motocross / Supercross is a contact sport. If you don't want to get pinched out... then back off your throttle and drop back a bit ;)

EE: I am fine with it. Nothing to see here, move along.

Follow up question to Musquin's comment: Should riders expect to be treated differently on the track just because they train together or "know each other"? What if they're teammates?
TS
: Not so much "treated differently", but more so "show respect" to one another. They both know how hard they train, obviously if they have the same trainer. Why make a dirty move when it only causes awkwardness and tension between the two?

MM: Teammates or not, if both are in a title hunt, anything goes. The riders know what their roles are once a race unfolds and if they need to go into a protect your teammate role if they are not in the points chase, but they are not really teammates, they are training mates.

TO: Anderson made it clear that he was going to do whatever it took to win the title this year-even if that means rubbing Musquin and other riders the wrong way.

KB: Knowing each other... we are racing. My job is to win 1st place. Period. "But I know you... " ... So freaking what. I knew my brother, but that did not mean I let him have shotgun... we raced for it, and if I won... I won. Now teammates... that is a bit of another story. If the "team has a plan" and the plan is to have a certain rider make the way so a certain rider can take the lead and win... then that is a "plan." If there is no team plan or strategy, I think it is a Game-On type of situation. Every man for himself with his eyes on the Podium.

EE: Nope. That's the cost you pay when training with your competition. It might be all rainbows and unicorns between you guys when training off the track, but once that gate drops, every man or woman for themselves. As for the team aspect yeah I get there's some strategy in there and that's fine if it's coming down to much needed points for a teammate.

Do you have a preference of watching a day race or night race. Why?


TS
: Being that we live on the West Coast, I prefer the day races. Reason being, I usually moto in the morning and by the time a 7pm PST race starts, I'm falling asleep on the couch. Ha! Bring on the East Coast rounds (3hrs earlier)!!

MM: The day race was a nice change of pace, as far as working it. But, how does an MMA fight showing live in Brazil, have the priority on FS1 to bump Monster Energy Supercross to an earlier time slot? I still prefer the evening time slot.

TO: Night. Outdoor Nationals are for the day time.

KB: Night races are kinda like "Friday Night Lights." Show up for the main event. I like them. However, day races I tend to get there early, chat with the riders, vendors, etc... make a day out of it, rather than it just being an evening outing. I like them both but treat them differently.

EE: Night race. I just like the atmosphere, everything just looks and feel much more exciting.