Autotrader/Yoshimura/Suzuki Factory Racing Team Report: Glendale Supercross
Chaparral Motorsports
|
January 29, 2018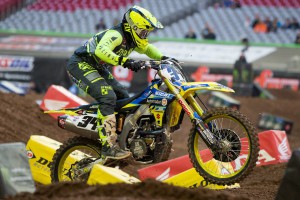 (Press Release)
Huntersville, NC (January 29, 2018) - The Autotrader/Yoshimura/Suzuki Factory Racing Team stormed into Glendale, Ariz. for round four of the 2018 Supercross series. In front of 54,623 fans, the Suzuki contingent impressed in front of a packed crowd. Weston Peick rode with conviction, running in a podium position for much of the main event. He currently sits fourth in the standings-only six points out of third. Justin Bogle made his return, and Malcolm Stewart continued to be a crowd favorite. In the 250 class, Justin Hill qualified third fastest, and Phil Nicoletti continues to climb up the points ladder.

Just like the previous three rounds, Peick started extremely well on his RM-Z450. Weston had a torrid pace through the early laps, battling with Justin Barcia and Ken Roczen. A fourth consecutive top-five finish looked inevitable, until several late-race mistakes dropped Peick to sixth on the night.

Droves of fans rejoiced when Stewart returned for his third race with the Autotrader/Yoshimura/Suzuki Factory Racing Team. Malcolm showed great speed in Glendale, by finishing second in the heat race. A bout of tightness in the main event led to a 13th place finish.

It was great having Bogle back after recovering from an off-season injury. Justin's speed and intensity improved with each passing lap in Arizona. Bogle rode with consistency to a quiet 17th place finish. He will be looking to crack the top 10 this next weekend.

After admitting that he needed to increase his intensity, Hill did just that at Glendale. The RM-Z250 rider qualified third fastest for the night program, and proceeded to finish fourth in his heat race. Justin drove his Suzuki deep into the first turn and came out in ninth. He put his head down and worked up to seventh. Hill sits eighth in the standings.

Slowly recovering from injured ribs, Nicoletti is putting in the necessary work required to get inside the top ten in points. An 11th place finish at Glendale edged him closer to his goal.

Weston Peick [450 Class, Sixth Place] - "Glendale wasn't too bad. Like the previous rounds I didn't have the best qualifying time, but everyone was very close in speed. I got off to a decent start in the heat race and worked my way up to third place. In the main event I came out swinging, passing into second and running there for a few laps. Then I started making dumb mistakes and lost some ground. Once I got into sixth place I kind of settled into that pace and kept it there until the finish."

"The track developed pretty well. The rhythm section before the finish line was pretty big. Jumping up onto the tabletop and jumping off was tough. If you didn't get it perfectly it would really slow you down. As far as the RM-Z450, the only change we made was to stiffen up the shock a bit. My hand is definitely better after taking some time off this past week [after the crash at Anaheim 2]. I'll be back on a regular riding schedule this week and get prepared for Oakland."


Malcolm Stewart [450 Class, 13th Place] - "It was a great day for me. Practice went better than last weekend. I was very happy to finish second in the heat race and run that top pace. In the main event I rode really tight, which made me frustrated, so I stopped moving forward through the pack. That's part of racing. I learn from my mistakes, and I'll keep pushing forward to get better. My starts are improving every week. Overall, the day was great. I can't complain, and I couldn't be happier. I just need to clean up a few things and keep digging."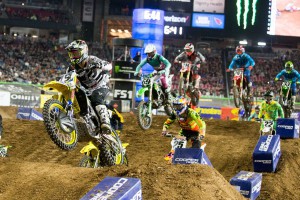 Justin Bogle [450 Class, 17th Place] - "It's always tough to come into a series unprepared and a few races in. I didn't feel comfortable all day long. I will get better with more seat time and testing. It was far from a good night of racing for me, but it can only get better from here. We made changes every time I hit the track. I was trying to find some comfort. Not having much seat time meant that I haven't been able to do much testing. Basically, we used every practice and race to try different settings. It was a trying day, to say the least, but it will come around. Regardless, I'm happy to be back racing."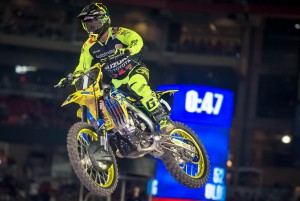 Justin Hill [250 Class, Seventh Place] - "We're looking a little bit better than in previous rounds. I felt like I rode well. Unfortunately, I made contact with another rider about a lap and a half into the main event and lost my clutch for the whole race. The silver lining is that I felt like I was riding well once I put the pieces together. The speed is back, and I'm feeling confident. Glendale was more like a Supercross track and less like a fair race. I'm game to go after what's needed to get where I feel I belong. On paper the result doesn't look good, but this weekend was a bit of a win. I feel in tune with the RM-Z250. Every race has been about the start. I'm getting a good jump, but we are going to work on some details. This weekend I changed the gearing by going to a 50-tooth rear, which was way more manageable. Contrary to popular belief, I'm still in this thing. I can't wait for next weekend."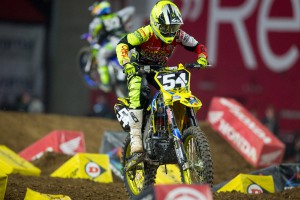 Phil Nicoletti [250 Class, 11th place] - "The weekend was going decent for me. I really enjoyed the track. The dirt was super muddy and rutted in practice, while in the main it was very hard packed and slippery. I had made a few improvements with the bike during the week, on things we had learned in the past few weekends. My heat race went okay, which led to a fairly decent gate pick for the main. I got a great jump, but when I got down to the first corner I had nowhere to go. Still, I was riding well and made some passes. Then I tipped over, and I had a hard time mentally recovering after that."

Jeremy Albrecht [Team Manager] - "I'm happy to say that everyone on the team continues to improve. Malcolm had a really great heat race. I was excited to see how well he rode. Weston doesn't qualify very well, but his racing has been great. He saved his best riding for the main. Every week he's getting closer to finishing on the podium. Hill rode with aggression and put in a better result. He had a problem with his clutch when he and Christian Craig came together, but that's racing. Nicoletti was starting to feel better, but he had a minor crash in the main. Glendale was Bogle's first race back. He didn't have any crashes, and everything went well. He will get better as the series goes on."

"Glendale attracted a lot of fans. They were cheering like crazy when Stewart blitzed the whoops in the heat race. He and Peick rode really well in that heat. Overall, the day went well. Suzuki had good presence, which I was excited about. The atmosphere at the track was awesome to see."

The Autotrader/Yoshimura/Suzuki Factory Racing Team will travel to Oakland, Calif. for the fifth round of the 2018 Supercross series on Saturday, February 3rd.