ChapMoto 2018 Supercross Race Recap Week 3
Chaparral Motorsports
|
January 24, 2018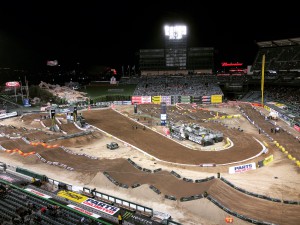 Last year we started a new series called the ChapMoto Supercross Race Recap, where several Chaparral Motorsports employees gave their thoughts on the past weekend's Supercross event. That series was so fun and popular that we decided to keep it going. It's a pretty simple concept; we pose about 8-10 questions to the group regarding the evening's activities, highlights, and lowlights and they reply with their thoughts. This is meant to be a casual, fun, and lighthearted series.

The Chaparral Motorsports staff (and one outsider) consist of:

Dave Damron (DD): Chaparral Motorsports founder. Racer, team owner, manufacturer, retailer. Dave has seen it all and done it all on two wheels.

Travis Snyder (TS): Chaparral Motorsports Offroad Products and Apparel Manager. Travis is one of our in-house moto racers. A Honda guy, Travis is either at one of the local tracks or prepping his bike for his next event.

Mike Medina (MM): Chaparral Motorsports Technical Advisor/Communications Specialist. When Mike's not at the office he's in the pits spinning wrenches for the Enticknap brothers, #722 Adam (The Seven Deuce Deuce) and #723 Tyler.

The Outsider (TO): N/A. The outsider is not a Chaparral employee but he is an industry veteran with a good perspective on the inside.

Kyle Bradshaw (KB): Chaparral Motorsports Marketing Department. The newest team member, Kyle is a highly experienced offroad/ADV/dual sport rider who splits his seat time between his stable of KTMs and his custom Honda VTX1300.

Eric Ellis (EE): Chaparral Motorsports Marketing Department/Social Media. Eric is just a Harley guy who likes to watch Supercross.

Who had the best night?


TS:
I'd have to say Kawasaki, being that they took the overall Win in both classes (250/450).

MM: The best night has to go to the Kawasaki brand with Joey "Versace" Savatgy winning the overall in the 250 class and Eli Tomac for winning the overall in the 450 class.

TO: It was a tie between Eli Tomac and Cole Seely. Eli looked great and could work his way back into the Championship after all. Cole had a break thru night and could gain a lot of confidence; confidence is a dangerous thing and Cole could have his year.

KB: I'm going to say the Tomac had a pretty good night, being the first Triple Crown winner. That is a great accomplishment. That being said, he placed in two of the night's three night's main events... he is still 43 points behind the leader Anderson. This being said, I will have to go with Anderson, who was able to maintain his standing as the points leader for the series to date. And that lead in Main #3, nice riding!

EE: I think Eli had the best night out of anybody. After his two week hiatus, to return and win the first ever SX Triple Crown, that was pretty impressive. The only way the night could have gone better for him is if he swept the event.

Who had the toughest night?


TS:
I think Factory KTM had a tough night considering both of their riders didn't even break the top 10! MM25 finished 13th with his teammate BT20 coming in behind him in 16th. Ouch.

MM: Marvin Musquin of the Red Bull KTM team had a night he would like to forget with a 9th, 11th, and 21st place finish for 13th overall. Eli Tomac is now within reach of Marvin but both of them have some work to do to take down El Hombre.

TO: For me it was Ken Roczen, he just looked out of place the first two races.

KB: For Musquin to not finish Main #3 earning himself just 10 points for the night, sad state of affairs. A1 he looked so good. Missed round two and here in round three he is battling Tomac for "mid pack"... I think that is really tough.

EE: Musquin. You know he wanted put in a good three rides after sitting out with his shoulder injury last week, but I guess maybe the pain was hindering him, he was only able to break into the top 10 in the first main. He must have been having an extremely tough night, but he showed great determination. Roczen didn't exactly have a great night either. The third and longest main was his best ride of the night with a 4th place finish while in the first/shortest main he actually went backwards starting in 8th and finishing in 12th.

Did anyone surprise you?


TS:
Weston Peick! Finishing 5th for the 3rd consecutive week.

MM: #10 Jason Brayton of the Motoconcepts Honda team bustin some holies to start a couple of the 450 main events.

TO: Cole Seely looked great!

KB: Kawasaki. Saturday night it seemed we had more Green and less Orange out there in the front. Kawi seemed to pull out with the 250's and didn't look so bad in in the 450 races either.

EE: Roczen. I thought Saturday night was going to be his night.

Who had the worst spill?


TS:
Adam Cianciarulo crashed bad in practice. I was not expecting him to line up for the night show.

MM: The worst spill has to go to the #42 Dakota Alix of the Rocky Mountain ATV/MC KTM team. He came off of his bike after he lost control from the elevated 90 degree turn leading to the whoops and was popped up in the air and landed stomach first onto his foot pegs in the 3rd 250 main event. Ouch. He was probably urinating blood that night.

TO: Adam Cianciarulo earlier in the day. I'm surprised he raced.

KB: From our seats, I really did not see a good spill.

EE: Cianciarulo in the qualifying session. I didn't see it live but it he posted it on his IG timeline. He went down hard! He's been plagued with shoulder injuries as well and his left shoulder took the brunt of the impact. In watching the video you would've thought he was done, but he returned and put down some great races.

Best pass of the night?
https://youtu.be/bzzk0R14HD4

TS: Barcia & Reed got so close, it pushed Barcia off the track. He entered back on with no position change, only to stuff CR22 in the next corner. BamBam ain't messing around!

MM: Best pass of the night would probably be El Hombre Jason Anderson on Eli Tomac to move into first in the last 450 main event. Jason just bit his lip and ran his bike in there for the aggressive pass in a 90 degree turn coming from a triple jump.

TO: Savatgy in the last 250 moto to win!

KB: I really liked the last pass Anderson made on Tomac in the corner just after the finish line jump. He was like, "step aside" and just took it. I was a bit shocked as to how Anderson continued to walk away from there on out.

EE: I have two for this and they took place in the third 450 Main. First was Roczen passing Peick by sliding it into the corner and then that pass that Anderson put on Tomac to take the lead and win. The best part is, these two passes took place like 2 seconds apart.

Best battle?
https://youtu.be/I0piOqJ1rdQ

TS: I couldn't tell ya. The first main event for both classes had some good intense passing.

MM: The evening was a little dull for me to really notice any battles but I found it very entertaining to see my good buddy Weston Peick #34 of the JGR Suzuki team hold off, not once but twice in two 450 main events, a very fast Blake Baggett en route to a 5th overall. Three top 5 finishes in three main events, well done.

TO: The last 250 moto. Geico against Pro Circuit. Mitch had to be smiling after that one!

KB: I really liked the Webb and Peick battle, but Roczen battled for nearly half of Main #3. A little swapping going on and for the most part in the same section of the track. That was good.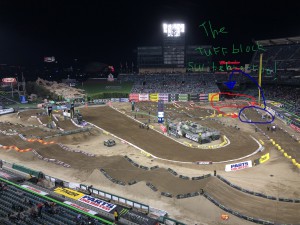 EE: The best battle has to go to all the riders that got caught up by that tough block on the step up corner. I think in just about every race someone would hug the inside of that turn and clip that block sending them to the ground or sending the tough block into the middle of the track for others to fight with. The track personnel just kept putting it right back in the same spot. Here's a conspiracy theory for you to ponder: when I got to my seats I noticed the track crew pulling the red Honda blocks that were in the corner and swapping them with the blue Cooper blocks that were along the straight coming out of the corner. And it was a blue Cooper block that gave everyone trouble. So did Honda or Cooper Tires request the move? Or was it someone else all together...DUN DUN DUN!!! that In the third 250 main I liked the Savatgy vs. Sexton battle and McElrath vs. Oldenberg battle. There was also a nice battle between the team Monster Energy/Pro Circuit/Kawasaki Team and GEICO Honda/AMSOIL/Factory Connection team.

What did you think of the first Triple Crown race of the season?


TS:
I wasn't completely impressed. The format allowed for a fair playing field in the first main event. Most top riders can sprint for eight minutes. Therefore, no one paced themselves as they would for a 20 min main event. It was all about getting a good start. Other than that, I didn't think it offered better racing. If anything, they took races away that would have been fun to watch ie: the LCQs

MM: The three main event format dragged and seems a little dry for my taste, I do not even like it in the Monster Energy Cup but it's tolerable to see what has been going on with the off season development and if someone can sweep it to win a million dollars. I think the polls right now show it was not liked as well as the head people would have thought. The LCQ's need to be incorporated into the night show to get people pumped for the remainder of the evening. The bottom feeders of the sport never got their 15 minutes to shine for their sponsors in this format. Also to shake things up and make these riders really push the envelope, the organizers should reverse the finishing order from the previous main event for the gate pick in the following main event. More aggressive riding and more passing, the fans win.

TO: There are a few bugs to work out, but overall I liked the change.

KB: Not a fan. I really missed watching the Main Event play out throughout the evening. We basically showed up and were told, here are the riders, now watch them race three times. All of the races were good, but I did miss the lead up. They could have a least let us watch the LCQ... Just saying.

EE: The Triple Crown was meh. I could take it or leave it. I'm not sure if it was the track layout (pretty tight and didn't seem to have a lot of room for passing), the short first main or the long breaks in between races but I wasn't too impressed with this first round. Hopefully they'll make some changes for the next one. I'm sure everyone is in agreement that they need to work the LCQs into the beginning of the night's festivities though. And they also need to work on keeping the crowd engaged during the downtime between races. I was at A2 and again those announcers were horrrrible. At one point one of the dudes made some little kid sing happy birthday-not to anyone in particular-to Summer, not someone named summer, Summer the SEASON!!!! It was mind boggling! If you watched at home you were lucky, but then again I heard that although there was the same amount of commercials versus race time as previous races, the commercial breaks got stacked together so it dragged on forever between races for the people at home too.

How do you think the riders will change their strategy for the remaining two Triple Crowns?


TS:
Work on their starts.

MM: What strategy? Go out there and win them all or at least the first two main events and lay up if needed to seal the deal, nothing dumb.

TO: Work on starts. Starts and starts. At that level every rider can sprint and have a chance at winning.

KB: I think they will focus more on endurance. Three races back to back... Tiring.

EE: As far as changing strategy, I think some riders will push harder, ride a bit more aggressive, and will be more eager to make passes in the first and second main events. Eight minutes goes by pretty quick when you're sitting mid-pack trying to plan your passes for opportune times. Can't do that in the short races, you need to fight for every inch of track you can get as early as possible.