Autotrader/Yoshimura/Suzuki Factory Racing Team Report: Anaheim 2 Supercross
Chaparral Motorsports
|
January 23, 2018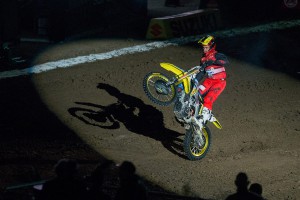 (Press Release) Huntersville, NC, January 22, 2018
- Round three of the 2018 AMA Supercross series presented the very first "Triple Crown" format, with three main events in each class. The Autotrader/Yoshimura/Suzuki Factory Racing Team embraced the Olympic-style scoring concept. Weston Peick wowed the sold-out crowd of 45,050 strong at Angel Stadium in Anaheim, Calif. by earning his third consecutive top-five finish. Fill-in rider Malcolm Stewart again drew large crowds of fans, and the 250 tandem of Justin Hill and Phil Nicoletti made strides toward the top five.

Three races into the new year, Peick has yet to finish outside of the top five overall. Weston has proven to be a podium threat by capitalizing on exceptional starts and maintaining a torrid pace throughout the duration of each main event. At Anaheim 2 his 4-9-5 main event finishes secured a fifth overall for the night. Weston now sits fifth in the overall standings.

Stewart showed flashes of brilliance in his second race as a fill-in rider on the Autotrader/Yoshimura/Suzuki Factory Racing Team. Malcolm's 16-8-14 finishes aren't a true indicator of how fast the Florida native was on Saturday. With more time on the Suzuki RM-Z450, Stewart will be able to do serious damage.

Hill, the defending 250 West champion, qualified fifth fastest for the night program. A series of unfortunate starts held him back from showing his true potential. With more time on the Suzuki RM-Z250 this upcoming week, Justin should return to true form.

Nothing-not even cracked ribs and an injured shoulder blade-can stop Nicoletti from performing. The veteran logged his best finish of the young season in securing ninth overall. Phil will continue to improve as he heals up.

Weston Peick [450 Class, Fifth Place] - "The new Triple Crown format was definitely interesting. The pace was crazy fast in the first main of the night, with everyone basically sprinting to the finish. The night came down to getting good starts, and my Suzuki RM-Z450 was awesome. I wouldn't want the Triple Crown to be an every weekend deal, but it's something cool to throw into the mix every once in a while. In my opinion, the track was way too easy for everyone. So many guys were doing the same rhythms, and the track was really fast. They could have done a better job with the design in order to separate the riders out."

"I felt good for most of the night. I was passed by Jason Anderson halfway through the second main event, but I fought hard to pass him back. Then I got around Justin Brayton, but shortly after that I tucked the front end in a tricky section of the track. I ended up smashing my bad hand, which caused it to go numb for the rest of the race. I wasn't able to make up any positions due to my hand, so I just rode the rest of the race in ninth. The plan right now is to ride one day this upcoming week and otherwise let my hand heal up."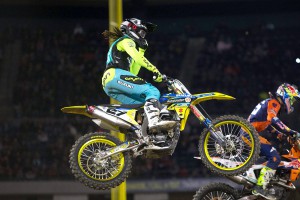 Malcolm Stewart [450 Class, 11th Place] - "Overall, the day was great! I had a lot of fun. The Triple Crown was very interesting. I knew that it would provide good racing, because nobody had done it before. I got 11th overall after the night was over. It was good for me to have more gate drops, so I could get used to the Suzuki RM-Z450 and raise my intensity level. I couldn't be happier with how I'm riding, given that Saturday night was only my fifth time riding the RM-Z450. We will keep moving forward and focus on making more improvements next week."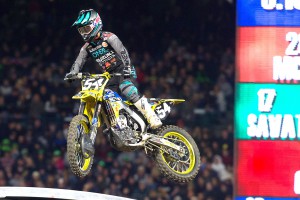 Phil Nicoletti [250 Class, Ninth place] - "The first two races went well for me. I was up where I belong, and I can make improvements on that. The final race was tough, because I couldn't find a hole through the first turn. My starts were off all night long. I found myself in a bit of a slump in the third race and couldn't pass a couple of riders that were right ahead of me. I did enjoy the format, though. It was nice to get away from the traditional format for a change. The track was one of the more mellow layouts that I've ever ridden. Maybe they did that because of all the laps put in between the two classes. My ribs still hurt, as does my shoulder blade. I'll probably ride twice this week, because it's hard to show up to a Supercross race without having put in any laps during the week."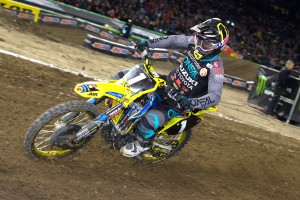 Justin Hill [250 Class, 10th Place] - "Truth be told, I actually felt really good in comparison to Houston last weekend. I think I could have put in a really fast lap if I would have gotten a lap in qualifying where the track wasn't so hectic. The Triple Crown format made starts all the more crucial, but I was awful off the gate."

"This week I'm going to work on bringing more intensity, so that when I'm racing I feel better out of my comfort zone. I'm the type of rider who likes to feel dialed, which can be good or bad. The tracks haven't been very tricky so far this series, so I need to bring some raw heat to the races. I was better this weekend and things are beginning to click. I don't feel like I belong where I have been finishing, so I'm going to work on raw speed to get up in the mix. We'll get it figured out.

Jeremy Albrecht [Team Manager] - "Weston [Peick] is riding awesome this year. Even with the crash he still got fifth. Weston has been super consistent. It's cool that Phil [Nicoletti] is improving. Malcolm [Stewart] is getting better each week. We'll get things figured out with Justin [Hill]. The Suzuki RM-Z250 is a good motorcycle, and we made lots of changes before Anaheim 2. Justin needs to get more time on the new settings and put himself in better positions once the gate drops."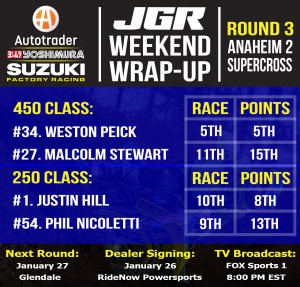 "I liked the Triple Crown format, because it's something different. I do think it would be better if they paid points for every race, rather than just the overall. I noticed that there was a lot of down time before the racing started, and then the evening went by fast. I would say that there was enough time between main events, and it seemed like there was a lot more racing. It's nice that Feld Motor Sports did something different."