AMS Introduces The SAND KING Tire And Kits
Chaparral Motorsports
|
January 19, 2018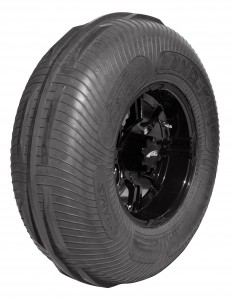 (Press Release):
Janesville, WI - October 20, 2016 - AMS introduces the all new SAND KING Tire and Tire/Wheel Kits. This highly anticipated new addition to the AMS line of tires was developed to be the best performing sand tire in the market.

The all new [mageProductLink sku="p0322-0083" title=""]AMS SAND KING[/mageProductLink] is the high-performance standard for UTV handling in the dunes. They are large 30" tires designed to provide today's high performance UTV's with optimal float, balanced grip and to make the most of the horse power they have available. The front tire has a solid center rib with two adjacent segmented ribs for ultimate steering control. The rear has 14 one inch tall paddles to handle the horse power.

The SAND KING Kits features the new Roll'n 108 light weight wheel designed specifically for the SAND KING tire. The front is 14x8 and rear is 14x10. Both feature bolt patterns of 4 on 137 and 4 on 156 for your most popular machines.

AMS has given this tire all the newest technology needed for todays most advanced UTV's. The SAND KING is a wide profile, 4 ply carcass that will provide maximum float and comfort.

The [mageProductLink sku="p0322-0084" title=""]SAND KING [/mageProductLink]tires, SAND KITS and ROLL'n 108 Wheels are available in the following sizes.

















































































| | | | | |
| --- | --- | --- | --- | --- |
| Size | Ply | Wheel | Part # | |
| 30x11-14 | 4 | Front | 0322-0083 | |
| 30x14-14 | 4 | Rear | 0322-0084 | |
| 30x11-14 * | 4 | 14 x 8 4 on 137 | KIT | |
| 30x14-14 * | 4 | 14 x 10 4 on 137 | KIT | |
| 30x11-14 * | 4 | 14 x 8 4 on 156 | KIT | |
| 30x14-14 * | 4 | 14 x 10 4 on 156 | KIT | |
| 14 x 8 | | 4 on 137 | 0230-0861 | |
| 14 x 8 | | 4 on 156 | 0230-0859 | |
| 14 x 10 | | 4 on 137 | 0230-0862 | |
| 14 x 10 | | 4 on 156 | 0230-0860 | |
*KITS are directional. See Catalog for Left & Right part numbers.



Chaparral Motorsports is an authorized AMS dealer