ChapMoto 2018 Supercross Race Recap Week 2
Chaparral Motorsports
|
January 16, 2018
|
Last Updated: October 19, 2021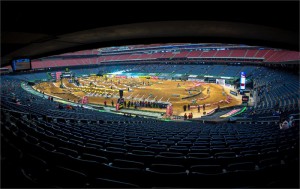 Last year we started a new series called the ChapMoto Supercross Race Recap, where several Chaparral Motorsports employees gave their thoughts on the past weekend's Supercross event. That series was so fun and popular that we decided to keep it going. It's a pretty simple concept; we pose about 8-10 questions to the group regarding the evening's activities, highlights, and lowlights and they reply with their thoughts. This is meant to be a casual, fun, and lighthearted series.

The Chaparral Motorsports staff (and one outsider) consists of:

Dave Damron (DD): Chaparral Motorsports founder. Racer, team owner, manufacturer, retailer. Dave has seen it all and done it all on two wheels.

Travis Snyder (TS): Chaparral Motorsports Offroad Products and Apparel Manager. Travis is one of our in-house moto racers. A Honda guy, Travis is either at one of the local tracks or prepping his bike for his next event.

Mike Medina (MM): Chaparral Motorsports Technical Advisor/Communications Specialist. When Mike's not at the office he's in the pits spinning wrenches for the Enticknap brothers, #722 Adam (The Seven Deuce Deuce) and #723 Tyler.

The Outsider (TO): N/A. The outsider is not a Chaparral employee but he is an industry veteran with a good perspective n the inside.

Kyle Bradshaw (KB): Chaparral Motorsports Marketing Department. The newest team member, Kyle is a highly experienced offroad/ADV/dual sport rider who splits his seat time between his stable of KTMs and his custom Honda VTX1300.

Eric Ellis (EE): Chaparral Motorsports Marketing Department/Social Media. Eric is just a Harley guy who likes to watch Supercross.

Who had the best night?
DD
: Jason Anderson and Aaron Plessinger had the best night by virtue of winning on a tough track.
TS
: Jason Anderson & Aaron Plessinger of course.
MM
: The best night has to go to #21 Jason Anderson of the Rockstar Husqvarna team. El Hombre had the fastest qualifying time during the day, won his heat race, and took the checkered flag in the 450 Main event and will now have the red number plate going into Anaheim 2.
TO
: Roczen & Barcia. The two feel good stories of the year!
KB
: I'd give the night to Anderson. Won his heat race and then took a 4th place start... passing rider by rider slowly one at a time... He took the lead with like 7 minutes left and kept building the gap between him and Roczen to take the WIN in the Main with a 6 second lead. That put him on the podium for the second time this season. Nice work Anderson. With leaders and favorites dropping out each week due to sprained joints... it will be interesting to see who is left standing (or riding) at the end of this season.
EE
: Best night goes to Plessinger in the 250 class. He made his way from mid-pack on the opening lap to third place by lap nine and then beat out Savatgy for the lead, overall win, and is now the series point leader. For the 450 it's Anderson. For him to take the points lead, he's got to be feeling pretty happy right now.
Who had the toughest night?
DD
: Adam Cianciarulo seemed to be attracted to the dirt on the track because twice during the Main he made a point to get off the bike and inspect the dirt.
TS
: Factory Redbull KTM had a tough night, being that the points leader Marvin Musquin dislocated his shoulder in the Heat race and didn't make the Main event.
MM
: The toughest night has to go to #25 Marvin Musquin of the Red Bull KTM team. Marv had a golden opportunity to extend points on an injured Eli Tomac and a still less than perfect Ken Roczen but that all ended when he went to Endonesia in the whoop section of his 450 heat race resulting in a dislocated shoulder and ending his night. This series has turned upside down again and the fantasy Supercross players have to be shaking their heads.
TO
: Musquin. Joining Tomac with a shoulder injury.
KB
: Musquin... dropping him from the points leader to 10th. Not so fun. But with Tomac and Musquin not racing... All three of these guys will have an uphill battle the remainder of the season with the potential reality of not being able to ride it out. Just like your 401K, early money is the easiest to save and will help you the most in the long run. Come on guys!
EE
: It's a three way tie. As a team, the Monster Energy|Pro Circuit|Kawasaki Team. They had the chance to go 1-2 on the podium and couldn't pull it through. Individually for the 250 it's Cianciarulo and for the 450 I got Musquin. Cianciarulo was looking good in the main and could have passed Savatgy for the win but he struggled to keep it on two wheels-twice. I think he just got over excited and was pushing too hard. And Savatgy could have won but he gave it up to Plessinger. With Musquin you could tell he wasn't very comfortable on the track and then it came up and bit him. You know after last week he had a championship in his sights and now it's a looooong way out-same hole Tomac was looking up from last week, except now Tomac's is even deeper.
Did anyone surprise you?
DD
: There weren't any real surprises for me. In the 250's I was a little surprised that Shane McElrath faded back to 4th and I was impressed with Chase Sexton on the 450's. I like that both Barcia and Peick are both in the in the top 5 (two weeks in a row) riding their own race.
TS
: Did anyone catch Jeremy Martin get pushed off the track in the first corner of the 450 main? That was a technical track, JM6 finished 10th! That surprised me.
MM
: Again, Bam Bam, #51 Justin Barcia of the Yamaha effort with another 3rd place finish is proving that last week at Anaheim was not a fluke.
TO
: Honestly, Barcia. Two podiums in two races. Very impressive!
KB
: Musquin did surprise me... hearing that he was going to give the LCQ a shot... but didn't as his shoulder was not "race ready." What's up with these guys? In 2010 the headlines read as follows, "Josh Hill has a broken hand and ribs, but still plans to ride in Saturday night's Monster Energy Supercross race at the Jacksonville Municipal Stadium." There's no way to be careful on a track of twisting turns and humps designed to punish both man and his 450cc motorcycles. That's why the 20 year-old plans to fight the pain while attacking what he considers "the best track on the schedule."
EE
: Barcia. Bam-Bam goes back-to-back on the podium and is tied for 2
nd
with Roczen? I don't think anyone would have expected that.
Who had the worst spill?
https://youtu.be/SMAysGggM_g

DD: The worst spill would be Marvin, it may have just cost him a championship.

TS: Barcia pressed the eject button in practice pretty good. I think Marvin had the worst spill considering he didn't make the Main event.

MM: Marvin Musquin with Dakota Tedder having the honorable mention for almost getting pummeled by his KTM SX450F in the whoops of the 450 LCQ.

TO: Musquin.

KB: Dakota Tedder doing a forward somersault on his KTM left my neck feeling a little sore. He was lucky to ride away from the crash to get a 21st place finish... Better than the favorites who didn't even race. Watching that crash, I question why these guys are not wearing the protective gear which is available to them. Gear might be a bit cumbersome and a bit hot... But an injury, as Tomac and Musquin can attest, will cost races and valuable points.

EE: Musquin. It's wasn't a high-speed or dramatic crash, but when he hit the dirt he just planted. Sometimes you might get a slide or a roll, or tumble which can help, but he just stuck and that's what popped his shoulder out.

Best pass of the night?
br>
DD
: I liked the pass that Barcia made on Seeley on lap 18.... He saw a hole and took it and then rode away.
TS
: When Aaron Plessinger passed nine riders to win the 250 Main event.
MM
: The pass of the night goes to #52 Mitchell Oldenburg of the Yamaha/Star Racing/Yamalube team. Mitchell made an excellent pass in the rhythm section to overtake TLD KTM's Shane McElrath by triple, triple, doubling out to move into 1st during their 250 heat race. Commitment!
TO
: Barcia fighting back to re-pass Seely to get on the podium.
KB
: I really liked the moves which were made all night. In the 250 Main, Plessinger had the fastest lap and passed riders throughout the race making it from 10th to 2nd with 5 minutes left. Plessinger eventually makes what I thought was the BEST Pass of the night when it overtook Savatgy at about lap 12 just 3 minutes left in the race. He rode it to the end and took the Win and the points lead. Nice ride!
EE
: Plessinger on Savatgy. Plessinger had Savatgy in his sights, then Savatgy had a slight hiccup and Plessinger had the momentum and made his move in the next turn. It was a nice clean pass.
Best battle?
https://youtu.be/aWsTTbgXA5Y

DD: The only battles seemed to be in the 250 class. One that was good was Plessinger stalking and then passing Savatgy and it had the best outcome of all the battles.

TS: Cole Seely vs. Justin Barcia in the 450 Main event.

MM: HRC Honda's #14 Cole Seely and Yamaha's #51 Justin Barcia in the 450 Main event.

TO: The 250 class was pretty exciting this week.

KB: I really liked the battle between Oldenburg and McElrath in the 1st Heat race for the 250's.They swapped back and forth several times and I thought they both played it well. Good show guys.

EE: Oldenburg and McElrath going at it in their heat race was exciting.

Only two weeks into the season and shoulder injuries are a big story line, is there anything that can be done to help prevent this injury?
DD
: It's racing and the tracks are built to challenge the riders abilities and the motorcycles capabilities and unfortunately the challenges in the first two weeks have taken a toll on a couple of the big name riders. We could remove all the jumps, whoops and sand sections and starting gate and that would most likely keep some of the injuries from happening....wait.... they already have a race series like that it's called flat track.
TS
: Keep the bike on two wheels.
MM
: I guess they could make the tracks out of marshmallows so if anyone crashed..... LOL. It is all on the riders to stay off the ground, not the tracks.
TO
: The track layouts do not seem like there is any "flow" and it's causing the riders to crash.
KB
: I think d3O needs to be introduced into a soft flexible shoulder protection device to be worn under the jersey. d3O will allow the riders to remain flexible having full freedom of movement. Upon impact d3O absorbs the impact and spreads it. It is truly an amazing substance. Six-Six-One makes something (I think it needs to be more involved) that is a good start to the idea.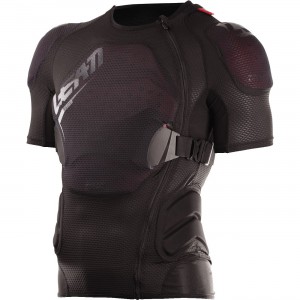 EE
: I don't ride dirt bikes so I'm not really sure. Is there more protection they can wear? We sell the full on upper armor with built-in shoulder protection from companies like Leatt and Acerbis. Leatt has the [mageProductLink sku="3007-5017180020" title=""]3DF AirFit Lite Protection Tee[/mageProductLink] which looks like it could be beneficial and
Acerbis
has a bunch of options as well; are these guys wearing that stuff? I mean many are already wearing knee and neck braces so why not shoulder protection? You got Hockey players and football players wearing shoulder protection and they're taking pretty tough hits on the regular, but I don't see those guys going out every game with dislocated shoulders?
Thoughts on Malcom Stewart's return to the line and his night overall?
DD
: Malcolm showing up and finishing 11th does say something about his ability, but it also says something about all the people that finished behind him. I'm not sure how much of his off season training was doing moto's on an Xbox or actually doing some real training but it does show the disparity in speed and endurance between the lead pack 1-6 and middle pack 6-12 and then the guys finishing 13 on back.
TS
: Too much hype for what he really brings to the table. 11th place finish actually surprised me, I thought he'd be battling with Reed.
[caption id="attachment_66233" align="alignright" width="300"]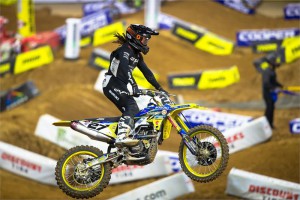 credit: www.suzuki-racing.com[/caption]
MM
: Mookie just missed the top ten placing 11th in his JGR Suzuki debut. He showed decent speed in the qualifiers and evening program throughout, but he still needs more time to get acclimated to the yellow bike I feel. Better finishes will come.
TO
: The way James Stewart left JGR to join Suzuki, I was surprised Jeremy Albrecht and Coy Gibbs would give a Stewart a chance again.
KB
: I like the Stewart's in general. I was a big fan of his brother James when he was dominating the Supercross series in 2009 wining 11 of the 17 rounds battling Chad Reed in the tightest (and sometimes most heated) points races of his career. James went on to WIN the 2009 Supercross Championship by a margin of 4 points over Reed. That was great racing! I chuckled... that Reed was out there racing with James' little brother. Malcolm did okay... mid pack finishing 11th, but beating Chad by 5 places. Now the Stewart's can have dinner table talk about who "rode best" against Reed. Pretty cool.
EE
: It was pretty impressive for him to step up to the line with like a week's notice and barely any seat time and ride straight into the main and then an 11
th
place finish. But in all honesty, he should have already been lined up for A1, whether it was with a team or on his own dime.
With two of the biggest favorites (Musquin/Tomac) way down on points, what are your early predictions on who will take the 450 Championship?
DD
: Of the top guys it looks to me like Roczen and Barcia are riding their pace and are keeping it on two wheels. I've always been amazed at how Anderson can do the things he does, he's so fluid and he seems to get away with it time and time again, he's like a cat...... he always seems to land on his feet. Maybe he should be El tigre instead of El hombre.
TS
: My early prediction goes to Ken Roczen. He's finally looking at the big picture (the Entire season). It's still too early. Although, Yamaha might have to extend that six race offer if Barcia keeps it up.
MM
: Anyone would be a fool not to put all your chips in on El Hombre, Jason Anderson. He looks more consistent, a year wiser, and more controlled then ever.
TO
: Anderson seems like the logical choice at this point, but with the season going the way it is this year you can't count out anyone. Roczen? Barcia? Seely ?
KB
: Barcia is currently sitting in 3rd place, tied in points with Roczen at 42 and just behind the leader Anderson with 49 points. I'm going to say that Barcia has a really good chance at the season WIN if he can stay on his bike and place up there in the top three every week.
EE
: I think along with all his physical rehab, Roczen went through a lot of mental rehab as well and is in a more relaxed state of mind. I think he's learned to take a page from Dungey's book and just ride at a good pace that will keep him within striking distance of the podium without overriding and getting himself into a precarious situation. At least that's what I hope I am seeing.