Martinez Wins Round 1 Of The AMA Big 6 Gp Series; Russell Captures Top 5 Finish
Chaparral Motorsports
|
January 15, 2018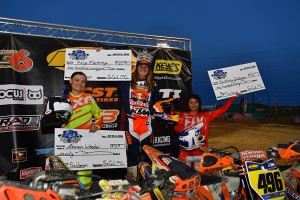 (Press Release)
ADELANTO, Calif. - The FMF KTM Factory Racing Team had a successful start to the 2018 AMA Big 6 Grand Prix Series on Saturday as team rider Kacy Martinez scored a big win in the WCGP Women's Pro class, while her teammate, Kailub Russell, finished 5th overall in the WCGP Pro division.

As multi-time champions in various offroad disciplines, both Russell and Martinez knew they would be up for a challenge with a new style of grand prix racing on the west coast. The SoCal GP represented one of the fastest courses of the series with top speeds clocking in at over 100 mph and average speeds around 30-35 mph for the pro riders. Despite the contrast, Russell and Martinez dove in head first.

Russell lined up on row one alongside the fastest riders in the WCGP Pro class aboard his KTM 450 XC-F. With an asphalt start, Russell spun a little bit off the line causing him to separate from the leaders right away. The five-time GNCC National Champion caught back up to the 5th place position as he entered the trail section of the course.

It was an up-and-down day for Russell in the overall running as he fought hard to adapt to the high speeds and rough course conditions. Finding himself as high up as 4th place at one point, Russell ultimately finished 5th overall for the opening round of his first full-season of AMA Big 6 racing.

Russell: "It was good to get through the first round healthy and with some real experience of what I'm up against. These guys go fast! I had a bonehead move on the asphalt start so I was about 5th or 6th when we hit the trails. I got swallowed up and fell back to about 8th until I pitted and finally got into a groove and picked some guys off to get back up to 5th. I'm looking forward to the next one, the goal is to keep learning and progressing."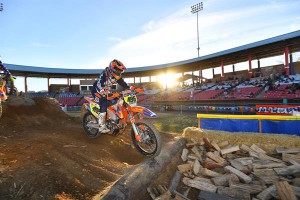 Martinez and the WCGP Women's Pro class started on row three, just behind the other pro divisions. Martinez put her KTM 250 XC-F into the 2nd place position off the start, where she rode vigilantly in 2nd place on the opening lap. Martinez began to feel comfortable by lap two and that's when she made her pass into the lead position.

From there, Martinez continued to put a gap on the 2nd place rider of Lauren Woods (KTM). After eight laps of racing, Martinez finished over five minutes ahead of Woods to capture the first victory of the season in Adelanto.

Martinez: "I'm happy with the whole race - how I rode, how comfortable I was on the bike and my bike setup - it was awesome. I felt really strong on my bike and I was able to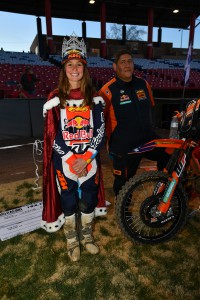 push and keep pushing throughout the laps despite how rough it was getting out there. I'm happy to start out the season with a win and keep building."

Round 2: February 10-11 / Honolulu Hills Raceway / Taft, California

WCGP Pro Results



Trevor Stewart, HON, 1:44:05

Dalton Shirey, HQV, 1:44:17

Eric Yorba, KTM, 1:44:30

Justin Seeds, KAW, 1:45:59

Kailub Russell, KTM, 1:46:18

WCGP Women Pro Results


Kacy Martinez, KTM, 1:51:35

Lauren Woods, KTM, 1:57:17

Britney Gallegos, 1:47:01